Fashion, Beauty, Shopping & Crafts,
Diamond Ring for Charity a Gift or a Goof Up? A little charity could go a long way.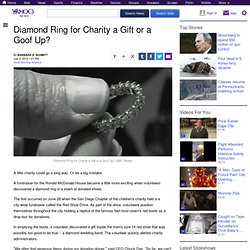 Or be a big mistake. A fundraiser for the Ronald McDonald House became a little more exciting when volunteers discovered a diamond ring in a stash of donated shoes. The find occurred on June 28 when the San Diego Chapter of the children's charity held a a city-wide fundraiser called the Red Shoe Drive. Sarah Yates Blog- Los Angeles, Southern California & Destination Wedding Photographer - Sarah Yates Photography Blog - girls lingerie party! Does a lingerie shopping party with your friends that involves bubbly, sweets and the fanciest most lovely lingerie in existence not sound like the most ridiculously fun thing ever?!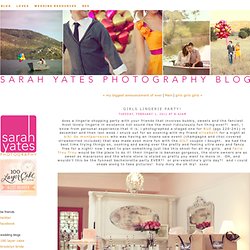 Well, i know from personal experience that it is. i photographed a staged one for RUE (pgs 220-241) in december and then last week i snuck out for an evening with my friend elizabeth for a night at kiki de montparnasse who was having an insane sale event (champagne and choc covered strawberried included) that was made even more fun with the GILT coupon i bought. we had the best time trying things on, ooohing and awing over the pretty and feeling ultra sexy and fancy free for a night!
Now i want to plan something just like this shoot for all my girls. and faire frou frou would be the place to do it! Their lingerie is bananas gorgeous, the store owners are as sweet as macaroons and the whole store is styled so pretty you want to move in. OH, and wouldn't this be the funnest bachelorette party EVER?! Make upp.
Scrap Project Roundup. I have been trying to finish up all of my Holiday crafting, so I got behind on my scrap fabric projects last week.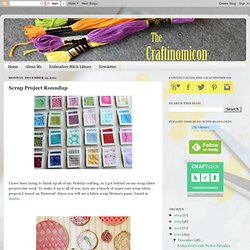 To make it up to all of you, here are a bunch of super cute scrap fabric projects I found on Pinterest! Above you will see a fabric scrap Memory game, found at Babble. This is a great wall art project using fabric scraps and embroidery hoops, from The Purl Bee. While this project just uses fabric swatches, you could certainly do some embroidery on your scraps to add even more visual interest. Here are some garden flags from Design Sponge. Vogue Fashion, Features, and More on Vogue.com. Jovoy Paris - Parfums Rares - Jovoy Paris. Parfums Serge Lutens | Vente En Ligne. MUJER. Free Crochet Patterns for Children.
9 Beautiful Objects Crafted from Copper. Online shopping. Nailsss.
Clothes & Fashion Tips. Crafts & Gifts. ShabbyPrincess :: Free Scrapbooking Kits, Digital Scrapbooking, Computer Scrapbooking, Digi scrapbooking, Kits, Elements. How To Mix Chalkboard Paint in Any Color. We love using chalkboards as backdrops for displays and parties (like this one here!).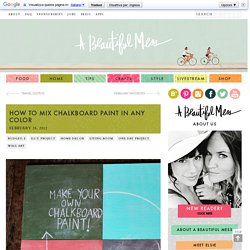 So we were super excited to learn that you can create your own custom colors-and it's really easy! We first learned how from Martha Stewart whose tutorial you can read here. SuperZiper. Techniques. Christmas Lights in 8 Bedrooms. 30 Fun DIY Crafts To Keep You and the Family Busy During the Holidays | The Aimless Curator. Crafty Crafty: Your guide to all things crafty, including knitting, crochet, sewing and customisation. Gifs Bienvenue. DERNIERS ARTICLES :marremarre d'attendreBienvenue sur mon blogN'oubliez pas de signer mon livre d'or ou de laisser un commentaire Merci et bonne visiteGuest bookVENEZ ME REJOINDRE DANS MON BOOK !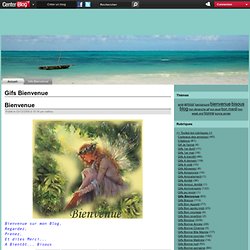 Cliquez sur "Sign this Guest book" Merci à tous de vos visites ! Je t'aimeBienvenue sur mon blog Regardez, Prenez, Et dites merci... A Bientôt... BisousSaint valentinBienvenue sur mon blog Regardez, Prenez, Et dites merci... Crafts. Make a Perpetual Button Calendar for 2011 (and Beyond) By Diane Gilleland I know calendars (and clocks and address books) are quickly becoming computer-centric tools, but I like the old-school charm of this desk calendar.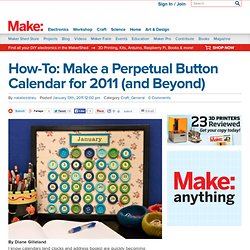 Make it once, and you can use it forever – just move the numbers to their correct location each month, and change the nameplate! Materials Picture frame, 11″x14″ or 16″x20″, see belowSheet of foam board or 1/2″-thick corkRuler Craft knife Piece of woven fabric, about 24″x30″ Spray adhesive Masking tape Scissors 42 large buttons, 3/4″ to 1″ in diameter 42 flat-head thumb tacks 5 sheets card stock, for numbers and nameplatesDownloadable name/number template 3/4″ circle punch, optional E-6000, or similarly strong glue Water-soluble fabric marker Fine-point Sharpie 2 squares of wool or acrylic felt 1 sheet of Friendly Felt, or lightweight chipboard Sewing machine and thread 2 sets Velcro dots plus 22 "loop" style dots (the softer half of a Velcro pair)Greeting card envelope. More Free Frames & Borders for Commercial Use. Patron de base de jupe. Ce patron est la base de tous les patrons de jupe.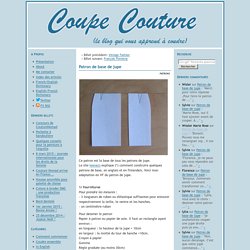 Le site leenas's explique (*) comment construire quelques patrons de base, en anglais et en finlandais. Voici mon adaptation en VF du patron de jupe. 1/ fournitures Pour prendre les mesures : - 3 longueurs de ruban ou d'élastique suffisantes pour entourer respectivement la taille, le ventre et les hanches. - un centimètre-ruban Pour dessiner le patron Papier à patron ou papier de soie. More Free Frames Borders for Commercial Use - Tracee Orman. On July 6, 2012, Tracee Orman answered: Hi Julie!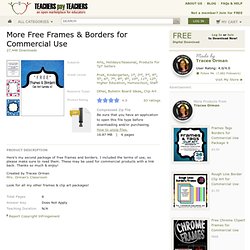 I'm sorry you are having problems. They are not saved in Microsoft Word. They are saved as images, so to actually open & save the frames themselves, you would need photo/image software like Photoshop or whatever you might use to look at images (if you have a digital camera, whatever program you use for that would open & save the images). It sounds like perhaps your Dell is not recognizing either the zipped file & extracting the frames (I guess PCs have to have special software to open zipped files...somewhere in the questions below there is a link for the free download for that), OR it is just not recognizing the images once they are extracted. $Lucky Star. Easter DIY Round-Up. Origami For Everyone. To make all of these Instructables, download this collection of How To's as an ebook.
Download » Origami for Everyone gives you full step-by-step instructions for 30 awesome origami projects for everyone from beginners to experts. Learn how to make flowers, masks, and the ubiquitous paper crane! All projects come from Instructables.com, are written by paper folding experts, and contain pictures for each step so you can do it yourself.
In Focus: How to use "Furoshiki" [MOE] 50 Uses for Vaseline. This is one of my favorite products from Vaseline, their Vitalizing Gel Body Oil.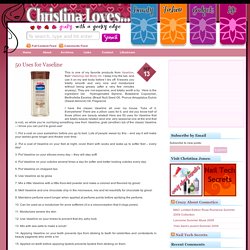 I keep it by the tub, and use it on my wet body before I dry off. It leaves you totally smooth and very nice and moisturized without being greasy (after a very few minutes anyway). Quilling - Turning Paper Strips into Intricate Artworks. Quilling has been around for hundreds of years, but it's still as impressive and popular now as it was during the Renaissance. The art of quilling first became popular during the Renaissance, when nuns and monks would use it to roll gold-gilded paper and decorate religious objects, as an alternative to the expensive gold filigree.
Later, during the 18th and 19th centuries, it became a favorite pass-time of English ladies who created wonderful decorations for their furniture and candles, through quilling. Basically, the quilling process consists of cutting strips of paper, and rolling them with a special tool. It sounds simple enough, but special skill is required to create more advanced shapes like marquises, arrowheads or holly leaves. All through the years, the art of quilling has remained almost unchanged, but new specialty supplies now allow quilling masters to create anything from detailed 3-D figures to wall-sized museum installations.
Candles in Seashells -- Martha Stewart Crafts. DIY. 3D animated origami instructions showing how to fold a shirt from a piece of paper. Universal Wrapping Paper. Corrupiola | Experiências Manuais. Alien Hand Glow in the Dark Sherlock with Maria by InfernoValley. <div id="javascript-nag" class="notice"><p> Take full advantage of our site features by enabling JavaScript. <a href=" more</a>. </p></div> Help. Bored and Crafty. Tricot (pearltricot :D) Cute. Belongings. Krokotak. Craft. Crafts.
The world's best sewing tutorials in no particular order. ViVá. Crafts. How to make gift bags from newspaper. Fuck Yeah, Make Stuff! Free printables from SweetlyScrapped - Sweetly Scrapped. Gifts.
Shopping. Designer Outlet Roermond: Startseite. Song Lyric Wall Art / D.I.Y. Project. Shopping. Shopping/fashion. Shopping. Best Stores. LOVE IS ART KIT | Couples Art Kit, Lovemaking Art Kit. Most favorited all-time | craftgawker - StumbleUpon. Jellyfish Tanks & Accessories available from Jellyfish Art | Buy Now. Unique Steampunk Insects. Fashion Blogs. Blogs mode. Collective fashion consciousness.
Accesories. Beauty. Fashion pearlers. Fashion Magazines & Webs.
---