Email
GTDInbox for Gmail - Easy email management, organization and workflow based on GTD. ✉ GuerrillaMail.com. Hotfile.com: Hébergement de fichiers par un clic. FEUP Webmail :: A Receber. GMail info for Bulk Email Senders. Learn more about email authentication.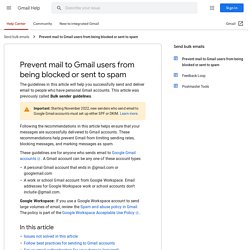 Additional guidelines for IPv6 The sending IP must have a PTR record (i.e., a reverse DNS of the sending IP) and it should match the IP obtained via the forward DNS resolution of the hostname specified in the PTR record. Otherwise, mail will be marked as spam or possibly rejected. The sending domain should pass either SPF check or DKIM check. IntelliContact - We Simplify Email Marketing.
Direct email marketing services. Inbox (195) Mail. Hotmail. Messagerie Textuelle Bell Mobilit. How To Merge Multiple Gmail Addresses In One Account. Flickr Check all your Gmail accounts from one inbox.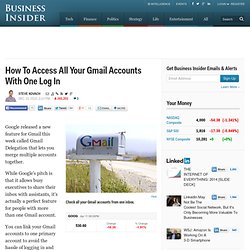 Google released a new feature for Gmail this week called Gmail Delegation that lets you merge multiple accounts together. 20 HTML Email Tips: Ignore at Your Own Risk. GMail info for Bulk Email Senders. iPost - Direct email marketing services.
---