Comic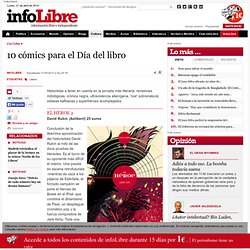 Diez cómics para el Día del Libro...
Historietas a tener en cuenta en la jornada más literaria: revisiones mitológicas, crónica negra, ultraviolencia alienígena, 'noir' sobrenatural, odiseas kafkianas y superhéroes acomplejados. El héroe 2 David Rubín (Astiberri) 25 euros Conclusión de la libérrima aproximación del historietista David Rubín al mito de las doce pruebas de Heracles.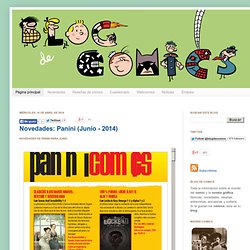 ECC presenta su nueva línea de narrativa Nota de prensa: Nos complace anunciar que el próximo 11 de abril ECC Ediciones lanzará al mercado una nueva apuesta literaria. Hemos preparado tres líneas de literatura y ensayo de las que os hablamos más extensamente en la nota de prensa a continuación y en el PDF adjunto en este correo.
Blog de Cómics.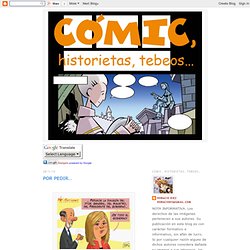 CÓMIC, historietas, tebeos…
El otro día fui a un concesionario de coches de importación, ¡buenos coches!, y pregunte por el precio del que me gustaba… Es muy caro, dije yo, pero si estamos en crisis… el vendedor me dijo que ya se habían ajustado los precios por ello. Yo le replique que habían otras marcas, con cuatro ruedas, volante, etc… mucho más baratos. El vendedor me miro y tardo en contestarme, creo que pensó que no valía la pena, "pues cómprelo usted…"Me fui con la sensación de haberme comportado como un idiota. Los coches eran incomparables, aparte los gustos personales la diferencia de precio se justificaba.
Tebeos por los que merece la pena saber leer: Superlópez y La gran superproducción
Portada de la 3ª edición. "Lárgame un cilindrín, fotero"Marcelino Vinopán A veces la vida es una mierda.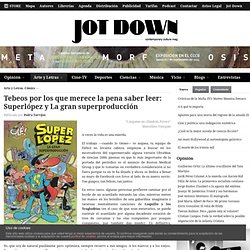 El comic europeo en españa
BD Gest' - Le portail BD de référence
Reseñas de la A a la Z | Nuestros Cómics
Otro año más la Feria del Libro de Madrid ha llegado y nosotros hemos decidido tomarnos un descanso en nuestra cita anual en el Retiro...quizá en 2014 volvamos a contratar stand, atender a nuestros fabulosos clientes entre estornudos y compartir comida con nuestras amigas las ardillas. Nos parece un momento acertado para recomendar cuatro títulos recién editados y que no tienen dibujos (o tienen pocos). Un póquer de libros relacionados con los tebeos.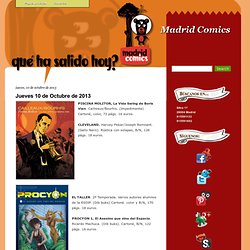 Madrid Comics
Mujeres y viñetas No vamos a ser necios ni exagerados: aún la presencia de mujeres en el mundo del cómic es minoritaria. Basta echar un vistazo a lo que publican las mejores editoriales de cómic en España (Astiberri, Norma, EDT, Sins Entido…) para darse cuenta de que las autoras de cómic están en clara minoría.
historias en comic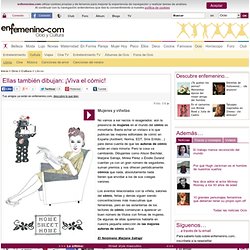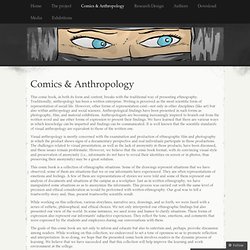 This comic book, in both its form and content, breaks with the traditional way of presenting ethnography. Traditionally, anthropology has been a written enterprise. Writing is perceived as the most scientific form of representation of social life. However, other forms of representation exist—not only in other disciplines (like art) but also within anthropology and social sciences.
Comics & Anthropology « Public Space, Information Accessibility, Technology, and Diversity at Oslo University College
Comics & Anthropology « Public Space, Information Accessibility, Technology, and Diversity at Oslo University College
10 Things The Monitor Loved at Comic-Con | Underwire
auteurs et illustrateurs jeuensse de C à D
Calvin and Hobbes Comic Strip on GoComics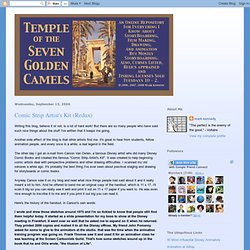 Comic Strip Artist's Kit (Redux)
Writing this blog, believe it or not, is a lot of hard work! But there are so many people who have said such nice things about the stuff I've written that it keeps me going. Another side effect of the blog is that other artists find me. It's great to hear from students, fellow animation people, and every once in a while, a real legend in the field. The other day I got an e-mail from Carson Van Osten, a famous Disney artist who did many Disney Comic Books and created the famous "Comic Strip Artist's Kit".
Wormworldsaga.com - An Online Graphic Novel by Daniel Lieske - Chapter 1 - The Last Day Of School
L'ancien directeur du Festival international de la bande dessinée d'Angoulême, Jean-Marc Thévenet, a organisé pour la maison Sotheby's sa première vente aux enchères de bandes dessinées, mercredi à Paris. Au total, la vente a rapporté près de 650 000 euros. Parmi les lots majeurs : une planche de l'Etoile mystérieuse, d'Hergé, datant de 1944. Ce dessin sous forme de strips à l'encre de Chine était estimé entre 240 000 et 260 000 euros. Il a été emporté à 234 750 euros (frais compris). Le gorille a bonne mine (1956), planche originale à l'encre de Chine de Franquin pour Spirou et Fantasio, fait le deuxième plus gros chiffre, à 70 350 euros (frais compris) pour une estimation de 65 000 à 75 000 euros
650 000 euros pour la première vente de BD chez Sotheby's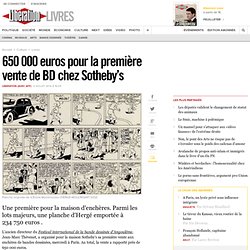 Angoulême et Villepinte célèbrent le manga
L'été sera japonais à la Cité internationale de la bande dessinée d'Angoulême. Six expositions ont ouvert leurs portes le 30 juin, afin d'explorer un des aspects les plus populaires de la culture japonaise : le manga. Présentée au printemps à Poitiers, l'exposition "Mangapolis : la ville japonaise contemporaine dans le manga" rassemble plus de 200 planches, dessinées par une quarantaine d'auteurs.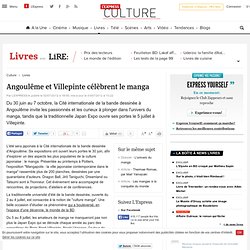 Portail de la Cité internationale de la bande dessinée et de l'image
Friends: Lynn AllinghamJohn AllisonAmy AshDawn and Margie BeatonMarc BellSally BloodbathJohn CampbellScott CampbellRyan CarleyAnthony ClarkRebecca ClementsMelanie ColosimoDomitille CollardeyJillian Comeau, Kim Carson and Michelle SkeldingAaron DiazThe Doug Wright AwardsJess FinkEric FeursteinBrian FukushimaSarah GliddenMeredith GranLisa HanawaltDustin HarbinChristopher HastingsEmily Horne and Joey ComeauJimmie KilpatrickJon KlassenSteve LambkeHope LarsonJoe ListDavid MalkiPhil McAndrewCarolyn MerrimanCarly MonardoVicki NerinoAndre RichardRyan NorthRyan PequinNeil RoughJeffrey RowlandGabby SchulzSmart and BirdDeana SobelNathan StapleyHenry SvecMatthew TraffordJulia WertzBritt WilsonStephanie WeirathmuellerSteve WolfhardYou've Changed RecordsChip Zdarsky Good comic shops that have taught me a thing or two: The Beguiling, TorontoStrange Adventures, HalifaxLegends Comics and Books, VictoriaDesert Island, Brooklyn
Hark, un vagabundo: 338
Koomic.com, tu tienda de cómics digitales
Simon's Cat - Home
ToonDoo - World's fastest way to create cartoons!
Acabo de llegar de un viaje por mar en el que Malta y Venecia eran dos puertos de escala en el itinerario del barco y, como era de esperar, Corto Maltés fue uno de los protagonistas de este periplo náutico. Así pues, cuando la nave, después de enfilar por Grand Harbour, atracó en la terminal de cruceros de La Valeta (Malta) , al igual que hizo el padre del romántico marino de pelo rebelde y largas patillas, emboqué St. John Street, me acerqué a Kingsway y busqué por las calles aledañas la casa natal de Corto, una edificación con balcones de hierro forjado, construida a semejanza de los hospitales de peregrinos de los caballeros de la Orden de Malta. No tuve éxito. Me resultó curioso que, al contrario de lo que, por ejemplo, ocurre en Bruselas con Tintín, protagonista tebeístico que es como una especie de patrimonio de la ciudad y del que se capta su presencia por todas partes, en La Valeta no hay ni rastro de Corto Maltés.
En Malta y Venecia con Corto Maltés
Site officiel de Jean Giraud Moebius Official website
At an early age, Hugo Pratt got to see a lot of the world as he moved with his parents, first to Venice, then to Ethiopia, then back to Italy. In 1945, he met Mario Faustinelli, with whom he created his first comic book, 'Asso di Picche'. He became part of what some call the Venice group, an association of writers and artists, such as Alberto Ongaro, Paolo Campani, Mario Faustinelli and Dino Battaglia. With them, he worked on several series for the comic Asso di Picche, including the title comic, 'Ray e Roy', 'Silver-Pan', 'Indian River' and 'April e il Fantasma'.
Hugo Pratt
Biografía de Hugo Pratt
Alberto Breccia
Biografia de Hector German Oesterheld
Biografía de Oesterheld
Comiclopedia
BD Gest' - Le portail BD de référence
Jean-Michel CHARLIER, scenariste BD - ALAIN ET CHRISTINE
René Goscinny
IMAGORAMA
Alan Moore Fan Site
Reportaje: Alan Moore, el creador de cómics - comics - - Fantasymundo.com
Corto Maltese | English | The Official Website of Corto Maltese | Graphic Novel by Hugo Pratt
Ediciones Glénat-Manga, comics
Category: Comics & Graphic Novels
Lauren R. Weinstein
Otakia » Tests et articles de livres, objets, séries et produits dérivés
Claire Hummel | Shoomlah
Anime News Network:UK
"Me siento más aislado que nunca, aunque responda a 50 'mails' al día"
Você não desenha nada (mesmo)! | Jean Giraud
Comic Art Fans :: The Original Comic Art Gallery for Collectors
Casey and Andy
Some_People_by_MumblingIdiot-the-luke-ferenc-pearson-blog-person-comic-.jpg (JPEG Image, 900x5056 pixels)
/orange0770
Calvin and Hobbes en Español (Spanish) Comic Strip, April 18
The Cutting Room - Comics - Nathan Fillion
Querido Dexter:
Tiempo de Héroes
Comics Bandes dessinées
Drop Spots
Read Manga Online for Free. Online Manga Reader
Soluce The Legend Of Zelda : Phantom Hourglass - 2ème Epreuve : Le Temple du vent
Web comic, podcasts, and other junk.
Cool French Comics
Pulp's comics
Saturday Shelf Porn | Robot 6 @ Comic Book Resources - Covering Comic Book News and Entertainment
Angry Alien Productions: 30-Second Bunnies Theatre and other cartoons.
The SummHarry
THE 99
Top 50 Rage Comics of the Month