CeBIT Hannover 12
HANOVER, GERMANY: Cyber-espionage, cyber-sabotage and potentially even cyber-warfare are genuine threats facing our world - and the discoveries of the first state-sponsored malware programs demonstrates the new capabilities that can be applied by these Internet threats. The cases of Stuxnet (2010) and Duqu (2011) highlight the technical sophistication of military-grade software able to damage large industrial installations and more. It also provides a jolt to any complacency over Internet security: both Stuxnet and Duqu were only found by accident, after they had already been operating for some time.
CeBIT 2012: Eugene Kaspersky calls for international cyber-security organisation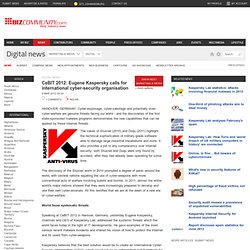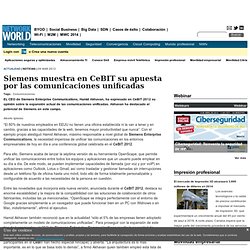 Siemens muestra en CeBIT su apuesta por las comunicaciones unificadas
EL CEO de Siemens Enterprise Communications, Hamid Akhavan, ha expresado en CeBIT 2012 su opinión sobre la expansión actual de las comunicaciones unificadas. Akhavan ha destacado el potencial de Siemens en este campo.