CeBIT Hannover 12
CeBIT 2012: Eugene Kaspersky calls for international cyber-security organisation. HANOVER, GERMANY: Cyber-espionage, cyber-sabotage and potentially even cyber-warfare are genuine threats facing our world - and the discoveries of the first state-sponsored malware programs demonstrates the new capabilities that can be applied by these Internet threats.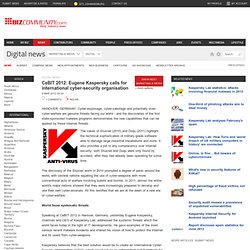 The cases of Stuxnet (2010) and Duqu (2011) highlight the technical sophistication of military-grade software able to damage large industrial installations and more. It also provides a jolt to any complacency over Internet security: both Stuxnet and Duqu were only found by accident, after they had already been operating for some time. Siemens muestra en CeBIT su apuesta por las comunicaciones unificadas. EL CEO de Siemens Enterprise Communications, Hamid Akhavan, ha expresado en CeBIT 2012 su opinión sobre la expansión actual de las comunicaciones unificadas.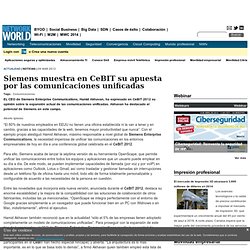 Akhavan ha destacado el potencial de Siemens en este campo. "El 80% de nuestros empleados en EEUU no tienen una oficina establecida ni la van a tener y en cambio, gracias a las capacidades de la web, tenemos mayor productividad que nunca". Con el ejemplo propio atestiguó Hamid Akhavan, máximo responsable a nivel global de Siemens Enterprise Communications, la necesidad imperiosa de unificar las comunicaciones en los entornos empresariales de hoy en día e una conferencia global celebrada en el CeBIT 2012. Para ello, Siemens acaba de lanzar la séptima versión de su herramienta OpenScape, que permite unificar las comunicaciones entre todos los equipos y aplicaciones que un usuario puede emplear en su día a día. The ICT industry's most international trade fair.
---