Blogs
Le débat sur l'opportunité d'interdire les rassemblements organisés via Facebook après la mort accidentelle d'un jeune homme , rappelle une série de reportages catastrophistes sur "les dangers de l'internet". A la télévision, le Réseau des Réseaux fait peur. On peut y croiser : Des pédophiles Alors que les collégiens cherchent la compagnie enrichissante de camarades de leur âge pour partager anecdotes, comptines et prières, des prédateurs sexuels agissent dans l'ombre de forums de discussion à la moralité douteuse pour berner leurs cibles.
L'Internet, c'est le mal : LesInrocks.com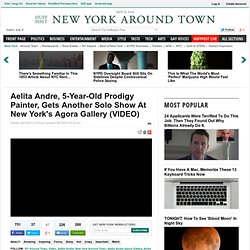 5-year-old Australian painting prodigy Aelita Andre will once again have a solo show at Chelsea's Agora Gallery. The "youngest professional painter in the world," according to Agora, "works in acrylic, with occasional added objects such as toys like plastic dinosaurs, butterflies and penguins, and various other items, including even a microscope." Also, glitter. "They're not real. And they're not realistic," Aelita says of her own work . "They're like space.
Aelita Andre, 5-Year-Old Prodigy Painter, Gets Another Solo Show At New York's Agora Gallery (VIDEO)
Aelita Andre painting Paris Mountains
haque :: design + research
Interactivity - inspiración y marketing interactivo