Art Fairs & Biennals
VI Bienal de São Paulo - parte 1 1961
Actuellement... Noeuds-nuphares Rita OCCHIUTO, architecte Michel Davo est un artiste qui vit au contact de la nature et y puise son inspiration. Un parcours ascensionnel dans les arbres... Un jardin-labyrinthe...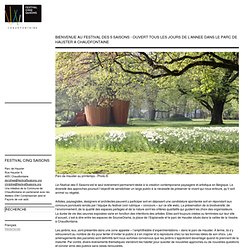 Festival 5 saisons-Lieje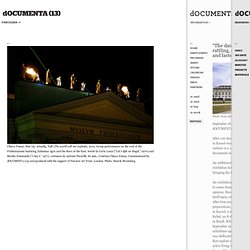 September 16, 2012 marked the final day of the dOCUMENTA (13) exhibition. After 100 days open to the public the total number of visitors in Kassel was 905,000, amounting to 110,000 additional visitors or a 14% increase from the previous edition of documenta in 2007. An additional 27,000 people visited the dOCUMENTA(13) exhibition held in Kabul from June 20 to July 19, 2012, bringing the total number of visitors to 887,000.
Festivales Internacionales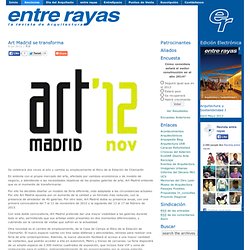 Revista Entre Rayas » Art Madrid se transforma
Se celebrará dos veces al año y cambia su emplazamiento al Ático de la Estación de Chamartín En sintonía con el propio mercado del arte, afectado por cambios económicos y de modelo de negocio, y atendiendo a las necesidades objetivas de las propias galerías de arte, Art Madrid entiende que es el momento de transformarse. Por ello ha decidido diseñar un modelo de feria diferente, más adaptada a las circunstancias actuales. Por ello Art Madrid apuesta por un aumento de la calidad y un formato más reducido, con la presencia de alrededor de 40 galerías.
Se celebrará del 13 al 17 de febrero, en su nuevo emplazamiento del Ático de la Estación de Chamartín La feria presenta obras de más de 200 artistas nacionales e internacionales ARTmadrid
ArtMAdrid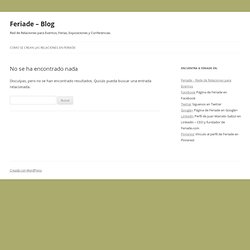 La feria ART MADRID se convierte en bianual y cambia su ubicación
ROOM ART FAIR #2 | 23.24.25 Noviembre
Documenta 13: política y optimista
Como ocurre cada cinco años, documenta acaba de abrir sus puertas en Kassel para, según se comenta con frecuencia en el mundo del arte, ofrecer un panorama privilegiado de lo que está pasando e incluso anticipar lo que va a pasar en el futuro próximo. De hecho, algunas de las documentas más memorables se recuerdan aún como esos hitos que dejaron constancia de lo que después se impondría como lugar común y hasta fórmula reiterada. En esta documenta 13, que tiene como directora artística a Carolyn Christov-Bakargiev y como segunda responsable a Chus Martínez, la única española con tan alta implicación en este prestigioso acontecimiento además de Octavio Zaya —uno de los comisarios de la edición 11— , se ha optado por una visión muy particular así que, casi seguro, será otra documenta recordada.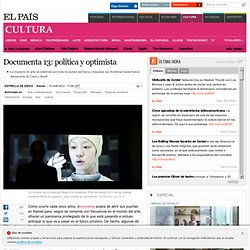 L'événement que vous demandez est terminé. via France vous propose d'autres idées pour sortir : Eglise Saint-Rémy, visite Eglise Saint-Rémy78470, Saint-Remy-Les-Chevreuse - Visite du lieu à cette adresseYvelines : autres sorties à réserver dans votre agenda à partir du toute l'année Tourisme - Architecture Au croisement de trois vallées.
Biennale mondiale de la reliure d'art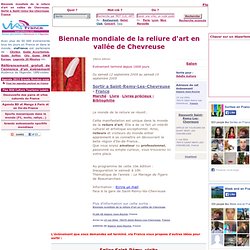 Home
Latest News A solo show of my work, featuring large photographs from my Global Model Village series, will be held at HallArts/The Sofa in Istanbul, Turkey, from the 2-9 November. The show is in conjunction with Andipa Gallery and Contemporary Istanbul Art Fair. Entry is free. You can also see more of my work at the Andipa Gallery section of the Contemporary Istanbul Art Fair itself.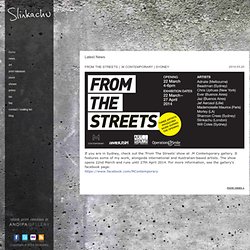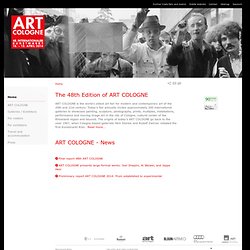 ART COLOGNE is the world's oldest art fair for modern and contemporary art of the 20th and 21st century. Today's fair annually invites approximately 200 international galleries to showcase painting, sculpture, photography, prints, multiples, installations, performance and moving image art in the city of Cologne, cultural center of the Rhineland region and beyond. The origins of today's ART COLOGNE go back to the year 1967, when Cologne-based gallerists Hein Stünke and Rudolf Zwirner initiated the first Kunstmarkt Köln.
Home
PICA
Plantilla, una obra del artista chino Ai Weiwei para la feria de arte dOCUMENTA (13) de Kassel01 dOCUMENTA (13) (Kassel, Alemania)El gran encuentro con el arte conceptual se producirá durante la dOCUMENTA (13), que se celebra cada cinco años en la ciudad alemana de Kassel, en esta ocasión entre el 9 de junio y el 16 de septiembre. 02 London Festival 2012 (Reino Unido)El London Festival 2012 agrupa la agenda cultural paralela a los próximos Juegos Olímpicos. A través de un recorrido por 150 obras, la exposición Picasso & Modern British Art, hasta el 15 de julio en la Tate Britain , indaga en la relación entre la obra del artista malagueño y la de nombres como Henry Moore, Francis Bacon, Lucian Freud o David Hockney.
Destinos que ni pintados: 10 citas con el arte que invitan a viajar >> El Viajero Astuto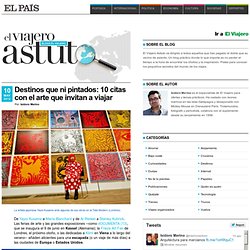 Visual Arts Flanders
Art | Basel - Home
Art | Basel | Miami Beach - Home
Art Cologne - Bing Videos
SCOPE
PULSE Contemporary Art Fair - New York ~ Miami
Art Museums and Non-Profit Art Organizations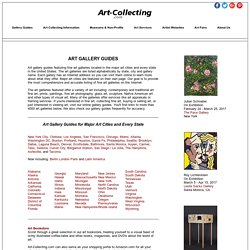 Art Gallery Guides - Directory of Art Galleries in the United States
Art gallery guides featuring fine art galleries located in the major art cities and every state in the United States. The art galleries are listed alphabetically by state, city and gallery name. Each gallery has an Internet address so you can visit them online to learn more about what they offer. Major art cities are featured on their own page.
photo la January 16 - 19, 2014 Los Angeles, CA Classic Photographs Los Angeles January 18 - 19, 2014 Los Angeles, CA Asia Hotel Art Fair February 28 - March 2, 2014Hong Kong Paris Photo April 25 - 27, 2014 Los Angeles, CA Pulse New York May 8 - 11, 2014 LNew York, NY SELECT FAIR NEW YORK May 9 - 11, 2014 The Altman Building / Chelsea New York, NY
2012 Art Fairs - International Art Fairs
Art Fairs International
In With the New: Art Singapore Art Stage Sin­ga­pore will fea­ture a new fair com­po­nent: Plat­forms – country/region-specific exhi­bi­tions in col­lab­o­ra­tion with gal­leries and cura­tors. Tak­ing the form of curated sales exhi­bi­tions, the new com­po­nent will be divided into regional and coun­try Plat­forms where excit­ing new works by Asia Pacific's head­lin­ing and emerg­ing artists will be fea­tured together on the same stage. The Plat­forms will include South­east Asia, Aus­tralia, Cen­tral Asia, China, India, Japan, Korea, and Tai­wan. Jan­u­ary 16–19, 2014 254 South Bridge Road,#02–01 Sin­ga­pore artstagesingapore.com
Art Brussels
6ª VentoSul - Bienal de Curitiba -
News - Bienal de Dakar, microcosmos del arte contemporáneo africano
La V edición de la bienal, que se ha inaugurado el 10 de mayo y tendrá un mes de duración, se considera como la edición más ambiciosa de la bienal celebrada hasta el momento. Un total de trece países se ven representados en los salones de la bienal durante este mes, hasta su clausura el próximo 10 de junio: Argelia, Benín, Burkina Faso, Camerún, Costa de Marfil, Egipto, Etiopía, Madagascar, Marruecos, Nigeria, Senegal, Sudáfrica y Túnez. Senegal, el país anfitrión de la muestra es, evidentemente, el que cuenta con una mayor representación de sus jóvenes artistas, con un total de 12: Mansour Ciss, Soly Cissé, Félicité Codjo, Ndary Mbathoï Lo, Gabriel Kenzo Malou, Djibril Ndiaye, Ousmane Ndiaye Dago, Ibrahima Niang, Adam's O'Connor, Moussa Sakho, Mamady Seydi y Amadou Kane Sy.
Devenez partenaire ! Rejoignez-nous ! Un engagement concret qui donne du sens à votre démarche d'entreprise
Bienal | Home
This is a list of events taking place simultaneously with the 13th Istanbul Biennial. ISTANBUL MUSEUM OF MODERN ART Erol Akyavaş - Retrospective 29/05/2013 – 01/12/2013 Curated by Levent Çalıkoğlu YAP Istanbul Modern: Sky Spotting Stop 25/06/2013 – 20/10/2013 In collaboration with MoMA / MoMA PS1 Designed by Sevince Bayrak, Oral Göktaş (SO? Architecture and Ideas) Program Coordinators: Çelenk Bafra, Pelin Derviş YAP: Young Architects Program 2013 Finalists Exhibition 25/06/2013 – 20/10/2013 In collaboration with MoMA / MoMA PS1, MAXXI, CONSTRUCTO Curated by Çelenk Bafra, Pelin Derviş
ONCENA BIENAL DE LA HABANA - PRÁCTICAS ARTÍSTICAS E IMAGINARIOS SOCIALES - DEL 11 DE MAYO AL 11 DE JUNIO, 2012
VIDEOBRASIL
Sharjah Art Foundation
18th Biennale of Sydney: all our relations
Entry page per l'arte
Arte 40 España - Primera edición de Arte 40 España
B04 | Beaufort 04