Excel
Lessons Learned Automating Excel from .NET | developer.* Blogs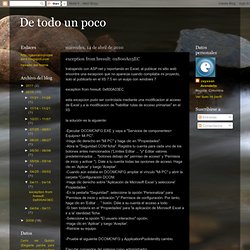 trabajando con ASP.net y reportando en Excel, al publicar mi sitio web encontre una excepcion que no aparecia cuando compilaba mi proyecto, solo al publicarlo en el IIS 7.5 en un euipo con windows 7 exception from hresult: 0x800A03EC esta excepcion pudo ser controlada mediante una modificacion al acceso de Excel y a la modificacion de "habilitar rutas de ecceso primarias" en el IIS la solución es la siguiente:
exception from hresult: 0x800A03EC
Exception from HRESULT: 0x8001010A (RPC_E_SERVERCALL_RETRYLATER) - Excel-DNA | Grupos de Google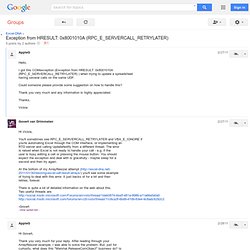 On Mar 3, 3:26 pm, Govert van Drimmelen < gov...@icon.co.za > wrote: > Hi Vickie, > > Marshal.ReleaseComObject() forces the .NET COM object wrapper to > release the referenced COM object (in this case Excel's Application > object). If there are outstanding references to the Excel objects, the > Excel process will not terminate when you close Excel. You can test > this by removing the ReleaseComObject() call, calling the resizer > function, closing Excel and then checking in the Task Manager - Excel > will be 'closed' but the process will stick around. > > So in the ArrayResizer example where the Application object is > accessed from a different thread, we either need to release the object > explicitly, or force a garbage collection.
Ayuda Excel