Intermédiaires
Learning English - Grammar, Vocabulary & Pronunciation. Learning English - General & Business English. Common Phrases / expressions in English, not taught in class. Check the meaning of words you don't know by clicking on the dictionary logo Common Phrases and Expressions in English Here are a few common phrases and expressions used by native speakers of English in their everyday speech.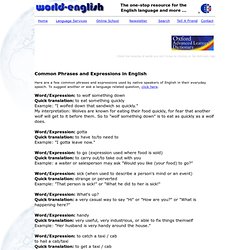 To suggest another or ask a language related question, click here. Intermediatre level vocabulary. An Idiom a Day. Acronymes / Initiales 8. Intéressons-nous cette semaine aux acronymes, c'est-à-dire aux séries de lettres qui forment des mots et qui sont couramment utilisées dans les journaux, les magazines, les livres.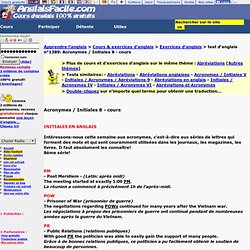 Il faut absolument les connaître! 8ème série! PM- Post Meridiem - (Latin: après midi)The meeting started at exactly 1:00 PM.La réunion a commencé à précisément 1h de l'après-midi. POW- Prisoner of War (prisonnier de guerre)The negotiations regarding POWs continued for many years after the Vietnam war.Les négociations à propos des prisonniers de guerre ont continué pendant de nombreuses années après la guerre du Vietnam.