Zatanna
zatanna.jpg (JPEG Image, 576x760 pixels) - Scaled (90%)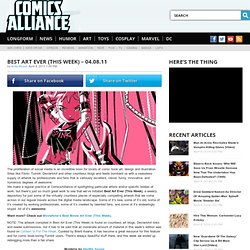 Best Art Ever (This Week) - 04.08.11
The proliferation of social media is an incredible boon for lovers of comic book art, design and illustration.
Google Image Result for https://lh3.googleusercontent.com/-HwAqpEcXD4s/TXQ2HLueqYI/AAAAAAAABCs/TvPVmlhr6Uw/s640/2010ZatannaBustbyAdamHughes.jpg
Google Image Result for http://26.media.tumblr.com/tumblr_ld3hrmJBOq1qb9k5wo1_500.jpg
Google Image Result for http://media.comicvine.com/uploads/0/3133/109491-80329-zatanna_super.jpg
Zatanna_pinup_by_VietNguyen.jpg (JPEG Image, 300x464 pixels)
Google Image Result for http://fc04.deviantart.net/fs70/i/2010/074/3/d/Zatanna_pinup_by_ctJemm.jpg
Zatanna Zatara (New Earth)/Gallery
Zatannurday: Adam Hughes
Zatanna « The Cupcake Rogues
It's that time again. To reiterate, every Friday the Cupcake Rogues will randomly pick 2 characters to do battle – whether it be Marvel, DC, female, male, mutant, human, or human that pretends to be a mutant with magic (I'm looking at you, Juggernaut), they are all possible. Once we've randomly selected our two, they will go head to head in several categories with one being deemed winner.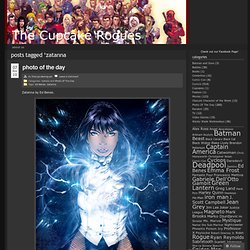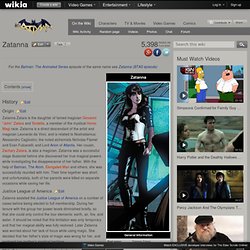 History Edit Origin Edit
Zatanna - Batman Wiki
Current Events Following the 2011 reboot of the DC Universe, Zatanna has been recruited by Madame Xanadu to the roster of the new Justice League Dark.
Zatanna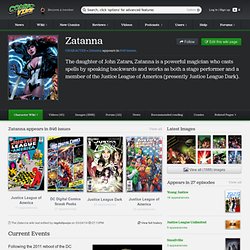 Zatanna Zatara is a fictional character in the DC Comics universe. Created by writer Gardner Fox and artist Murphy Anderson, Zatanna first appeared in Hawkman vol. 1 #4 (October–November 1964). The character, both a stage magician and a real magician like her father Giovanni "John" Zatara, is known for her involvement with the Justice League, her retconned childhood association with Batman, and her crossing of the Vertigo line with characters such as romantic partner John Constantine and protégé Timothy Hunter. She was ranked fourth in Comics Buyer's Guide's "100 Sexiest Women in Comics" list.[1] Fictional character biography[edit]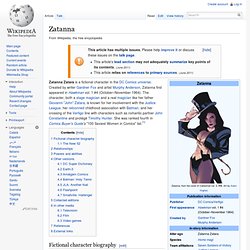 Zatanna