Tips
MSLaws.pdf (application/pdf Object)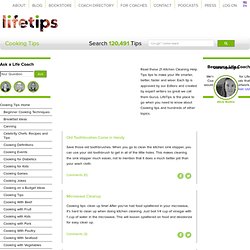 Sometimes the solutions to your problems are as close as your pantry shelf. For counter-top stains caused by coffee, tea, or juice spills, for instance, just grab that box of baking soda you usually reserve for your favorite cookie recipes. Then mix three parts baking soda with one part water to create a paste. Apply onto a damp sponge, making sure to scrub the stain vigorously. Allow to sit for 30 minutes and wipe clean.
Kitchen Cleaning Help
By admin on Aug 30, 2008 in Frugal Tip , Homemaking When I had four children under five years old (1979), I found that WD-40 removed crayons marks from wall! It was a thrilling discovery! A post on a message board gave 45 uses for WD-40.
Top WD-40 Uses for Moms : Heart at Home