Food
Chicken-and-Sausage Gumbo Recipe. Desserts. Cobbler baked in jars. I made these for the Seattle Bake Sale for Share Our Strength organized by Frantic Foodie (thanks Keren!).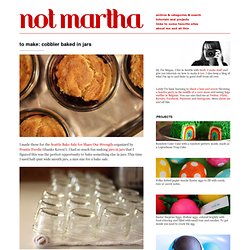 I had so much fun making pies in jars that I figured this was the perfect opportunity to bake something else in jars. This time I used half-pint wide mouth jars, a nice size for a bake sale. (Half pint jars washed and drying.) I used the blueberry cobbler recipe from Baking Illustrated. I was making 24 portions so the first time I tried to divide each recipe between 8 jars (making three total recipes worth). Sea Glass Candy. On nice days--nice being a relative term in Seattle--the little Humble and I make the short trip down to the beach.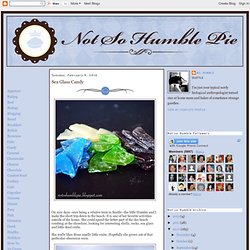 It is one of her favorite activities outside of the house. She could spend the better part of the day beach combing at the shoreline, looking for interesting shells, rocks, sea glass and little dead crabs. She really likes those smelly little crabs. Hopefully she grows out of that particular obsession soon. Yes, this is a "nice" day... How to Make Homemade Candy Bars (Resolution Breaker) If you're like most people, you probably started off the year with a whole list of resolutions: more sleep!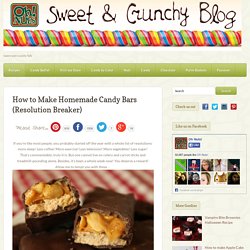 Less coffee! More exercise! Less television! Baked Apple Chips! Sausage and Mash Cupcakes. You could just buy sausagemeat from the supermarket, but I didn't have any in, so I destroyed some sausages I had in the fridge.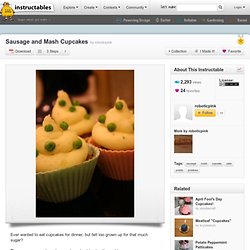 Take a sharp knife, and slice the skin up the side of each sausage. Then you can peel them open and get the sweet sweet meat out of the insides. As a bonus, you get a pile of skins which you can use to totally gross out your housemates. Homemade Nutella. Homemade Gummies. Lavender Blueberry Semifreddo. For this purple dessert I've combined two purple powerhouses: lavender and blueberry.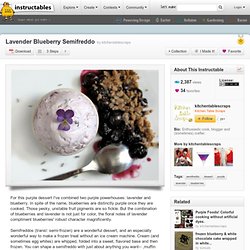 In spite of the name, blueberries are distinctly purple once they are cooked. Those pesky, unstable fruit pigments are so fickle. But the combination of blueberries and lavender is not just for color, the floral notes of lavender compliment blueberries' robust character magnificently. Semifreddos (transl: semi-frozen) are a wonderful dessert, and an especially wonderful way to make a frozen treat without an ice cream machine. Homemade Oatmeal Creme Pies. Oatmeal creme pies will always be one of my favorite junk foods.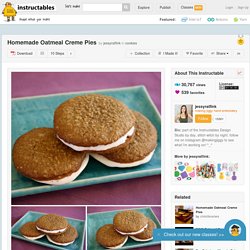 My family did not keep sweets and soda on hand, but they were a really amazing treat every once in a while. But the ingredients label is scary*. And I have to admit Debbie's version is a little too syrupy-sweet for me. Traditional baguettes by hand. Bread making can be one of the most zen things a cook can do.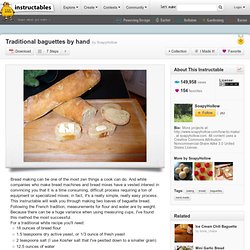 And while companies who make bread machines and bread mixes have a vested interest in convincing you that it is a time consuming, difficult process requiring a ton of equipment or specialized mixes; in fact, it's a really simple, really easy process.This instructable will walk you through making two loaves of baguette bread. Following the French tradition, measurements for flour and water are by weight. Because there can be a huge variance when using measuring cups, I've found this method the most successful.For a traditional white recipe you'll need:18 ounces of bread flour1.5 teaspoons dry active yeast, or 1/3 ounce of fresh yeast2 teaspoons salt (I use Kosher salt that I've pestled down to a smaller grain)12.5 ounces of waterTools: Mixing bowl, kitchen scale, counter-top or other smooth surface, bowl scraper, clean hands, baking sheet, kitchen scissors or razor, oven. Nana's Peanut Butter Bangles.
5.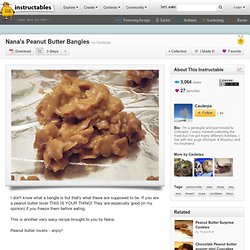 Pour peanut butter mix over cornflakes and stir until all of the cornflakes are coated with the peanut buttery sugar goodness. To keep from crushing the cornflakes take your spatula and flip the cornflakes over and over until they're coated. Sauces and Condiments Recipes, Flavored Butter Recipes, Condiment Recipes, Salad Dressing Recipes, Sauce Recipes, Relish Recipes, Jelly Recipes, Dessert Sauce Recipes. Beef Sauces Al's Secret Sauce Awesome BBQ and all-purpose sauce for Pig Pickin dip, pork chops, ribs, and chicken on the grill.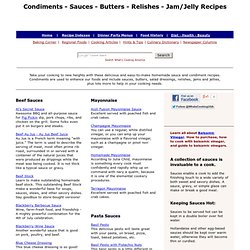 Some folks even put it on burgers and steaks. Girlmeetsbug.com. Classic Corn Dogs and Cheese-on-a-Stick. For the second State Fair recipe, I whipped up some hot dogs and cheese-on-a-stick reminiscent not just of state fairs and carnivals…but also of shopping malls in the eighties: this is said to be the same batter recipe used by the famous Corn Dog 7 chain of stores, and if you don't remember Corn Dog 7, you're way too young and probably don't have slack abdominal muscles or jowls yet.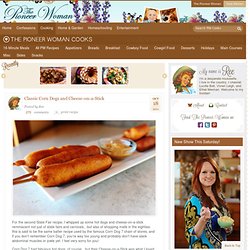 I feel very sorry for you! Corn Dog 7 had fabulous hot dogs, of course…but their Cheese-on-a-Stick was what I loved the most as I traipsed through the mall with my best friend Jenn, buying things like neon pink fingerless gloves and Soloflex posters and Duran Duran tapes. I miss the Eighties so much it hurts. I'm going to go text Jenn right now. Healthy. Happy. Life. | Vegan Blog | Vegan Recipes.
Fleur de Sel Caramels. You guys. We made homemade caramels!!! We're feeling pretty chuffed. It all started last week when the foodie blogosphere exploded with Fall treats, many of which included some element of caramel deliciousness. Hokey Pokey. Who wants to make something delicious? Easy? Delicious AND easy? Cinnamon Roll Pancakes. Cinnamon Roll Pancakes Updated 9/22/11 to Add: If you're coming here to sample these delicious Cinnamon Roll Pancakes, you just might like the latest recipe that I've posted for Pumpkin Cinnamon Roll Pancakes too. And Gingerbread- Cinnamon Roll Pancakes too. Enjoy! If you've ever thought you needed a reason to eat pancakes, today is the day: National Pancake Day. Eat a short stack for breakfast, enjoy them for lunch, or make a dinner out a manhole-sized pancake… guilt free… because you're merely celebrating their existence.
Not cake, but not food. Cake. Peppermint Patties. Berlin's Whimsy - Help for a Monday Morning... Just Peachy Fruit Leather.
---