Cake
Get flash to fully experience Pearltrees
Sweet Potato Cupcakes with Maple Spice Buttercream Pumpkin. Butternut squash. Sweet potato. Sometimes they can really be used interchangeably. While I feel I could taste the difference between these sweet potato cupcakes and my last batch of pumpkin cupcakes, I'm sure if you went out and told someone they were eating pumpkin they'd be none the wiser.
For Cake: 1 1/2 cups (1 bottle) stout or dark beer 1 1/2 cups unsalted butter, cut into cubes 1 cup dark or dutch-process cocoa powder, sifted 3 cups all-purpose flour 3 cups granulated sugar 2 1/4 teaspoons baking powder 1 teaspoon salt 3 large eggs, at room temperature 2/3 cup sour cream, at room temperature For Filling & Frosting: 2 cups (4 sticks) unsalted butter, softened and cut into cubes 3 3/4 cups powdered sugar, sifted 1/4 cup heavy cream 1 vanilla bean, scraped 2 teaspoons vanilla extract pinch of salt 3/4 cup dulce de leche, room temperature Preheat oven to 350°F. Butter three 8-inch round cake pans or two 9-inch round cake pans. Line bottoms with parchment paper circles, then butter parchment. Set aside.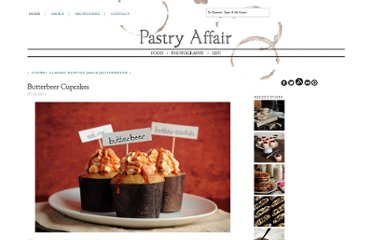 This is part IV in a mini-series of Harry Potter snacks from the books brought to life ( part I is on Honeydukes treats, part II is all about the cauldron cakes, and part III features every wizard's favorite drink—butterbeer!). I confess that Butterbeer Cupcakes aren't actually mentioned in the Harry Potter series. In my defense, if JK Rowling had been given one of these while writing the books, she would have found a way to fit them in. They are so exceptional, I wouldn't be surprised if she featured them as a major plot point. I'm only half joking.