Tools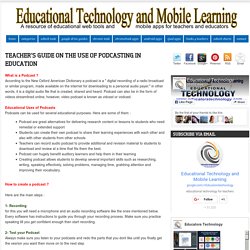 With the introduction of podcasting , a new revolution emerged in the field of communication and in the way people share their knowledge. This revolution has extended to touch upon education with educators and teachers now using podcast as learning and teaching tools both in formal and informal instructional settings. In this post, we will be introducing you to the art of podcasting , providing you with the tools to create your own podcast, showing you how to use podcast for educational purposes , and sharing with you the best educational podcast of 2012. What is a Podcast ?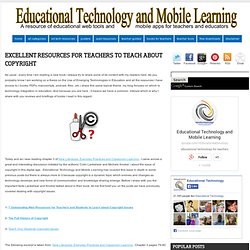 As usual , every time I am reading a new book I always try to share some of its content with my readers here. As you probably know I am working on a thesis on the Use of Emerging Technologies in Education and all the resources I have access to ( books, PDFs, manuscripts, podcast, files...etc ) share this same topical theme my blog focuses on which is technology integration in education. And because you are here , it means we have a common interest which is why I share with you reviews and briefings of books I read in this regard. Today and as I was reading chapter 3 of New Literacies: Everyday Practices and Classroom Learning , I came across a great and interesting discussion initiated by the authors( Colin Lankshear and Michele Knobel ) about the issue of copyright in this digital age.
Educational Technology and Mobile Learning: Excellent Resources for Teachers to Teach about Copyright
» Interactive Products - The Videopro Blog
Alastair Grigg – Videopro Business Centre: Education The difference between different interactive technologies is one of the most common discussions I have with my clients. So, I've produced an easy to read table for those looking into interactive technologies that I may not get a chance to speak to on a regular basis.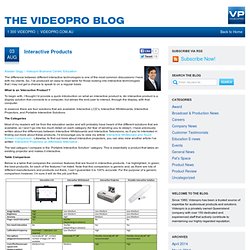 Alastair Grigg – Videopro Business Centre: Education In 2010, with the cost of television screens continually dropping, I wrote an article (click here to read "Classroom AV – Data Projector or TV?") weighing up the positives and negatives of 'Data Projectors' versus 'LCD Screens', in a classroom environment. With the price on LCD's continuing to drop, LCD screens with touch screen capability have also started to become more and more cost effective and we are now starting to see the opportunity for touch screen LCD's to be used in the same manner as interactive whiteboards (IWB's).
» Interactive Whiteboard and Touch Screen LCD Comparison - The Videopro Blog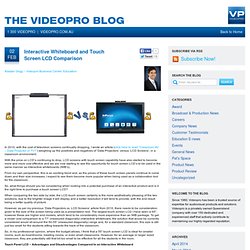 An iPad and Apple TV can combine to provide an advantageous alternative to more expensive, traditional interactive white boards. Guest writer and High School Principal David Mahaley is using this approach and offers his insights, and observations from educators in his school. With the integration of the iPad into the instructional environment, teachers and students have discovered many new ways in which the device can expand and enhance the learning environment. With the iPad, the Apple TV can offer a flexible, complete, and cost efficient alternative to the traditional interactive boards populating our classrooms. As a school administrator and teacher, I have explored the Apple TV and its offerings as an alternative to one of the many types of interactive whiteboards currently available to instructors. We have committed our school to issuing every high school student and instructor an iPad.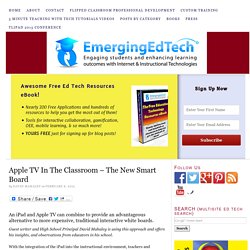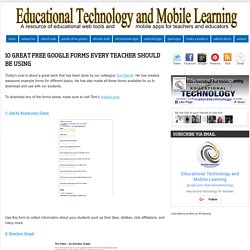 Google Forms is a great free service by Google and that has a huge potential in education. Google Forms is very easy to use and does not require any advanced technology skills to run it. It is automatically built in Google Docs meaning it is completely web-based and does not require any software download. Anyway you can check this simple guide if you are not yet familiar with Google Docs . Today's post, however, is about a great work that has been done by our colleague Tom Barret. He has created awesome example forms for different topics.
Yammer – the next step for social networking in schools? - Microsoft UK Schools blog
As the use of technology continues to flourish and grow in schools everywhere, it's time for schools and districts to be more intentional about crafting a comprehensive K-12 (or Y5-12) vision for education technology. Too often, technology implementation is haphazard at best; an ever-increasing number of devices, websites, and apps are used in an attempt to meet students' learning needs, but little thought is given to coordinating that technology use in a meaningful way throughout a students' K-12 experience. Here are four key questions school districts should be able to answer as they work to better align their use of classroom technology in a cohesive manner. 1.
4 Questions To Ask Before Implementing Education Technology
Three Things I Should Have Done in College « Educator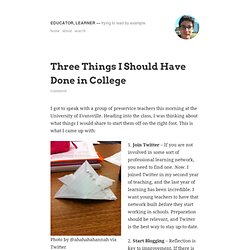 I got to speak with a group of preservice teachers this morning at the University of Evansville. Heading into the class, I was thinking about what things I would share to start them off on the right foot. This is what I came up with: Photo by @ahahahahannah via Twitter
magazine
Submitted by: Kris Nielsen - Middle Level Specialist from North Carolina I watched my students take a math test the other day. It was one of those tests that seems to take the entire 70-minute block.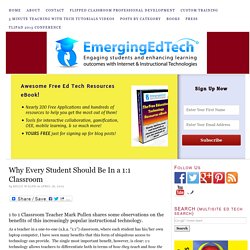 1 to 1 Classroom Teacher Mark Pullen shares some observations on the benefits of this increasingly popular instructional technology. As a teacher in a one-to-one (a.k.a. "1:1″) classroom, where each student has his/her own laptop computer, I have seen many benefits that this form of ubiquitous access to technology can provide. The single most important benefit, however, is clear: 1:1 technology allows teachers to differentiate both in terms of how they teach and how the students are expected to demonstrate their learning.
Why Every Student Should Be In a 1:1 Classroom
Teachers today are fortunate to have access to technological tools that make our jobs easier and minimize the paperwork involved in educating our students. I didn't grow up with computers like today's students did, but I'm very much on board with becoming more tech savvy and, yes, even accepting help from my students when I have technical difficulties. About a year ago I bought myself an iPad after saving for it for months. It was going to help me organize my life, both at home and at school, and guess what? It did. I love my iPad and I can't see myself living without it.
…to Ask a Tech Teacher (click for new address). Click to go to my new home All I did was move to a self-hosted site. The name is exactly the same–just hosted somewhere else. The new site has everything the old one did, including old posts resources lists current posts contact info everything To encourage … Continue reading Here are some great projects to keep your children tech-involved over the holidays.