Leadership
Leading Change – 3 Images. I enjoy using images to share ideas.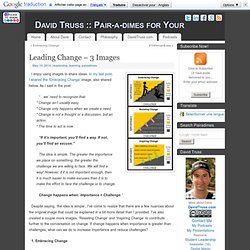 In my last post, I shared the 'Embracing Change' image, also shared below. As I said in the post: Leading Change – 3 Images. New Study Finds Which Countries Respect Teachers Most. There's a new report out today called the Global Teacher Status Index and it's from the folks at Varkey Gems Foundation.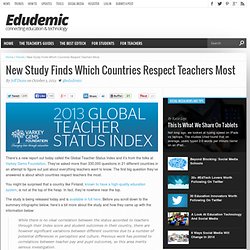 They've asked more than 330,000 questions in 21 different countries in an attempt to figure out just about everything teachers want to know. The first big question they've answered is about which countries respect teachers the most. You might be surprised that a country like Finland, known to have a high-quality education system, is not at the top of the heap. In fact, they're nowhere near the top. The study is being released today and is available in full here.
Co working spaces re image offices
Blog | D. Trinidad Hunt. The Power of Professional Purpose A Program for the Leader in You Thursday August 7, 2014 at 8:30 AM EST-to-Saturday August 9, 2014 at 8:30 PM ESTPlease join us for 3 days - August 7 8:30AM - 5:30PM, August 8 9:00 AM - 5:30PM & August 9 9:00AM - 5:30PM with Graduation Dinner to follow.
Nurture Your Spirit, Educate Your Mind, & Rejuvenate Your Soul. Experience the possibility of life without limits! Berth Restaurant & Events (Private Function Area)
Coaching/ mentoring
9 Suggestions for the Welcome Back to School letter from the Principal. "Although it was a bit too long, I really appreciated your letter this summer," is something I have heard many times in the past 15 years.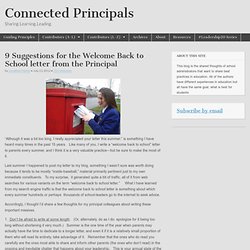 Like many of you, I write a "welcome back to school" letter to parents every summer, and I think it is a very valuable practice—but be sure to make the most of it. Last summer I happened to post my letter to my blog, something I wasn't sure was worth doing because it tends to be mostly "inside-baseball," material primarily pertinent just to my own immediate constituents. To my surprise, it generated quite a bit of traffic, all of it from web searches for various variants on the term "welcome back to school letter." What I have learned from my search engine traffic is that the welcome back to school letter is something about which every summer hundreds or perhaps thousands of school-leaders go to the internet to seek advice. 2d3bda87-8e73-4178-aeca-4e684be06432. YouTube. The Heliotropic Effect in Leadership and Coaching.
Recently I attended a workshop at Positive 12 led by Kim Cameron Professor of Management at University of Michigan.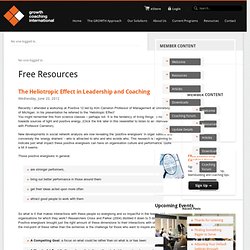 In his presentation he referred to the 'Heliotropic Effect' You might remember this from science classes – perhaps not. It is the tendency of living things to move towards sources of light and positive energy. (Click the link later in this newsletter to listen to an interview with Professor Cameron). 21st Century PLNs for School Leaders. As many school administrators are enjoying their summer break, we all tend to think of ways that we can make our school better in the upcoming year.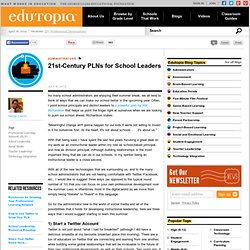 Often, I point school principals and district leaders to a powerful post by Will Richardson that helps us point the finger right at ourselves when we are looking to push our school ahead. Richardson states: "Meaningful change ain't gonna happen for our kids if we're not willing to invest in it for ourselves first. Stephen Covey Quotes. We immediately become more effective when we decide to change ourselves rather than asking things to change for us.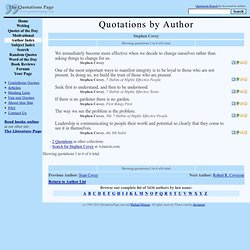 Stephen Covey One of the most important ways to manifest integrity is to be loyal to those who are not present. In doing so, we build the trust of those who are present. Stephen Covey, 7 Habits of Highly Effective People. Stephen covey's seven habits of highly effective people review. Home » self/personal development » the seven habits of highly effective people® Dr Stephen Covey's inspirational book - 7 Habits Of Highly Effective People® Dr Stephen Covey (1932-2012) was and remains a hugely influential management guru.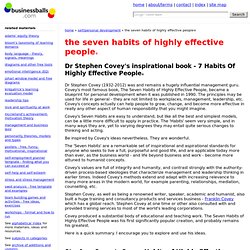 Covey's most famous book, The Seven Habits of Highly Effective People, became a blueprint for personal development when it was published in 1990. The principles may be used for life in general - they are not limited to workplaces, management, leadership, etc. Empathy definition, techniques and training, levels of listening theory, listening even..
Home » self/personal development » empathy, trust, listening, diffusing conflict and handling complaints empathy skills - for relationships, communications, complaints, customer retention, conflict and levels of listening types Empathy and trust are a platform for effective understanding, communication and relationships.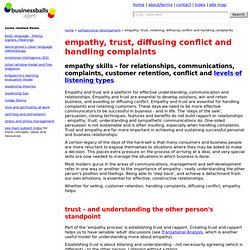 Empathy and trust are essential to develop solutions, win and retain business, and avoiding or diffusing conflict. Empathy and trust are essential for handling complaints and retaining customers.
When to Confront Someone: The Rule of Three - Peter Bregman. By Peter Bregman | 5:35 PM November 30, 2009 "Should I bother to have the conversation with her?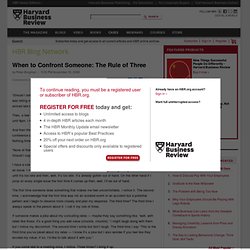 What do you think?" Mike*, a marketing director, was telling me about Anne, one of his employees, who had done a few things to frustrate him. She arrived late to a meeting with a client. Not that late – only ten minutes — still, it didn't look good.