HTML 5 Frame Works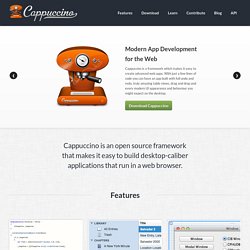 Cappuccino 0.9.7 After nearly a year's worth of work we are truly excited to introduce Cappuccino 0.9.7, a major update to the Cappuccino framework featuring a massive number of new features. Since Cappuccino is such a wide framework, ranging from a low foundations such as our Objective-J compiler, all the way up to the full featured, fully themable UI kit AppKit, it's incredibly hard to summarise all the changes.
GWT (pronounced 'gwit') is the official open source project for GWT releases 2.5 and onwards. This site houses links to the documentation, source code repository, issues list and information related to GWT roadmap and release. It is intended for developers interested in contributing to GWT, and for keeping people informed on new and upcoming changes to GWT, GWT related events and other news. Productivity for developers, performance for users GWT is a development toolkit for building and optimizing complex browser-based applications. GWT is used by many products at Google, including Google AdWords and Google Wallet.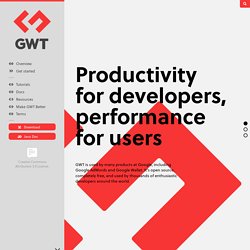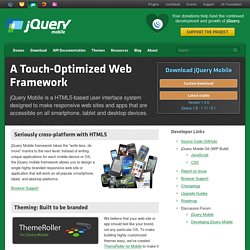 Seriously cross-platform with HTML5 jQuery Mobile framework takes the "write less, do more" mantra to the next level: Instead of writing unique applications for each mobile device or OS, the jQuery mobile framework allows you to design a single highly-branded responsive web site or application that will work on all popular smartphone, tablet, and desktop platforms. Graded Browser Support Theming: Built to be branded We believe that your web site or app should feel like your brand, not any particular OS. To make building highly customized themes easy, we've created ThemeRoller for Mobile to make it easy to drag and drop colors and download a custom theme.
jQuery UI libraries and tools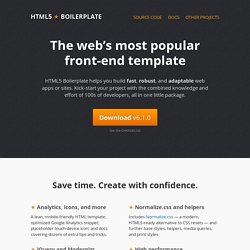 Save time. Create with confidence. ★ Analytics, icons, and more A lean, mobile-friendly HTML template; optimized Google Analytics snippet; placeholder touch-device icon; and docs covering dozens of extra tips and tricks.
Kendo UI Demos
Sproutcore: an open-source Javascript framework to build blazing fast web apps -Dhananjay Singh