Project Collaboration
Technology Strategy | CASE CASE | Website Concept | BLDG 2.0 is a research project initiated by CASE, in partnership with New Buildings Institute, Arup Sustainability, SHoP Architects, Columbia University and IDEO.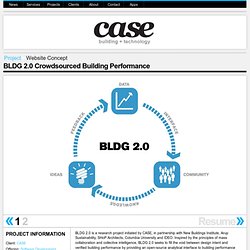 Inspired by the principles of mass collaboration and collective intelligence, BLDG 2.0 seeks to fill the void between design intent and verified building performance by providing an open-source analytical interface to building performance databases, a collaborative community of experts, and an online marketplace for ideas emphasizing building energy performance and open innovation. As an ever-evolving and improving collaborative infrastructure, BLDG 2.0 will provide a foundation for a more effective and adaptive community of design professionals dedicated to a sustainable built environment.
Collaborative software. Collaborative software or groupware is an application software designed to help people involved in a common task to achieve goals.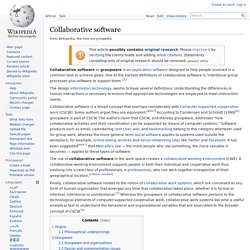 One of the earliest definitions of collaborative software is 'intentional group processes plus software to support them. Autodesk - AutoCAD WS. Collaboration Tools | 15 Free Online Collaboration Tools | Collaborative Learning. Collaboration is central to social learning.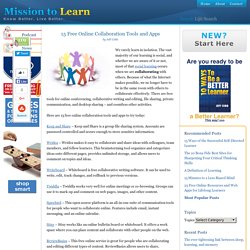 This guest post from Karen Schweitzer highlights some great free tools for connecting and sharing with others. Being in the same room to collaborate on a project is no longer necessary thanks to the many different applications that are available over the web. There are free tools for online conferencing, collaborative writing and editing, file sharing, private communication, and desktop sharing. Here are 15 free online collaboration tools and apps to try today: Shop drawing. A shop drawing showing different perspective views of a post and beam building.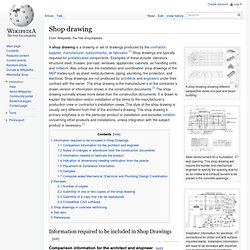 Steel reinforcement for a foundation wall opening. This shop drawing will require the builder and mechanical engineer to specify the opening size for an air-intake and exhaust louvers to be placed in the concrete openings. Installation information for electrical connections for chiller unit with surface mounted starter. Installation information will need to be reviewed with electrical and plumbing trades to coordinate third-party service connections. Information required to be included in Shop Drawings[edit] Submittals (construction) A wall mock-up.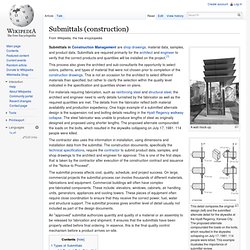 This detail compares the original design (left) and the submitted alternate detail for the skywalks at the Hyatt Regency, Kansas City. The proposed alternate compounded the loads on the bolts, which resulted in the skywalks collapsing on July 17, 1981. 114 people were killed. This example illustrates the importance of submittal review. Request for information. A request for information (RFI) is a standard business process whose purpose is to collect written information about the capabilities of various suppliers.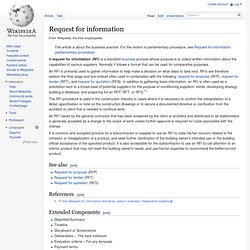 Normally it follows a format that can be used for comparative purposes. An RFI is primarily used to gather information to help make a decision on what steps to take next. RFIs are therefore seldom the final stage and are instead often used in combination with the following: request for proposal (RFP), request for tender (RFT), and request for quotation (RFQ). In addition to gathering basic information, an RFI is often used as a solicitation sent to a broad base of potential suppliers for the purpose of conditioning suppliers' minds, developing strategy, building a database, and preparing for an RFP, RFT, or RFQ.[1]
---