Art project ideas
Danielle's Place of Crafts and Activities - Christian Crafts and Learning Activities for Children and Kids of all Ages. Fun Family Crafts | A library of free craft ideas from toddler to teenager. Education Place Activity: Trading Cards. Children will share information about themselves by creating personalized trading cards.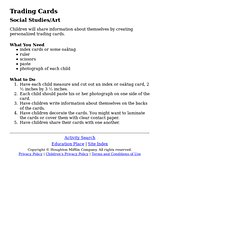 What You Need index cards or some oaktag ruler scissors paste photograph of each child What to Do Have each child measure and cut out an index or oaktag card, 2 ½ inches by 3 ½ inches. First Friday Q&A : Make Handwriting Practice Fun and Playful! | Not Just Cute. I'm taking a little break as we welcome our fourth son to our family.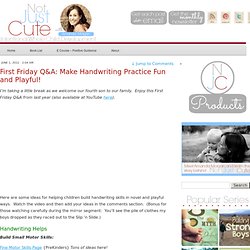 Enjoy this First Friday Q&A from last year (also available at YouTube here). Here are some ideas for helping children build handwriting skills in novel and playful ways. Watch the video and then add your ideas in the comments section. (Bonus for those watching carefully during the mirror segment: You'll see the pile of clothes my boys dropped as they raced out to the Slip 'n Slide.)
Play Create Explore: Homemade Puzzles. How To Make "Clean" Play Slime Home Hacks | Apartment Therapy Ohdeedoh. Previous image Next image We have yet to meet a child who isn't into slime.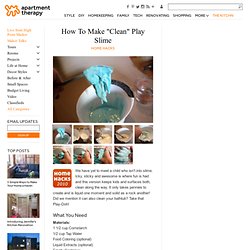 Icky, sticky and awesome is where fun is had and this version keeps kids and surfaces both, clean along the way. It only takes pennies to create and is liquid one moment and solid as a rock another! Rainbow Mobiles Craft for Kids - St. Patrick's Day Rainbow Mobiles Kids' Craft - Kaboose.com. St. Pat's Rainbow Loops. Pre Schoolers will have a lot of fun creating their own rainbow and learning colors with this Fruit Loop Rainbow craft.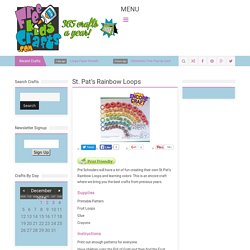 This is an encore craft where we bring you the best crafts from previous years. Supplies Printable Pattern Fruit Loops Glue. Little Apple Yarn Favors. These cute little apples just fell from our tree, or so we like to think!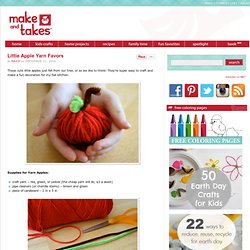 They're super easy to craft and make a fun decoration for my Fall kitchen. Supplies for Yarn Apples: craft yarn – red, green, or yellow (the cheap yarn will do, $2 a skein)pipe cleaners (or chenille stems) – brown and greenpiece of cardboard – 2 in x 5 in First find a piece of cardboard to help you with the winding. I tore off a piece from a box we had lying around. Look! Aluminum Can Ornaments. Shape Rubbings Craft | Kids' Crafts. Design Your School Lesson Plan - Crayola OFFICIAL Site. Paper Plate Rainbow. This Paper Plate Rainbow is a perfect craft for preschoolers.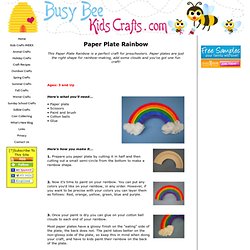 Paper plates are just the right shape for rainbow-making, add some clouds and you've got one fun craft! Ages: 3 and Up. MEXICAN MARACAS. Check out the General Directions on how to paper mache if this is your first time working with this medium.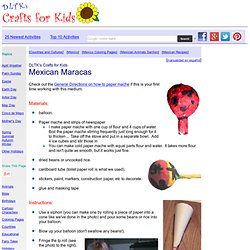 Materials: balloon. Paper mache and strips of newspaper I make paper mache with one cup of flour and 4 cups of water. Boil the paper mache stirring frequently just long enough for it to thicken... Rainbow Colors | Primary and Secondary Color Mixing | Visual Arts Preschool Lesson Plan Printable Activities. Ages 3.5 to 6 Preschool - Kindergarten Activity 1: Color Recognition Skills - Colors of the Rainbow - Color the Rainbow with Freda Frog - Ages 2+ Colors are everywhere and the rainbow has all the colors that we see around us.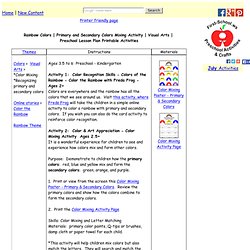 Visit this activity, where Freda Frog will take the children in a simple online activity to color a rainbow with primary and secondary colors. If you wish you can also do the card activity to reinforce color recognition. Activity 2: Color & Art Appreciation - Color Mixing Activity Ages 2.5+ It is a wonderful experience for children to see and experience how colors mix and form other colors.
S Guide Art Lesson Plans Page. Art Lesson Plans, Drawing Lesson Plans, Painting Lesson Plans, Sculpture Lesson Plans Drawing Lesson Plans A MONSTER'S WORLD Using texture, the student will create imaginary monsters.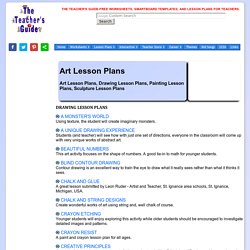 Kindergarten Art with Mrs. Brown. Students read the story "Where the Wild Things Are" and then created their own "Wild Thing" using construction paper and crayons.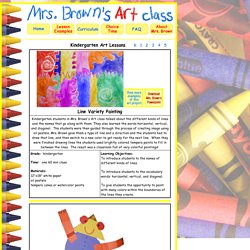 They were encouraged to be creative and possibly combine parts from different animals. They were also instructed to create friendly "Wild Things" like the ones in the story. This can also be done by reading the story "I Need My Monster". Another fun way to add to this project is to have students verbalize their monsters name and special powers and to add a speech bubble expressing those things.
Make a Rock Salt Mosaic. Have your summer art activities hit a bump in the road? Is your soon to be kindergartener getting tired of the standard art supplies? Well, how about making a mosaic? Mystery Paint. What kid doesn't love a little bit of mystery? Kids paint an "invisible" picture that can only be revealed when covered with watercolor paints. Want to add some writing practice? Have kids practice their letters, or, if they're a bit older, they can extend this activity by writing secret messages to each other.
What You Need:
---