Relation Client
Le journal de la #relationclient
Manuel Diaz, Vice-Président d'Emakina: 'Le monde qui nous entoure est désormais temps réel'
Quels faits marquants retenez-vous de 2012 et pourquoi ?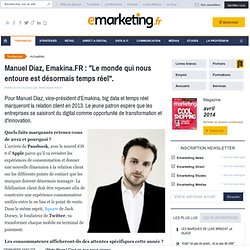 Magazine En-Contact
ContactDistance | L'actualité des acteurs de la relation client à distance
destinationCRM.com - The leading resource for Customer Relationship Management - from the editors of CRM magazine
Something has been happening on the Google SERPs (Search Engine Result Pages). It is the very thing that the FTC just closed the case on. It is the delivery on the promise that Larry and Sergey made from the beginning. That Google would organize the world's information and make it universally accessible. The keywords (pun intended) are "organize" and "access". You see none of this information has ever belonged to Google.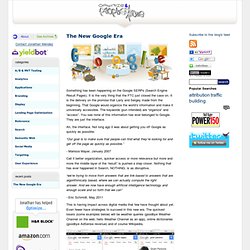 http://www.optimizeandprophesize.com/jonathan_mendezs_blog/
Relation Client Multicanal
CRM Blog | Keeping an Eye on Customer Relationship Management
blog CRM : INES Logiciel SaaS - Gestion de la relation client en mode SaaS
CRM Daily
Innover le CRM - E-DEAL