Online Safety
CyberAngels Internet Safety Program. GetNetWise | You're one click away. WiredSafety: the world's largest Internet safety, help and educa. OnGuard Online. For Kids: Online Safety Rules For Kids.
Proxies. Escape Information | New Beginnings. If you think your activities are being monitored, they probably are.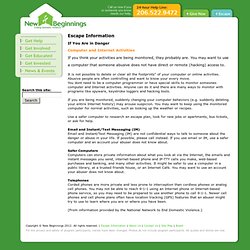 You may want to use a computer that someone abusive does not have direct or remote (hacking) access to. It is not possible to delete or clear all the "footprints" of your computer or online activities. Exposing Online Predators & Cyberpaths. Internet Safety. What Can Parents Do? Facebook, YouTube, Texting: Rules of the Road for Kids. Online Sexual Exploitation - Bulletin Board. Digital Citizenship - Who Will You Be?
---