Guides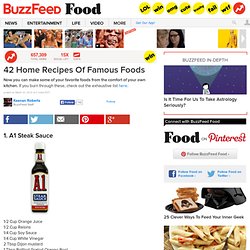 1. A1 Steak Sauce 1/2 Cup Orange Juice 1/2 Cup Raisins 1/4 Cup Soy Sauce 1/4 Cup White Vinegar 2 Tbsp Dijon mustard 1 Tbsp Bottled Grated Orange Peel 2 Tbsp Heinz Ketchup 2 Tbsp Heinz Chili Sauce 1. Bring to a boil for 2 minutes stirring. 2. Remove from heat.
42 Home Recipes Of Famous Foods
Your Go-To Guide For Choosing Healthier Grains (INFOGRAPHIC)
As you can imagine, my favorite part about skiing is long, leisurely lunching and the hunger you feel at the end of the day. It's a deserving hunger, a hunger I also get when I run long distances or take a really brutal workout class. I reward myself with a big, delicious lunch and dinner because my body needs it and my soul wants a little pat on the back. When I have that kind of hunger, I like things that are hearty and filling like these loaded sweet potato and root veggie fries. I am so happy to be seeing things like kale and quinoa salads on almost every menu out here this week, and healthy options at many of the restaurants. I would love for places to take it one step further and add things like shiitake bacon an option over real bacon … baked sweet potato fries as an option for regular french fries.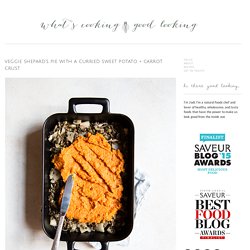 what's cooking good looking - a healthy, seasonal, tasty food and recipe journal
Or, for those of you speak Latin, "The Opposite of E Pluribus Unum." Today's recipe is super-exciting because it's flexible, so it yields itself to over a million variations. You get to be creative: Vegan Whipped Cream? Banana pudding? Pumpkin pudding?
Out of One, Many | Chocolate Covered Katie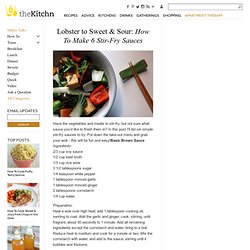 Have the vegetables and meats to stir-fry, but not sure what sauce you'd like to finish them in? In this post I'll list six simple stir-fry sauces to try. Put down the take-out menu and grab your wok - this will be fun and easy!Basic Brown Sauce
Homemade Coconut Oil Bath Bombs
These are not food. I am not sorry. Bath bombs. Homemade. They have coconut oil in them, they smell incredible, and I'm smitten.
Slow Down With A Polenta Recipe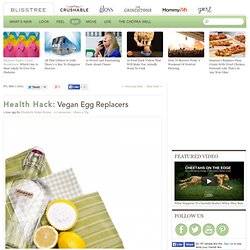 Earlier today we posted an interview with Annie & Dan Shannon, the husband-and-wife team behind Betty Goes Vegan. The cookbook is a massive volume of vegan updates on classic recipes, from Caesar salad and "beef" stroganoff to shortbread cookies and brownie bites. The aim is to show audiences that anything can be made vegan—and still taste good—if you know the right tricks.
Egg Substitute Options : 6 Egg Replacers For Vegan Baking & Recipes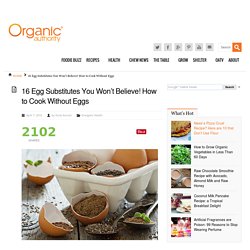 13 Egg Substitutes for Leavening, Binding or adding Moisture to Recipes
For vegans and those with egg allergies, the prevalence of eggs in conventional recipes–especially in baked goods–can make cooking a chore. Sure, there are plenty of vegan and egg allergy recipes out there. But knowing how to replace eggs yourself with all natural ingredients can bring a world of conventional cookbook recipes back into your kitchen. There are three basic categories for replacing eggs in a recipe: eggs used for leavening, eggs used for binding, and eggs used for moisture. Knowing the right reason for eggs in the recipe is the first step in mastering egg substitution. Try these 13 natural egg substitutes in your favorite recipes.
We've all been there: You want to throw together a quick soup but you don't have any stock on hand. The first question that pops up is whether stock is necessary. The answer depends on what kind of soup you are making. A stock is more important with a simple broth-based soup, whereas a more complex pureed or cream-based soup might be OK with just water. Ideally, though, you will always use stock, as it is the foundation of your soup and really adds flavor. Read on for a method of creating a quick, vegetable stock that will enhance any soup and can be made at the last minute.My 10-minute stock is vegetable-based because chicken, fish and beef/veal stocks need longer simmering time to extract all the flavor from the bones and cuttings.
Make a Quick, Flavorful Vegetable Stock in Just 10 Minutes Cooking Tips from The Kitchn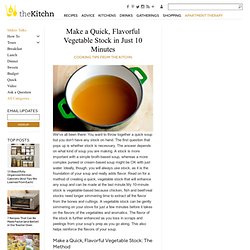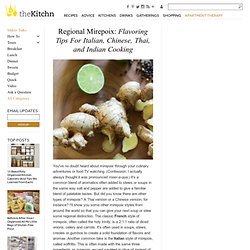 Regional Mirepoix: Flavoring Tips For Italian, Chinese, Thai, and Indian Cooking
You've no doubt heard about mirepoix through your culinary adventures or food TV watching. (Confession: I actually always thought it was pronounced meer-a-qua.) It's a common blend of aromatics often added to stews or soups in the same way salt and pepper are added to give a familiar blend of palatable tastes. But did you know there are other types of mirepoix? A Thai version or a Chinese version, for instance? I'll show you some other mirepoix styles from around the world so that you can give your next soup or stew some regional distinction.
14 Simple, Beautiful Homemade Holiday Gifts
It's National Burger Month and you're probably wondering why SparkPeople is celebrating a food with such an unhealthy reputation. The reason is that SparkPeople sees beyond the calories, fat, and sodium to a tremendously fun and flexible vehicle for healthy eating. Each component—the patty, bun, spreads and toppings—provide opportunities for customizing to your tastes and nutritional needs. We've gathered our best tips and recipes to help you build a better burger, your own Spark burger. Patty Burgers typically consist of protein, grains, a binding agent, vegetables, and spices.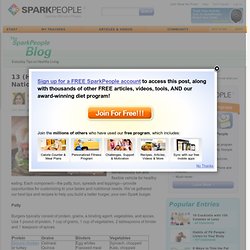 13 (Healthier) Ways to Celebrate National Burger Month
A physicist has teamed up with a bakery to create the first ever formula for making the ultimate sandwich – with no sogginess. It just looks like a mathematics nightmare to us, but we are assured this set of squiggles is the holy grail to making the perfect sandwich. Dr Mark Hadley, a researcher at the University of Warwick's Department of Physics, explained: "In principle, this formula will also describe the butter seeping into the bread, particularly as it warms up because D can depend upon temperature. Scroll down for an equation key, a poll and a gallery of "sandwich personalities" "At the interfaces we have a physical and chemical reaction of absorption.
Perfect Sandwich Formula: Bakery And Boffins Team Up To Create Equation To Avoid Sogginess
6 Ways to Make Ice Cream Without an Ice Cream Machine
How to Become a Certified Personal Trainer
Aspiring to become a rock star fitness guru, or just want to whip some people into shape? Better have some credentials: Few gyms hire trainers without at least one certification or training-specific degree, and most clients like the peace of mind that comes with those credentials. A degree in kinesiology is one way to start, but the most common route is to get certified. Sounds simple, but choosing the correct certification can be just as daunting as the exam itself.
Running Stretches For Tight Hamstrings and Hips
I don't think I've ever met a runner who doesn't suffer from tight hips, hamstrings, or a lower back. The receptive movements and strengthening aspect of running can cause tight muscles that need extra attention. Of course you should never skip the stretching session after a run, but here are three lower-body stretches you should do every day — even on the days you don't run. Open Lizard What it stretches: sides of the hips and hip flexors
As if baking wasn't tricky enough on its own -- you already have to worry about the cake rising, the cookies spreading or the bread coming out rock hard -- but baking vocabulary can trip you up too; sometimes it feels like it's written in another language. How are you supposed to feel confident about the pie you just put in the oven if you're not even 100 percent sure that you understood what was meant by "blind baking" your crust? If you find that you fumble a bit while baking from a recipe, you'll want to read on.
Baking Terms: Reading Recipes For Baked Goods
Flour Guide: Which Types To Use For Baking
At one time or another you've probably stood in the baking aisle of your supermarket in front of all the different flours wondering what they all are. All-purpose flour, bread flour, cake flour -- they all have a specific purpose. Yes, their names do give you a clue as to what purpose they're best for, but there's more to know about these flours, specifically what makes one better for a recipe over another. You may be asking: Are cakes that much better when they're made with cake flour?
2 Recipes to Infuse Your 'Fu With Flavor, Tofu that Is | Eco Chic Table
Perfect Popcorn Recipe