Brownies & loaves
37 calorie brownies... and no, I'm not kidding. | broma bakery. Yeah, so I was baffled myself.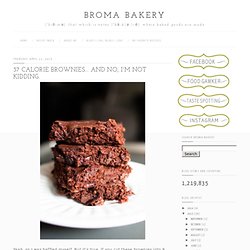 But it's true. If you cut these brownies into 9, they are 37 calories each. CAN YOU BELIEVE IT? Well, take out your calculators and add up some numbers, and you'll see it's true. And the weirdest part about it is: they taste pretty damn good. Gluten & dairy-free black bean chocolate brownie recipe. I made these black bean brownies a few weeks ago and have been hanging out to share the recipe ever since.
I kept going to post it, but every time, another (more seasonal) recipe seemed to sneak in front. Actually, I'm not quite sure why it's taken me so long to make these, full stop. Brownies. Yes, you are reading the ingredients list correctly: there are black beans in these brownies.
You really have to taste the brownies to believe them. The beans add moisture and texture -- not to mention fiber and protein. These brownies have such a great fudgy texture because the cocoa powder, and just a little espresso powder, are the only dry ingredients (besides a bit of Truvia). Fudgy Walnut Brownies - 80twenty. What I'm about to say will strike a sour note in some of you, but I have to be true to my heart: A brownie isn't really a brownie without walnuts.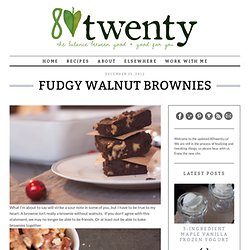 If you don't agree with this statement, we may no longer be able to be friends. Or at least not be able to bake brownies together. I'll go on further to say that a brownie, at its best, is fudgy, rich, chocolaty, and liberally studded with walnuts that have been toasted. Cinnamon Walnut Dulce de Leche Bars. I added a little more salt to the shortbread base, and some walnuts and cinnamon to the topping.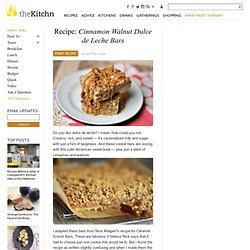 I cooked the filling longer to make sure it darkened into that truly dark and gooey dulce de leche that I loved. These might still look a little tricky, but they come together incredibly fast. The dough makes the base of the cookies, but then you add a little more butter and flour and make a crumb topping to sprinkle over top as well. I made these twice in the last two days and both times they were very well received! Walnut Flour Almonds topped with Bitter Chocolate Ganache | Ana Fernandez. Brownies are the perfect everyday treat.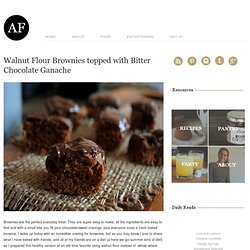 They are super easy to make, all the ingredients are easy to find and with a small bite you fill your chocolate/sweet cravings, plus everyone loves a fresh baked brownie. I woke up today with an incredible craving for brownies, but as you may know I love to share what I have baked with friends, and all of my friends are on a diet (a here-we-go-summer kind of diet) so I prepared this healthy version of an old time favorite using walnut flour instead of whole wheat flour, using only 1 tablespoon of stevia and with bitter chocolate ganache that will add a chocolate punch (and all the chocolate benefits) without the extra calories.
Walnut Flour Almonds topped with Bitter Chocolate Ganache Ingredients 2 Tablespoons margarine 1 Tablespoon stevia 2 Tablespoons raw cocoa powder 1 Teaspoon vanilla 1/8 Cup walnut flour 2 Tablespoons chocolate chips melted (for the ganache) Triple Layer Fudgy Mint Oreo Brownies. Triple Layer Fudgy Mint Oreo Brownies Happy Saint Patrick's Day!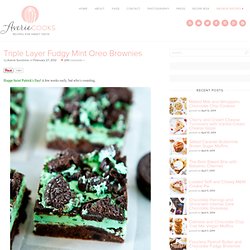 A few weeks early, but who's counting. I couldn't resist sharing these. Now. These brownies are the best thing to come out of my kitchen thus far in 2012. Avocado Brownies with Avocado Frosting. Problems.
That's what these are. Biiiiig problems. Skinny peanut butter swirl brownies. A healthier option for peanut butter brownies.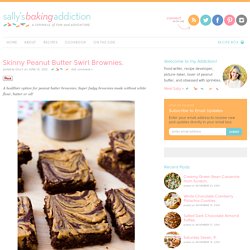 Super fudgy brownies made without white flour, butter or oil! Oh my word. Do I have a treat for you guys today. I honestly think I am dreaming because today not only am I bringing you the fudgiest, richest, softest, chewiest brownie I have EVER eaten, I am bringing you a fudgy, rich, soft, chewy, and SKINNY brownie swirled with my one true love (sorry, Kevin): peanut butter. Mocha Brownies Recipe - Imbibe Magazine. In her cookbook, (William Morrow 2009), award-winning food blogger Ree Drummond cooked and baked her way to the top of the best-seller list from her rural ranch kitchen in Pawhuska, Oklahoma.
Her ooey-gooey brownies are topped with a coffee-cocoa icing, making them a totally acceptable accompaniment to breakfast. 4 1-oz. squares unsweetened chocolate. The Ugliest Dessert You'll Ever Love. Every Friday, gorgeous Italian Jewish women and men line up to buy this hideous dessert. What is the fuss all about? Recently I visited Rome and, like I do in every city I visit, I investigated the local dessert scene.
When I saw 30 people waiting in line outside a tiny shop, I had to find out what was inside. When I saw the charred loaves, I thought that the people outside must be waiting for some other dessert. But no, everyone was buying the black lump. Green Tea Cheesecake White Chocolate Brownie. Green tea is one of my favorite flavors for sweets, from cakes, cheesecakes, puddings, ice cream (I can't tell you how much I adore green tea mochi ice cream), to drinks like milkshakes and frappucinos (I would be drinking this stuff 24/7 if only it wasn't so expensive and not to mention fattening). Up until a few years ago, its use as a dessert flavor was fairly localized to Asia but now it's growing in popularity around the world, working its way into very French desserts like macarons and madeleines.
I received my bag of green tea (matcha) powder a long time ago from Steven's parents who brought it back from Taiwan. It is absolutely precious to me so rather than using it, the bag of matcha sat untouched safely in the pantry. A few days ago I looked at the bag again, and although it was entirely in Japanese, from what I could understand it expired last month. Black bean avocado brownies. I have developed an extensive spreadsheet of calculations in an effort to address to issue of brownies that aren't bad for you, and what I have discovered is that brownies are bad for you. The problem is the chocolate. Chocolate on its own doesn't taste good, as you're probably aware.
---