TRIZ
TRIZ et OTSM-TRIZ | Quelques réflexions personnelles sur cette théorie
Les hommes miniatures i Rate This Ou "smart little people", "little dwarfs". La modélisation à l'aide des hommes miniatures est un outil permettant de comprendre finement un problème.
The Wallonian TRIZ Connection - Games - OTSM-TRIZ for Kids
Jeux- OTSM-TRIZ et TRIZ for Kids
OTSM-TRIZ for Sustainable Innovation
Here it is just one example of OTSMNetwork of problems application in combination with many others OTSM-TRIZ based tools. The product is on the market now. it was created by on of my students of Advanced Master in Innovative Design (include more than 300 hours of OTSM-TRIZ study). The new product have several revolutionary solutions and open new horizon for the product development based on OTSMNetwork of Problems (NofP). As you can see those 300 hours of study pay back much morte than one day training for 40 principles. It seems very simple now. As they say in UK - it is easy if you know how....However it was not so easy to overcome mental inertia of colleags inorder to repose problems in unusual way and find a simple solutions.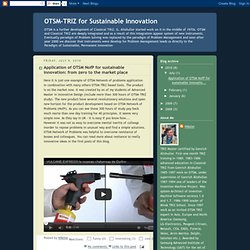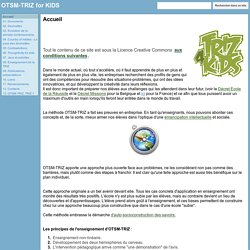 Dans le monde actuel, où tout s'accélère, où il faut apprendre de plus en plus et également de plus en plus vite, les entreprises recherchent des profils de gens qui ont des compétences pour résoudre des situations-problèmes, qui ont des idées innovatrices, et qui développent la créativité dans leurs réflexions. Il est donc important de préparer nos élèves aux challenges qui les attendent dans leur futur, (voir le Décret Ecole de la Réussite et le Décret Missions pour la Belgique et ici pour la France) et ce afin que tous puissent avoir un maximum d'outils en main lorsqu'ils feront leur entrée dans le monde du travail. La méthode OTSM-TRIZ a fait ses preuves en entreprise.
OTSM-TRIZ for KIDS
OTSM-TRIZ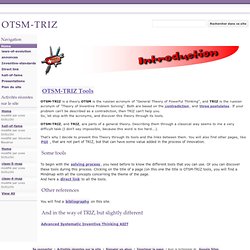 OTSM-TRIZ is a theory.OTSM is the russian acronym of ''General Theory of Powerful Thinking'', and TRIZ is the russian acronym of ''Theory of Inventive Problem Solving''. Both are based on the contradiction, and three postulates. If your problem can't be described as a contradiction, then TRIZ can't help you.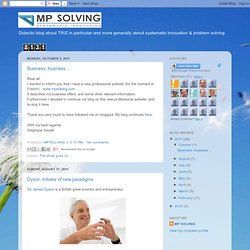 The problem proposed in the former post has been successfully solved by Yves Guillou (France), TRIZ practitioner, member of this blog and author of a blog about TRIZ in French language. My congratulations to him ! Let us recall the pair of technical contradictions describing the ice cube tray problem : TC1 : If the opposite lateral faces of the compartment unit are parallel to each other, the geometry of the ice blocks is cubic, but demoulding of the ice blocks is difficult TC2 : If the opposite lateral faces of the compartment unit are not parallel to each other, the demoulding of the ice blocks is easy, but the geometry of the blocks is not cubic Remarks :
MP SOLVING's blog
TRIZ et OTSM-TRIZ