TRIZ
TRIZ et OTSM-TRIZ | Quelques réflexions personnelles sur cette théorie. The Wallonian TRIZ Connection - Games - OTSM-TRIZ for Kids. Jeux- OTSM-TRIZ et TRIZ for Kids. OTSM-TRIZ for Sustainable Innovation. OTSM-TRIZ for KIDS. Dans le monde actuel, où tout s'accélère, où il faut apprendre de plus en plus et également de plus en plus vite, les entreprises recherchent des profils de gens qui ont des compétences pour résoudre des situations-problèmes, qui ont des idées innovatrices, et qui développent la créativité dans leurs réflexions.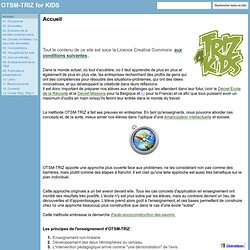 Il est donc important de préparer nos élèves aux challenges qui les attendent dans leur futur, (voir le Décret Ecole de la Réussite et le Décret Missions pour la Belgique et ici pour la France) et ce afin que tous puissent avoir un maximum d'outils en main lorsqu'ils feront leur entrée dans le monde du travail. La méthode OTSM-TRIZ a fait ses preuves en entreprise. The TRIZ Journal - For people interested in the TRIZ methods of creativity and innovation. OTSM-TRIZ. OTSM-TRIZ is a theory.OTSM is the russian acronym of ''General Theory of Powerful Thinking'', and TRIZ is the russian acronym of ''Theory of Inventive Problem Solving''.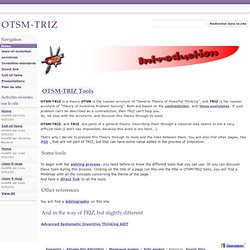 Both are based on the contradiction, and three postulates. If your problem can't be described as a contradiction, then TRIZ can't help you. So, let stop with the acronyms, and discover this theory through its tools. MP SOLVING's blog. TRIZ et OTSM-TRIZ.