Music
AlbumWash - Free MP3 Downloads. SkreemR - Find music, podcasts, ringtones, remixes and more. New Age Paradise. Within Temptation. Nightwish Official Website. The first single and the first promo video, A LIFETIME OF ADVENTURE, from the upcoming NIGHTWISHcomposer and lyricist Tuomas Holopainen´s solo album, MUSIC INSPIRED BY THE LIFE AND TIMES OF SCROOGE,will be released on the 7th of February 2014 in Europe.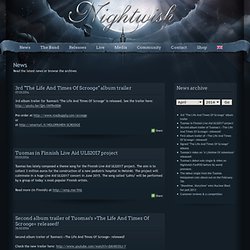 Because the record stores do not carry the physical single format anymore, the single will beavailable only from various mailorders as well as from iTunes. You can now pre-order the single with artist's signature from the official Nightwish Shop. The artwork for the album and the single are by Don Rosa. Vocals on the debut single track by Johanna Kurkela.
Grooveshark. New Album Releases.
---