Community, Reference and Resource
SexPositive Blogging. Cul cult culture. Sex-Positive. Society for Human Sexuality. Fetlife. Two Knotty Boys. Belle de Jour. The Real Princess Diaries. Dansavage's Channel. Dan Savage is a writer and activist most known for his sex advice column "Savage Love" and as the co-founder of the It Gets Better Project.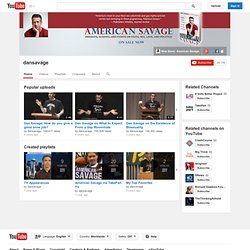 He is also the editor of Seattle's weekly alternative newspaper, The Stranger, and an executive producer on the It Gets Better special for MTV. Dan is starring in the upcoming MTV series Savage U. Savage's writing has appeared in The New York Times, The New York Times Magazine, Forbes, Travel and Leisure, Rolling Stone, Nest, The Onion, and on Salon.com.
---