Music
Richard Wagner
Wilhelm Richard Wagner ( pron.: / ˈ v ɑː ɡ n ər / ; German: [ˈʁiçaʁt ˈvaːɡnɐ] ; 22 May 1813 – 13 February 1883) was a German composer, theatre director, polemicist , and conductor primarily known for his operas (or, as some of his later works were later known, "music dramas"). His compositions, particularly those of his later period, are notable for their complex textures , rich harmonies and orchestration , and the elaborate use of leitmotifs —musical phrases associated with individual characters, places, ideas or plot elements. His advances in musical language, such as extreme chromaticism and quickly shifting tonal centres , greatly influenced the development of classical music ; his Tristan und Isolde is sometimes described as marking the start of modern music. Unlike most opera composers, Wagner wrote both the libretto and the music for each of his stage works.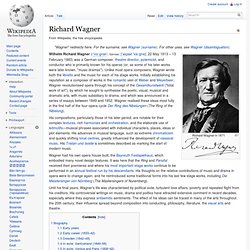 Ella Sera | Música gratuita, fechas de tour, fotografías, videos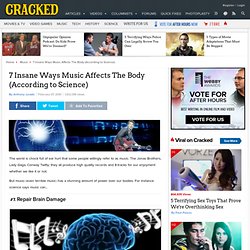 The world is chock full of ear hurt that some people willingly refer to as music. The Jonas Brothers, Lady Gaga, Conway Twitty; they all produce high quality records and 8-tracks for our enjoyment whether we like it or not. But music--even terrible music--has a stunning amount of power over our bodies. For instance science says music can...
Perfil musical de mydogatemystash