Music
Richard Wagner. Wilhelm Richard Wagner (/ˈvɑːɡnər/; German: [ˈʁiçaʁt ˈvaːɡnɐ]; 22 May 1813 – 13 February 1883) was a German composer, theatre director, polemicist, and conductor who is primarily known for his operas (or, as some of his later works were later known, "music dramas").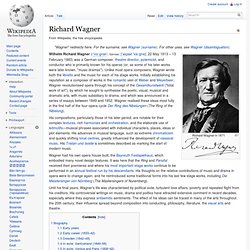 Unlike most opera composers, Wagner wrote both the libretto and the music for each of his stage works. Initially establishing his reputation as a composer of works in the romantic vein of Weber and Meyerbeer, Wagner revolutionised opera through his concept of the Gesamtkunstwerk ("total work of art"), by which he sought to synthesise the poetic, visual, musical and dramatic arts, with music subsidiary to drama, and which was announced in a series of essays between 1849 and 1852.
Wagner realised these ideas most fully in the first half of the four-opera cycle Der Ring des Nibelungen (The Ring of the Nibelung). Ella Sera | Música gratuita, fechas de tour, fotografías, videos. 7 Insane Ways Music Affects The Body (According to Science) The world is chock full of ear hurt that some people willingly refer to as music.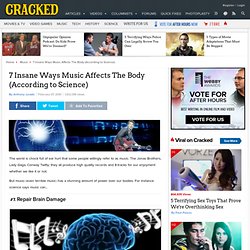 The Jonas Brothers, Lady Gaga, Conway Twitty; they all produce high quality records and 8-tracks for our enjoyment whether we like it or not. But music--even terrible music--has a stunning amount of power over our bodies. For instance science says music can...
Videos
News and Discovery. Last.fm - Escucha la radio por Internet y el mayor catálogo musical del planeta. Perfil musical de mydogatemystash. Download. Fuck Music | We love music, we love to fuck. Listen listen!
---