Tech Pages
Get flash to fully experience Pearltrees
Ebooks are available in many different formats, including the widely supported ePub standard.
The slightly over $20 solution to the video projector . by Shepard & Bernard Gorman It's hard to find any institution that doesn't see many computer-based presentation packages like Microsoft PowerPoint, used virtually every day.
Wi-Fi is a big part of everybody's daily life. However, it can cause frustration if not set up properly or optimally.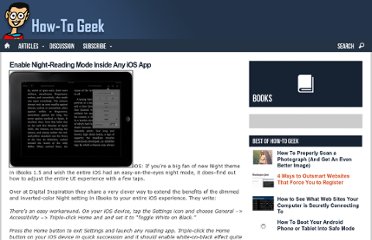 iOS: If you're a big fan of new Night theme in iBooks 1.5 and wish the entire iOS had an easy-on-the-eyes night mode, it does–find out how to adjust the entire UI experience with a few taps.
Setting up and maintaining your home PC network is easier than ever before with Windows 7 --but that's not saying much. Many networking issues still aren't easily fixed from Windows 7's control panels.
Want to install Google Maps on your brand-new, fresh-out-of-the-box Kindle Fire ? You can't, because the stock Kindle Fire is limited to downloading apps from the Amazon Appstore. If you love to tinker with devices and improve them, however, you can follow our separate guide to rooting your Kindle Fire .
Recent flooding in Thailand has affected many hard drive manufacturers, resulting in price hikes for hard drives of as much as 50 to 100 percent. How long this will last is unclear, but in the meantime, you can postpone new purchases of storage gear by implementing these methods to help reduce unnecessary files, reduce the space used on the system, and allow for expansion with existing systems. 1.
Getting a new drive is always exiting, but having 6 or 7 drives show up in My Computer isnt always ideal.
Dropbox is a great way to store files in the cloud and access them easily from devices big and small.
Amped Wireless Unveils Its Professional Series High Power Repeater and Access Point with Wi-Fi Coverage Range of Up to 1.5 Miles Amped Wireless unveils its professional long-range Wi-Fi Access Point and Repeater that provide Wi-Fi coverage for large homes, offices, building-to-building applications, open outdoor areas, boats, marinas, RVs and parks CHINO HILLS, Calif., Oct. 24, 2011 /PRNewswire/ -- Amped Wireless , the leading manufacturer of high-power, long-range wireless products for the home and office, adds to its successful line of Professional Series High Power Wi-Fi Solutions for indoor and outdoor applications.
Here are a few practical tips for improving your computer's performance by using stock Windows utilities and a few programs you can download for free. Though the associated articles assume that you're running the latest version of Windows 7, many of them work just as well on older copies of Windows 7, Windows Vista, and even Windows XP. None of the optimization tips and tricks in this guide cost anything, so feel free to run them as often as you'd like to ensure that your computer runs lean and mean for as long as possible.
If you have moved from Windows XP to Windows 7, it might take some time to get used to the new Start menu and Taskbar. Here is a list of useful tips to help you make the most of each.
The new wireless sync feature of iOS 5 makes syncing your iPhone, iPad, or iPod Touch via Wi-Fi with a computer running iTunes an easy matter. To get started, make sure you've synced your iOS 5 device with your computer via cable at least once; also make sure you allow iTunes to wirelessly sync with your device by selecting "Sync with this iPhone over Wi-Fi". From here on out, you should be able to sync the device wirelessly with your computer by following the steps below.