Skin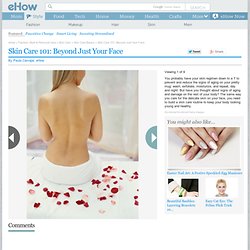 Skin Care 101: Beyond Just Your Face Viewing 1 of 9 You probably have your skin regimen down to a T to prevent and reduce the signs of aging on your pretty mug: wash, exfoliate, moisturize, and repeat, day and night. But have you thought about signs of aging and damage on the rest of your body? The same way you care for the delicate skin on your face, you need to build a skin care routine to keep your body looking young and healthy. Stockbyte/Stockbyte/Getty Images
Skin Care 101: Beyond Just Your Face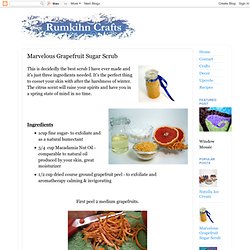 This is decidedly the best scrub I have ever made and it's just three ingredients needed. It's the perfect thing to cosset your skin with after the harshness of winter. The citrus scent will raise your spirits and have you in a spring state of mind in no time. Ingredients 1cup fine sugar- to exfoliate and as a natural humectant 3/4 cup Macadamia Nut Oil - comparable to natural oil produced by your skin, great moisturizer 1/2 cup dried course ground grapefruit peel - to exfoliate and aromatherapy calming & invigorating First peel 2 medium grapefruits.
21 Home Remedies for Oily Skin"
In most cases, oily skin can be treated at home. However, you'll want to call a doctor if you develop acne that doesn't respond to home remedies or notice any sudden and/or unusual change in your skin (if it goes from dry to oily seemingly overnight but it isn't time for your period, for example). Otherwise, first try keeping skin squeaky clean.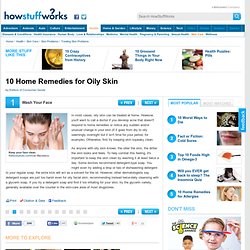 TLC Style "This, Not That, Skincare: Cleansers"
When it comes to skincare, natural or not, lots of women have their favorite products that they tend to stand by, finding it hard to switch to the more natural solutions. Why? Old habits often die hard, and, when it comes to the face (the most visible area of the body), many of us simply aren't willing to test out something new that, let's face it, might not work. And that's the problem. Want to Show Off Your Skin? View and Vote on Eco-Friendly Lingerie
Homemade Hand Cream — Patchwork Times by Judy Laquidara
Sometimes those taking my classes bring me gifts. Gifts are never expected but are always appreciated .. especially the ones that have special meaning . . like things people who read the blog know I collect. Homemade gifts are always special too. Last week a lady gave me a little Glad container of homemade hand cream. This may be TMI but my feet crack . . badly!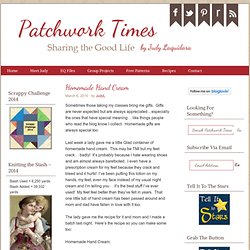 Make your own beauty products to keep harmful chemicals off of your skin. Homemade creams, soaps and other products can be just as luxurious and fragrant as their commercial counterparts but you can avoid artificial chemicals – and the headache of dealing with all that packaging waste. Although beauty products don't have to list their ingredients, they often contain pthalates, formaldehyde, parabens and other chemicals that have been shown to harm animals in lab tests, and which are being phased out in Europe in favor of less toxic alternatives. Prenatal exposure to pthalates, for example, has been linked to liver and kidney damage and effects on baby boys' reproductive organs, and the chemical has been implicated in male obesity. The CDC found the potentially harmful sunscreen ingredient oxybenzone in 97% of Americans tested.
Homemade Hand Lotion Recipe - Homemade Moisturizer
Natural Beauty Tips for Ladies
Facials are a great way to keep your skin glowing, but they can be pricey. We asked Louisa Macan-Graves, author of Hollywood Beauty Secrets: Remedies to the Rescue , and Elda Argenti, owner of the Plantogen skincare line, for their favorite make-at-home face masks crafted from common household ingredients. For All Skin Types Brighten: Cut a slice of ripe papaya and remove the seeds and pulp (save the pulp for a snack later—it's great for digestion).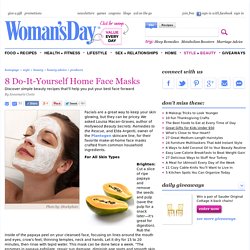 You know those Biore pore strips you buy at the drugstore for about $12 a pop? Yeah, those . Today I'm going to teach you how to make your own homemade pore strips . Are you here from StumbleUpon ? There's something strangely satisfying about pulling a pore strip off your face and examining the results. In fact, that feeling can become a little addictive. While there is no shame in it, satisfying the addition easily turns into a costly endeavor. Whether you're a pore strip junkie or simply want an easy and cost efficient way to remove dead skin and built-up blackheads, try creating your own strips. You'll save money and won't have to worry about a trip to the store the next time you feel like cleaning your pores.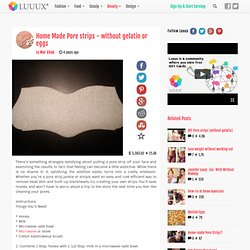 A few weeks ago when I was digging around for a post to "revive" from way in the depths of Crunchy Betty, my first thought was a very, very old post titled 27 Quick and Crunchy Home Remedies for Pimples . It's a great post, full of fun little ideas for when you have a giant monster on your face and want to treat it quickly. I even used several of the ideas in the Simple Pimple Remedies section of Food on Your Face for Acne and Oily Skin .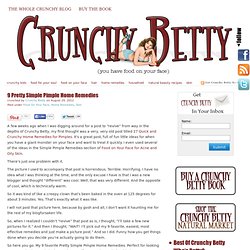 I always knew that the once-monthly spots that overtook my chin were the result of not-so-stable hormones. However, when my dermatologist took one look at the sudden outcrop of angry zits on my nose and asked me to get my blood pressure checked, it introduced me to a whole new (actually old) science of face mapping, which is pretty much the key to unlocking the mysteries behind problem skin. Face mapping, which is fast taking centre stage at most clinics nowadays, combines Ayurveda and ancient Chinese medicine with cutting edge dermatologists' prescriptions to explain how certain parts of your face are connected to other areas of your body. Put simply, think of your face as a map and blemishes as X's on that landscape. Spots in different zones correspond to different problems.
With all of my product and lifestyle research throughout the years, I now know what keeps my skin clear and acne free. Here are some tips and products I have used that give results. Don't pick! This is the first rule of thumb. Picking your skin, especially with bare, unwashed hands, will defeat the effects of any healing products or healthy lifestyle changes you may be doing. Picking your skin with bare hands may lead to small cuts and tears from your nails, and dirt is easily passed from your hands to your skin, thus creating breakouts.
10 Steps to Clear Skin
Perfect Groomed Eyebrows In 4 Steps
The vast amount of face wash options can be overwhelming, there are lotions, milks, scrubs, foaming mousses, oils, wipes, motorized brushes, and more. However, even with all the advances in products, many of us are still sticking to the same face-wash techniques we grew up with. But now, you will know better.
Wash Your Face the Right Way: 7 Mistakes You're Currently Making
A late night sounds like a blast, right? You have a great time with your friends, meet a new guy, and make some great stories to share later. Then comes the dreaded hangover. Maybe you indulged in one too many pink margaritas . You wake up with a pounding headache and feel like you could drink an entire ocean's worth of water, yet still be thirsty.
How To Refresh Your Skin Post-Party
Get Perfect Skin – The 10 Commandments of Perfect Skin – ELLE