Crafts
Wine Bottle Design | Recycled Wine Bottle Torch | Package Design Firm | Sustainable Packaging. 08.09.09 | by Erik Anderson Whether it's product branding, package design or projects for ourselves, we're pleased when we find a solution that's very effective and creative, while keeping resources to a minimum.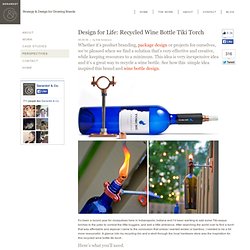 This idea is very inexpensive idea and it's a great way to recycle a wine bottle. See how this simple idea inspired this brand and wine bottle design. It's been a record year for mosquitoes here in Indianapolis, Indiana and I'd been wanting to add some Tiki-esque torches to the patio to combat the little buggers, and add a little ambiance. After searching the world over to find a torch that was affordable and atypical I came to the conclusion that unless I wanted wicker or bamboo, I needed to be a bit more resourceful.
Stain PVC Any Color You Like. PVC is great: cheap, common, easy to work, and easy to join temporarily or permanently.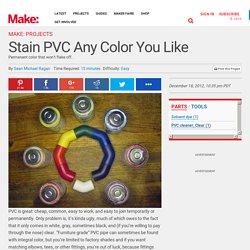 Only problem is, it's kinda ugly, much of which owes to the fact that it only comes in white, gray, sometimes black, and (if you're willing to pay through the nose) clear. "Furniture grade" PVC pipe can sometimes be found with integral color, but you're limited to factory shades and if you want matching elbows, tees, or other fittings, you're out of luck, because fittings only come in white.
Sure, you can paint it, but PVC doesn't take paint all that well, and the paint is prone to flake and screws up the dimensional tolerances. The Magic With Corks. If you enjoy in good wine and you didn't trow away the old corks you can create interesting home gadgets that are both interesting and creative.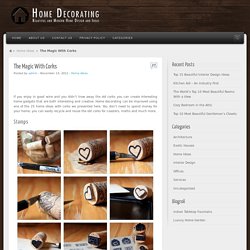 Home decorating can be improved using one of the 25 home ideas with corks we presented here. You don't need to spend money for your home, you can easily recycle and reuse the old corks for coasters, maths and much more. Upcycled Sweater Boots - StumbleUpon. Creative Guest: Watermark Tee by Sweet Verbana. Hello U-Create readers!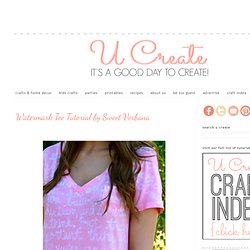 I am so excited to be guest posting here today. It just so happens to be my first guest post and I'm still a little shocked that it's here at Ucreate, one of my favorite blogs! Handmade charlotte :: design for kids and the home. » DIY: Tank Dress with Pockets! academichic. At long last, I present a tutorial for the tank dress I made a few weeks ago before the end of the semester blindsided me.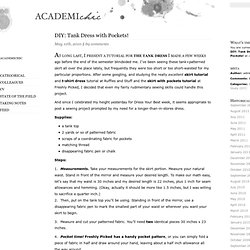 I've been seeing these tank+patterned skirt all over the place lately, but frequently they were too short or too short-waisted for my particular proportions. After some googling, and studying the really excellent skirt tutorial and t-shirt dress tutorial at Ruffles and Stuff and the skirt with pockets tutorial at Freshly Picked, I decided that even my fairly rudimentary sewing skills could handle this project. And since I celebrated my height yesterday for Dress Your Best week, it seems appropriate to post a sewing project prompted by my need for a longer-than-in-stores dress. Wine cork bath mat. Inspired by CB2's bamboo bath mat I'm evidently on a hot-glue kick lately.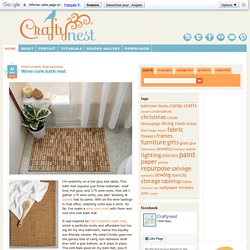 This bath mat requires just three materials: shelf liner, hot glue, and 175 wine corks. How did I gather 175 wine corks, you ask? Working at Sunset had its perks. With all the wine tastings in that office, collecting corks was a cinch. 20 brilliant things to make in a jar. Via: mycakies.blogspot.com Start saving your old jam jars!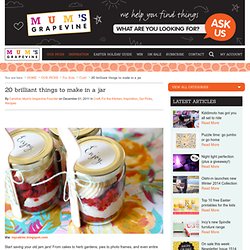 From cakes to herb gardens, pies to photo frames, and even entire meals … here are 20 fantastic things you never knew you could make with a jar. (Above: red velvet cupcakes in a jar. Get the recipe here). Via: fatgirltrappedinaskinnybody.blogspot.com. 31 Insanely Easy And Clever DIY Projects. Large T-Shirt to Fitted Tee Tutorial | a.steed's.life. I have these two t-shirts that I love.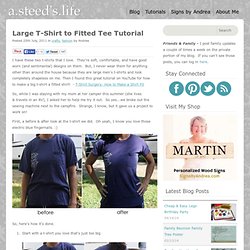 They're soft, comfortable, and have good worn (and sentimental) designs on them. But, I never wear them for anything other than around the house because they are large men's t-shirts and look completely shapeless on me. Then I found this great tutorial on YouTube for how to make a big t-shirt a fitted shirt! - T-Shirt Surgery: How to Make a Shirt Fit. Flower Pot Christmas Tree. Allison over at House of Hepworths made this ADORABLE Christmas tree out of terra cotta flower pots.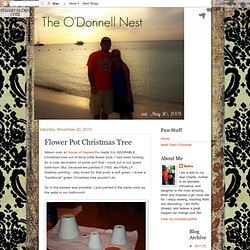 I had been looking for a cute decoration of some sort that I could put in our guest bathroom. But, because we painted it (YES, we FINALLY finished painting - stay tuned for that post) a soft green, I knew a "traditional" green Christmas tree wouldn't do. Owls for Mila. My friend Lilly, mother of Kyle, tagged herself on all of Kyle's owl pictures on Facebook.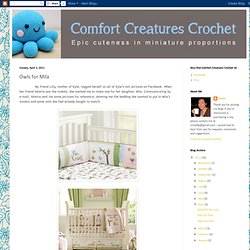 When her friend Valeria saw the mobile, she wanted me to make one for her daughter, Mila. Communicating by e-mail, Valeria sent me some pictures for reference, showing me the bedding she wanted to put in Mila's nursery and some owls she had already bought to match. I loved what Valeria had planned for Mila's nursery. Make Your Own Book, Create a Book Online, Custom Books. Tutorials by Lee.
Knitting. Simple Wand Holder. © Helene of Troy Supplies 1/4" (0.6 cm) wide elastic in a color that matches your robes Matching thread Needle Instructions Measure around your upper arm in two places: just below the armpit and just above the elbow. Use your off-arm (the one that you don't use to write with) for ease of drawing the wand.
Potion Ingredients in Cool Jars. © McGonagall's Cat Participants Unlimited Age Range 6 years old. PotterParties.com. Ah, if only the pages of Deathly Hallows were written on parchment scrolls! Well, that might be a little difficult to read, but these Parchment Scrolls will melt in your mouth. Ingredients: Simple hat calculator. Abbreviations: K = Knit K2tog = Knit 2 stitches together as if they were one (this is a decrease). Round is the same as row, except it is in a circle. Step One: Find number to cast on: Choose size from row on top; drop down column to row with your gauge. If you are between gauges and/or sizes, multiply your gauge times hat size in inches, then look in the gauge rows on either side of your gauge to find the closest cast-on number. Use that gauge number to determine which decrease row (see below) to begin on. Step Two: Knit in stockinette st (knit every round) for the number of inches below for the chosen size, or desired length; the brim will roll naturally for the first 2 or 3 inches; unroll the brim to measure.
---