Erl33
Erin
When My Life Begins. LifeHacks. Christmas. Hawkeye Costume. Movies. Outdoors. DIY. Happy. Shopping Online. Beauty. Crafts. Books. Food. School. Techy Stuff.
Quick Practical, Tactical Tips for Presentations. In the past I've given some tips for handling meetings effectively, covering topics like: - How not to let your meeting go down a rat hole; - Dealing with the elephant in the room; - Dealing with skeletons in your closet; - How to make meetings discussions, not "pitches" - A tale of two pitches (I eventually invested in the first company that pitched) Today's post is a subtle one about positioning yourself in a presentation.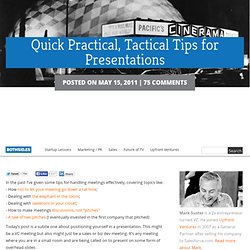 This might be a VC meeting but also might just be a sales or biz dev meeting. It's any meeting where you are in a small room and are being called on to present on some form of overhead slides 1. WHERE CHILDREN SLEEP | Wine & Bowties. Much love to the folks that ventured out to the first Wine & Bowties of the Spring.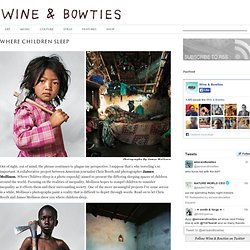 To Tap 10, Starter Kit, Jay Casio and Yung_smh thank you for blessing us with your tunes. Consider it the first HNRL + TT6 + DRGN + W&B collab. Friday got weird but we live to tell to about it through pictures and words. Everyone's Mixtape. It's Time To Get Classy. The 10 Best Disney Songs You've Never Heard. Anyone can whistle or sing their favorite Disney song, but for every 'Under the Sea' and 'A Whole New World,' there are dozens of orphaned tunes that never made it into their respective film.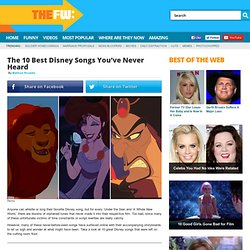 Too bad, since many of these unfortunate victims of time constraints or script rewrites are really catchy. However, many of these never-before-seen songs have surfaced online with their accompanying storyboards to let us sigh and wonder at what might have been. Take a look at 10 great Disney songs that were left on the cutting room floor. August Sunset-3D Panorama.
---
erl33 Jan 12 2012

I pearled probably 50 sites with the pearl button on my internet toolbar. My guess is I just didn't hit the button correctly and it didn't work. And one of the pearls that I did correctly was my 'How To Draw' pearl. Thanks for the information! :)

amsika Jan 12 2012

Hi, there's no pearl limit for your account, but you can't put more than 100 pearls in one sub pearltrees. How did you pearl your pages yesterday ? With the pearler? the +pearl button? The FB/Twitter connection? Do you have an exemple of a page you pearled an did go in your account ?
---