Programmer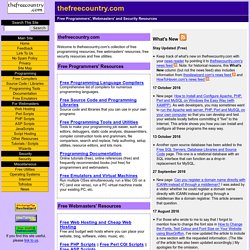 Welcome to thefreecountry.com's collection of free programming resources, free webmasters' resources, free security resources and free utilities. Free Programming Language Compilers Comprehensive list of compilers for numerous programming languages. Free Source Code and Programming Libraries Source code and libraries that you can use in your own programs. Free Programming Tools and Utilities Tools to make your programming job easier, such as editors, debuggers, static code analysis, disassemblers, compiler construction tools and grammars, file comparison, search and replace, help authoring, setup utilities, resource editors, and lots more. Programming Documentation Online tutorials (free), online references (free) and frequently recommended books (not free) for programmers and webmasters.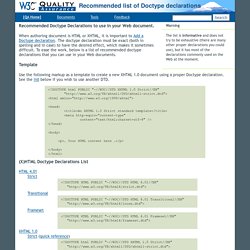 Warning The list is informative and does not try to be exhaustive (there are many other proper declarations you could use), but it has most of the declarations commonly used on the Web at the moment. Recommended Doctype Declarations to use in your Web document.
Welcome to JavaScript Kit, a comprehensive resource for JavaScript tutorials, scripts, and more. Manipulating CSS3 transitions using jQuery In this tutorial we look at how to use jQuery to dynamically modify CSS3 properties and react to when a transition has completed. It's the key to injecting logic to your transitions! Falling Text Rotator This jQuery script adds a twist to the regular text rotator, by randomly dropping the letters of each piece of content out of view before showing the next.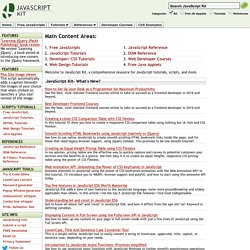 Add elements to the set of matched elements. Add the previous set of elements on the stack to the current set, optionally filtered by a selector. Adds the specified class(es) to each of the set of matched elements.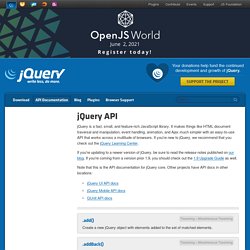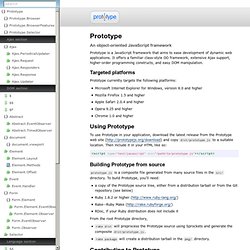 An object-oriented JavaScript framework Prototype is a JavaScript framework that aims to ease development of dynamic web applications. It offers a familiar class-style OO framework, extensive Ajax support, higher-order programming constructs, and easy DOM manipulation. Targeted platforms
Prototype API documentation | Home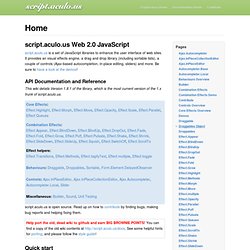 script.aculo.us is a set of JavaScript libraries to enhance the user interface of web sites. It provides an visual effects engine, a drag and drop library (including sortable lists), a couple of controls (Ajax-based autocompletion, in-place editing, sliders) and more. Be sure to have a look at the demos! API Documentation and Reference This wiki details Version 1.8.1 of the library, which is the most current version of the 1.x trunk of script.aculo.us.
Index of /code/javascript
releases | www.p01.org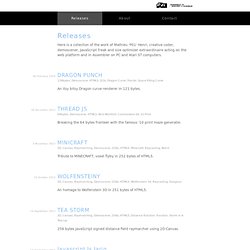 Here is a collection of the work of Mathieu 'P01' Henri, creative coder, demoscener, JavaScript freak and size optimizer extraordinaire acting on the web platform and in Assembler on PC and Atari ST computers. 128bytes demoscene HTML5 JS1k dragon curve fractal space filling curve An itsy bitsy Dragon curve renderer in 121 bytes.