Geneology and Ancestory
The Kids' Family Tree Book [Book] Who are my ancestors?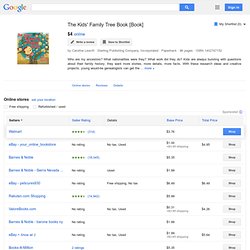 What nationalities were they? What work did they do? Kids are always bursting with questions about their family history; they want more stories, more details, more facts. With these research ideas and creative projects, young would-be genealogists can get the ... more » Who are my ancestors? National Archives and Records Administration. The Newberry Library. Amazon. Genealogy Research Sites. Redirect. Genealogy. Ec2-174-129-221-125.compute-1.amazonaws.
---