Dessert
Salted Caramel Lava Cake « vegetarianirvana. As I promised in my last post, here is the recipe for the wonderful Salted Caramel Lava Cake I made on the evening of my book club get together.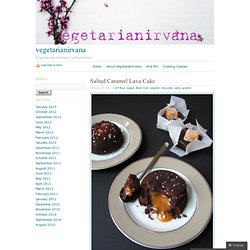 Couple of months ago for my birthday, my children made me a wonderful lunch of Stuffed Gnocchi and Salted Caramel Lava Cake. I'd seen many molten lava cake blog posts, sighed at the beautiful pictures knowing that it was not in my destiny to make these exotic gooey cakes. Firstly, I am not into baking, secondly I avoid recipes with eggs. Warm Toasted Marshmallow S'more Bars. Kit Kat Bars Recipe.
These homemade kit kat bars are supposed to taste like the popular candy bar of the same name.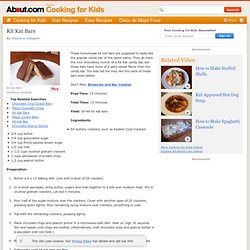 They do have the nice chocolatey crunch of a Kit Kat candy bar, but these bars have more of a salty-sweet flavor than the candy bar. The kids tell me they like the taste of these bars even better. Don't Miss: Brownies and Bar Cookies Prep Time: 15 minutes. Lincoln's Red Velvet (Cheesecake) Cake. Wednesday, April 7, 2010 Lincoln's Red Velvet (Cheesecake) Cake Psssst…. there's a surprise inside this pale exterior!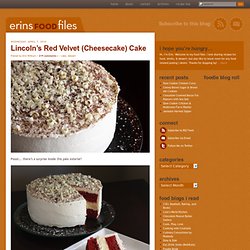 Oh yeah! Red Velvet Cake, with Cream Cheese Frosting… AND A LAYER OF CHEESECAKE IN THE MIDDLE! This cake has been in the planning process since February.
---