Doctor Who
Fish fingers... and custard? - Doctor Who - BBC. Blogtor Who. BBC Wales, BBC Worldwide and US premium entertainment network, Starz Entertainment, today announced new cast, plot and character details for the new series of hit BBC One hit drama Torchwood.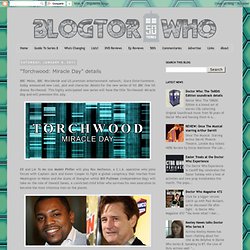 This highly anticipated new series will have the title Torchwood: Miracle Day and will premiere this July. ER and Lie To Me star Mekhi Phifer will play Rex Matheson, a C.I.A. operative who joins forces with Captain Jack and Gwen Cooper to fight a global conspiracy that reaches from Washington to Wales and the slums of Shanghai whilst Bill Pullman (Independence Day) will take on the role of Oswald Danes, a convicted child killer who survives his own execution to become the most infamous man on the planet. Chameleon Circuit's Teenage Rebel. Chameleon Circuit - DFTBA. From DFTBA This page is about the British rock band.
For the band's debut album, see Chameleon Circuit (album) . Chameleon Circuit are a British rock band known for inventing and popularizing the music genre Time Lord Rock, often shortened to "Trock". Chameleon Circuit formed August 6th, 2008. Members. Doctor Who - The Official Site. Doctor What.
---