Martial arts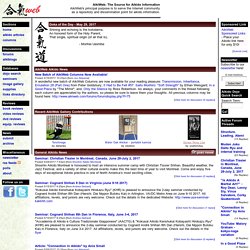 Promotion: 2014 Aikikai Kagami Biraki Promotions List Posted 1/12/2014 11:52am [from Jun Akiyama] The Aikikai Hombu Dojo has put up their Kagami Biraki new year's promtions list on their website: http://www.aikikai.or.jp/jpn/info/2014/h26.pdf Congratulations to everyone on the list! Seminar: Chicago Kangeiko with Meido Moore Sensei (6th dan) , 2/8-2/9/14 Posted 1/12/2014 11:52am [from K. Radtke] Shinjinkai in Chicago will host its annual Kangeiko (winter training seminar), led by Meido Moore Sensei on Feb. 8-9. Instruction will be given in taijutsu, weapons and Zen meditation.
The Mililani Aikido Club is affiliated with the Aikikai Foundation and the Central Pacific Aikido Association. Originally established by the late Takaji Ishida Sensei, 8th Dan, the club embraces the goal of O Sensei to spread the spirit of Aikido to people from all walks of life. In his final instructions, O Sensei was quoted to say, "Aikido is for the entire world. Train not for selfish reasons, but for all people everywhere." It is in this spirit that we endeavor to practice Aikido on and off the mat.
MililaniAikido.org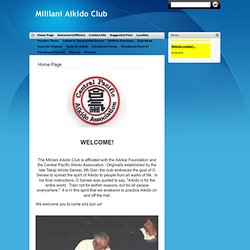 aikidodotcom
Leeward Judo Club welcomes students of all ages and skill levels. We are blessed to have a large coaching staff to ensure all students are well supervised. Currently we have over 100+ members of all ages and abilities, from young children to adults. Our mission is to Build Champions and Leaders in Life Through Judo. We provide qualitiy instruction by our outstanding teaching staff.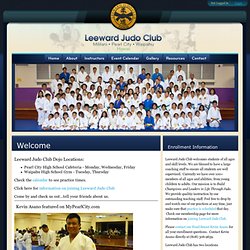 LeewardJudo Club - Home