Martial arts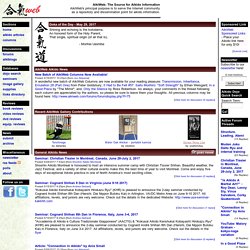 Seminar: Cognard Shihan 8thDan in VA, CA, AZ (June 2014) Posted 4/13/2014 4:19pm [from Andrea Debiasi] "Kokusai Aikido Kenshukai Kobayashi Hirokazu Ryu Ha" (KAKKHRH) is pleased to announce a series of seminars directed by Cognard Andre Shihan 8th Dan (Hanshi, Dai Nippon Butoku Kai), which will take place in Virginia/DC Metro Area (June 9: Arlington), Southern California (June 12-14: Orange) and Arizona (June 16: Phoenix). All affiliations, levels, and juniors are very welcome. Check out the details in the dedicated Website: http://www.usa-seminar-kakkhh.com Seminar: Yoshida, Moore, Tomoleoni, Roberts in IL June 28-29 Posted 4/13/2014 12:51pm [from Lisa Tomoleoni] Please join us for two days of training with 4 instructors from a variety of backgrounds.
The Mililani Aikido Club is affiliated with the Aikikai Foundation and the Central Pacific Aikido Association. Originally established by the late Takaji Ishida Sensei, 8th Dan, the club embraces the goal of O Sensei to spread the spirit of Aikido to people from all walks of life. In his final instructions, O Sensei was quoted to say, "Aikido is for the entire world. Train not for selfish reasons, but for all people everywhere." It is in this spirit that we endeavor to practice Aikido on and off the mat.
MililaniAikido.org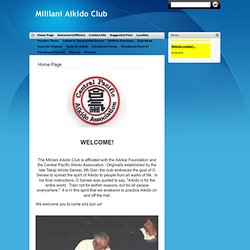 aikidodotcom
Leeward Judo Club welcomes students of all ages and skill levels. We are blessed to have a large coaching staff to ensure all students are well supervised. Currently we have over 100+ members of all ages and abilities, from young children to adults. Our mission is to Build Champions and Leaders in Life Through Judo. We provide qualitiy instruction by our outstanding teaching staff.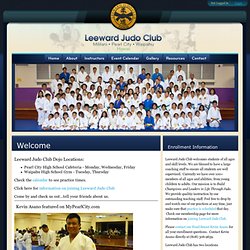 LeewardJudo Club - Home