Rechten Pinterest
Pinterest is growing up fast: just last week the image-based social network rolled out redesigned profile pages, and now it's following that up with an updated Terms of Service, Acceptable Use Policy and Privacy Policy that sharpen how the company interfaces on a number of commercial points, as it rides its wave and rapidly reaches and passes 12 million users.
Pinterest Updates Terms Of Service As It Preps An API And Private Pinboards: More Copyright Friendly
Wit Communicatie adviseurs
I've written before about Pinterest, which is a social bookmarking tool for images.
Are you breaking copyright law using Pinterest?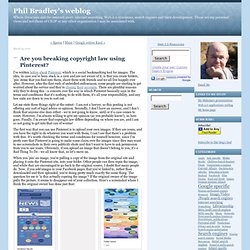 How your business could get sued for using Pinterest - Boston Business Journal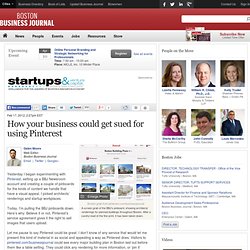 Screen grab from pinterest.com/businessjournal A screen grab of the BBJ's pinboard, showing architects' renderings for planned buildings throughout Boston. After a careful read of the fine print, it has been taken down.
Eén van de meest populaire bronnen op het digitale prikbord Pinterest is Flickr.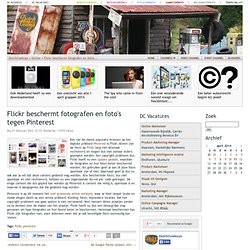 Flickr beschermt fotografen en foto's tegen Pinterest