Rechten Pinterest
Pinterest Updates Terms Of Service As It Preps An API And Private Pinboards: More Copyright Friendly. Pinterest is growing up fast: just last week the image-based social network rolled out redesigned profile pages, and now it's following that up with an updated Terms of Service, Acceptable Use Policy and Privacy Policy that sharpen how the company interfaces on a number of commercial points, as it rides its wave and rapidly reaches and passes 12 million users.
"We think that the updated Terms of Service, Acceptable Use Policy, and Privacy Policy are easier to understand and better reflect the direction our company is headed in the future," CEO Ben Silbermann wrote in an email late on March 23 to Pinterest users informing them of the changes, due to take effect on April 6. From the looks of it, that future direction involves not just more private experiences on Pinterest but also stronger push to get Pinterest working in a whole lot more places, and with a whole lot more partners. Wit Communicatie adviseurs. Are you breaking copyright law using Pinterest? I've written before about Pinterest, which is a social bookmarking tool for images.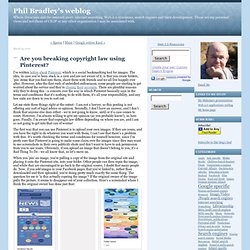 The idea, in case you've been stuck in a cave and are not aware of it, is that you create folders, 'pin' items that you find into them, share them with friends and we all live happily ever after. However, after the first rush of unbridled enthusiasm, some people are starting to get worried about the service and they're closing their accounts. There are plentiful reasons why they're doing this - a concern over the way in which Pinterest basically says in the terms and conditions that it's nothing to do with them, it's all your responsibility, and any law suits are down to you to sort out.
Let me state three things right at the outset - I am not a lawyer, so this posting is not offering any sort of legal advice or opinion. How your business could get sued for using Pinterest. Screen grab from pinterest.com/businessjournal A screen grab of the BBJ's pinboard, showing architects' renderings for planned buildings throughout Boston.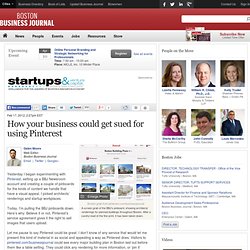 After a careful read of the fine print, it has been taken down. Flickr beschermt fotografen en foto's tegen Pinterest. Eén van de meest populaire bronnen op het digitale prikbord Pinterest is Flickr.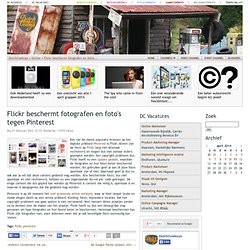 Alleen zijn de foto's op Flickr lang niet allemaal rechtenvrij en mogen dus niet zomaar elders geplaatst worden. Een copyright probleem dus. Flickr heeft nu een update gedaan, waardoor de fotografen en hun foto's beter beschermd worden.
---