Diseños innovadores
Social - Lowest Price | ThisIsWhyImBroke.com. 10 Most Stylish Drain Stoppers. Everyone gets amazed after reading the heading as how can one drains in style?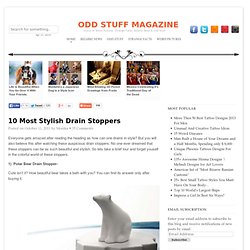 But you will also believe this after watching these auspicious drain stoppers. No one ever dreamed that these stoppers can be as such beautiful and stylish. Human Jetpack: The JetLev R200. Social - Glass door with a surprise. Social - Throwable Panoramic Ball Camera has us seeing spherical potential. Each time there is a new way to capture media, especially when that means is inexpensive, the world goes nuts trying to see how they can show off their life and times with it.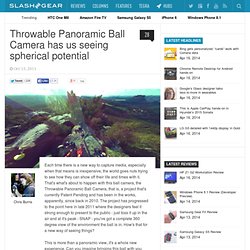 That's what's about to happen with this ball camera, the Throwable Panoramic Ball Camera, that is, a project that's currently Patent Pending and has been in the works, apparently, since back in 2010. The project has progressed to the point here in late 2011 where the designers feel it strong enough to present to the public - just toss it up in the air and at it's peak - SNAP - you've got a complete 360 degree view of the environment the ball is in.
How's that for a new way of seeing things? Bed Fan. If only beds came equipped with dual climate control systems like some luxury cars… If you or someone you know loses sleep because they get too hot and sweaty, maybe this Bed Fan is the best remedy.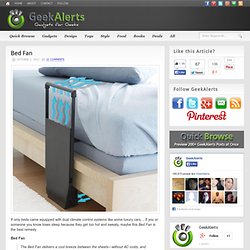 Bed Fan The Bed Fan delivers a cool breeze between the sheets—without AC costs, and without disturbing your partner. The fan attaches to the foot of the bed and quietly blows fresh, cool air between your top and bottom sheets, instantly dispersing built-up body heat trapped under the covers and moving up to 100 cubic feet of air every minute. It's more effective than traditional cooling methods, which only affect the air outside the bed! Perfect for individuals who sleep warm or experience hot flashes, and for couples with different temperature preferences. Turbine Light Powers Highway Lights With Wind. As more and more people across the world adopt cars as their primary mode of transportation, well-lit highways become increasingly important.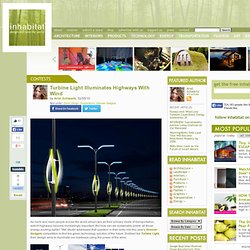 But how can we sustainably power all those energy-sucking lights? TAK Studio addressed that question in their entry into this year's Greener Gadgets competition to find the green technology solution of the future. Dubbed the Turbine Light, their design aims to illuminate our roadways using the power of the wind. TAK's wind-powered light uses the moving air from cars zipping by on the highway to generate energy that can be used to power roadside lighting. It's a controversial idea–could wind from passing cars actually provide enough power for lighting? Plusminus design by Dima Komissarov. The Bell Tweeter by Samohvalov Sergey. 360º of Sound I'm sure from the looks of it, you could decipher how the Bell Tweeter works.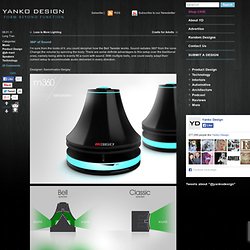 Sound radiates 360º from the cone. Change the volume by spinning the body. There are some definite advantages to this setup over the traditional ones, namely being able to evenly fill a room with sound. Lego Hello World. Wanted: The Most Minimal Chair in the World. The German furniture firm Vitra is usually known for high-end stuff you'd pass down through the generations.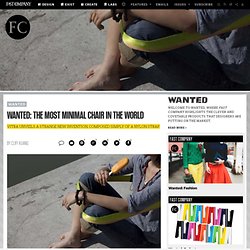 But they've gone into a completely different--and strange--direction with Chairless, a "seating device for the modern nomad. " Designed by Alejandro Aravena, it's simply a strap that you put around your knees and back. STENCIL AND PEN KITS | Kids Stencil Kits of Animals & People. I'll Try To Stencil You In Get your ink on with these fun and creative kits for the whole family!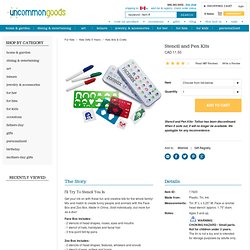 Mix and match to create funny people and animals with the Face Box and Zoo Box. Made in China. Sold individually, but more fun as a duo! Playstation 4 Clear. Playstation 4 Clear Forget all your Playstation 3s.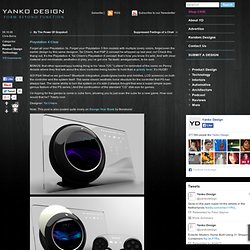 Forget your Playstation 3 thin models with multiple lovely colors, forget even the earlier design by this same designer, Tai Chiem, that PSP 2 concept he whipped up last year, no! Check this thang out. It's the Playstation 4. Tai Chiem's Playstation 4 concept: that's how you know it's wild. Social - Roca Cocoon Shower Stall by Arina Komarova. Egg Shower The proteins in an egg can do wonders for your skin, but how about taking a shower in one?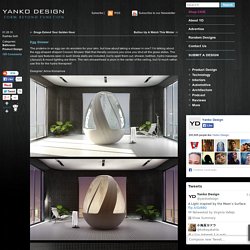 I'm talking about the egg-shaped shaped Cocoon Shower Stall that literally cocoons you once you shut all the glass slides.
---