Wordpress
Je vous ai présenté dans un précédent article , les facteurs de performance de la base de données de WordPress . Je vous propose de continuer l'étude, en regardant cette fois, comment nettoyer régulièrement la base de données. L'objectif ici est de réduire la croissance de la base de données, en effaçant les informations inutiles. Au fil de son utilisation, WordPress et ses plugins génèrent en effet des données temporaires qui ne sont plus utilisées par la suite, mais qui ne sont malheureusement pas supprimées de la base.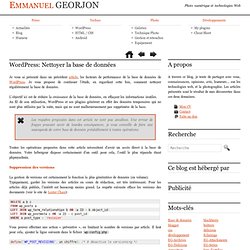 WordPress: Nettoyer la base de données
Dans votre base de données, la table wp_posts peut vite devenir très imposante, surtout si vous mettez du temps à écrire vos articles ou que vous les modifier de temps en temps. Avec les réglages par défaut, WordPress sauvegarde de nombreuses révisions de vos articles pendant leur écriture. Mais, une fois ceux-ci publiés, ils s'avèrent bien souvent inutiles. Avec une requête SQL dans votre administration PHPmyadmin, vous allez réduire énormément la taille de cette table, qui constitue la majorité de l'espace occupé par la base de données de WordPress : DELETE FROM wp_posts WHERE post_type = 'revision'; wp_posts : dépend du préfixe que vous avez choisi.
» Nettoyer la table wp_posts de sa base de données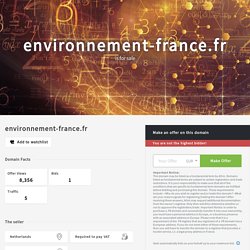 WordPress 2.9: une piste pour gérer les vignettes des anciens ar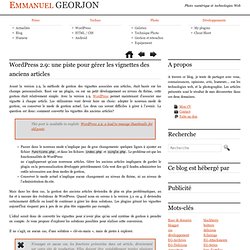 Avant la version 2.9, la méthode de gestion des vignettes associées aux articles, était basée sur les champs personnalisés. Basé sur un plugin, ou sur un petit développement au niveau du thème, cette gestion était relativement simple. Avec la version 2.9, WordPress permet maintenant d'associer une vignette à chaque article.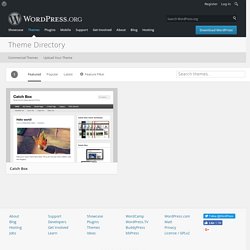 Looking for the awesome WordPress themes? Here's the place to find them! Welcome to the Free WordPress Themes directory. Search below or check out our new filter and tag interface .
WordPress Themes Club
Premium WordPress Themes - PremiumWP
Agency Theme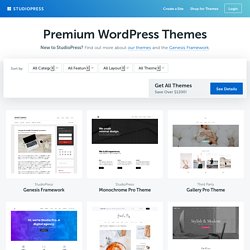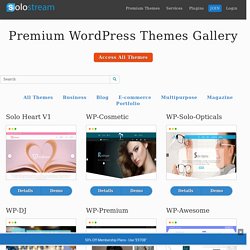 WP-Blossom There's no other way to say it. WP-Blossom is our best theme ever (so far). It not only offers a sleek, modern design that's bound to get attention, but it's also bursting at the seams with added functionality. Scan the list below, then view the demo site, and you'll understand why WP-Blossom can help take your business to a place it's never been.
Exactly what the name says, this theme invites you to create your site and express yourself. Unsaid Words theme can be easily used for different kinds of websites due to the many options it offers. Adding also the ability of having your latest posts or a static page in front, you can easily use this theme for a blog, personal or a business website. Compatible with the latest WordPress version. Post thumbnail feature.
Viva Themes | Professional premium wordpress themes. » Blog Arch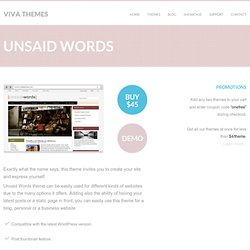 ySlow et performances de drupal & wordpress | anti-pixel | dével