Cars
Daily Derbi | Car News With An Unhealthy Dose Of Opinion!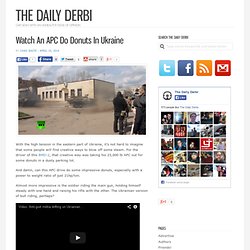 With the high tension in the eastern part of Ukraine, it's not hard to imagine that some people will find creative ways to blow off some steam. For the driver of this BMD-2, that creative way was taking his 23,000 lb APC out for some donuts in a dusty parking lot. And damn, can this APC drive do some impressive donuts, especially with a power to weight ratio of just 21hp/ton. Almost more impressive is the soldier riding the main gun, holding himself steady with one hand and raising his rifle with the other.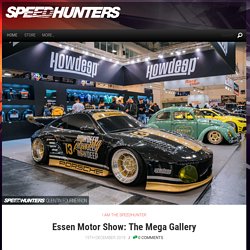 Creative Director: Rod Chong Digital Product Director: Rob Bullough Production Manager: Annika Goksu Business Manager: Andy Barnes Director of Partnerships: Fred Chang Partnership Producer: Elizabeth White Community Manager: Taryn Croucher Art Director: Jonathan Moore Design Director: Martijn Rijven Editor in Chief: Bryn Musselwhite Editorial Manager: Brad Lord Senior Editor Japan: Dino Dalle Carbonare Editors, at Large: Larry Chen, Matthew Jones News Editor: Mike Garrett Technical Editor: Keith Charvonia Associate Editors: Michael Grassl, Alok Paleri Builders-Drivers: Fredric Aasbø, Vaughn Gittin Jr, Kei Miura, Charles Ng, Peter Pentell, Edward Sandström, MADMIKE Whiddett Contributors: Ben Chandler, Sean Klingelhoefer, Paddy McGrath, Suzy Wallace
A matte black Aventador accident was caught on video A Ferrari got trashed after crashing into a trash bin Brutal head on crash involving a Nissan GT-R Kid with no drivers license destroys Ferrari while showing off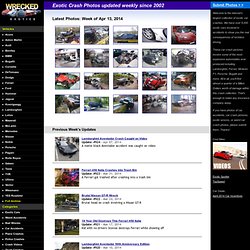 Wrecked Exotics - Car Crash Picture, Exotic Cars, car wreck, cra
Autopia - Road to the Future
By Steven Lang on April 18, 2014 I currently have three cars and I feel a hankering to buy a fourth. My wife has bought into the idea, now it's just a matter of what to get.