Cars
Daily Derbi | Car News With An Unhealthy Dose Of Opinion!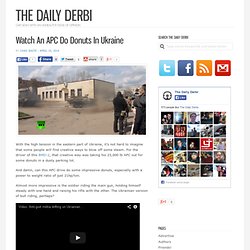 FMD: Friday Motoring Diversion – Car Maniacs : Life With Le Mans 1share Because of top notch editing and a handful of strategically placed cameras, the average Top Gear viewer may never get a real sense of just how fast The Stig is really able to power supercars around the show's Dunsfold Aerodrome test track. To get a sense of that, as well as a totally new perspective of the track from a driver's point of view, Top Gear recently attached a 360 degree panoramic camera to the top of a Mercedes Benz SLS AMG Black for a quick hot lap.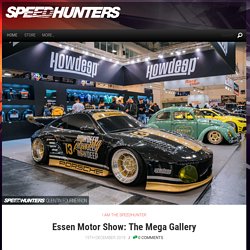 Creative Director: Rod Chong Digital Product Director: Rob Bullough Production Manager: Annika Goksu Business Manager: Andy Barnes Director of Partnerships: Fred Chang Partnership Producer: Elizabeth White Community Manager: Taryn Croucher Art Director: Jonathan Moore Design Director: Martijn Rijven Editor in Chief: Bryn Musselwhite Editorial Manager: Brad Lord Senior Editor Japan: Dino Dalle Carbonare Editors, at Large: Larry Chen, Matthew Jones News Editor: Mike Garrett Technical Editor: Keith Charvonia Associate Editors: Michael Grassl, Alok Paleri Builders-Drivers: Fredric Aasbø, Vaughn Gittin Jr, Kei Miura, Charles Ng, Peter Pentell, Edward Sandström, MADMIKE Whiddett Contributors: Ben Chandler, Sean Klingelhoefer, Paddy McGrath, Suzy Wallace
This much is clear - Michael Schumacher is in stable condition, but remains in a medically induced coma following a skiing accident on December 29. From there, information on the seven-time Formula One champion's status is dodgy at best, with speculation from a number of sources that all have the distinction of not being part of Schumacher's medical team. "Unfortunately, I have to repeat any information regarding Michael's health not coming from the doctor's treating him, or his management, must be treated as pure speculation. I also repeat Michael's family is very happy and confident with the work of the team of doctors treating Michael, and they trust them completely. Michael's condition is still considered stable," Sabine Kehm, Schumacher's manager, said in a statement obtained by The Irish Independent.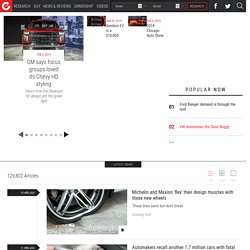 One of the worst Maserati wrecks we've ever seen A Ferrari lost control and struck another car head on in Germany A Lamborghini Aventador being driven by a race car driver goes up in flames. This is one of the worst McLaren MP4-12C accidents we've seen.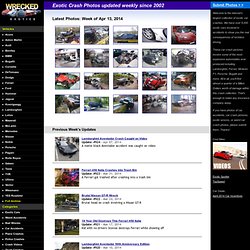 Wrecked Exotics - Car Crash Picture, Exotic Cars, car wreck, cra
Autopia - Road to the Future
Remember the time when you bought sport utility vehicles because you needed them? These were the original "off-roaders", boxy beasts with live axles, low-range gearboxes, locking diffs and other very masculine stuff that's perfect for adventures that require a farm tractor to rescue you from the mud. It was also very practical, because it basically looked like a huge box on wheels, with a smaller box in front for the engine.