Scala
Scalatra a tiny Sinatra-like web framework for Scala
mongodb/casbah - GitHub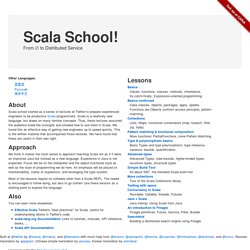 Other Languages: Русский About Scala school started as a series of lectures at Twitter to prepare experienced engineers to be productive Scala programmers. Scala is a relatively new language, but draws on many familiar concepts. Thus, these lectures assumed the audience knew the concepts and showed how to use them in Scala. We found this an effective way of getting new engineers up to speed quickly.
Problem loading page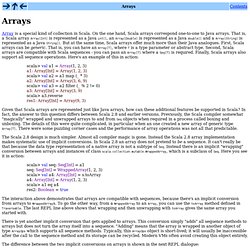 Scala 2.8 Collections API -- Arrays
Array is a special kind of collection in Scala. On the one hand, Scala arrays correspond one-to-one to Java arrays. That is, a Scala array Array[Int] is represented as a Java int[] , an Array[Double] is represented as a Java double[] and a Array[String] is represented as a Java String[] . But at the same time, Scala arrays offer much more than their Java analogues. First, Scala arrays can be generic .
28 Jul 2008 As I hinted previously , this series is intended to delve into Scala's extensive collections API and the many ways in which it can make your life easier. Probably the most important operations you could ever perform on collections are those which examine each element, one at a time. After all, what's a more common array idiom than looping over all values? In that vein, this article starts by looking at foreach , the imperative programmer's bread-and-butter when it comes to types like Array and List . But rather than just stopping there, we also will look at more powerful, higher-order operations like fold, map and the ever-mysterious: flatMap .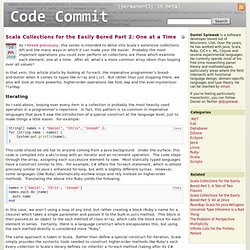 Scala Collections for the Easily Bored Part 2: One at a Time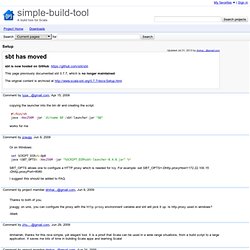 Trying SBT (Simple Build Tool) for compiling a simple (one file, perhaps two) Scala application with some dependencies (Apache Pivot) on Windows as specifying all the jars on the command line quickly becomes annoying... (I try to convert the tutorial files to Scala). Following the instructions here I have put the jar file in C:\Java\scala-2.8.0.final\misc and the sbt.cmd file in C:\Java\scala-2.8.0.final\bin Content of the latter: @echo off java - Xmx512M - jar C :\ Java \ scala - 2.8 . 0.final \ misc \ sbt - launch - 0.7 . 4.jar %*
Setup - simple-build-tool - A build tool for Scala
The busy Java developer's guide to Scala: Functional programming for the object oriented
You never forget your first love. For me, her name was Tabinda (Bindi) Khan. It was the halcyon years of my youth, seventh grade to be exact, and she was beautiful, smart, and, best of all, she laughed at my clumsy teenage boy jokes.