Databases
mgp/iron-cushion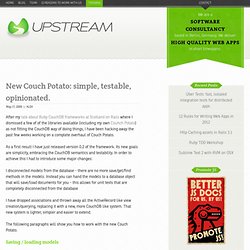 New Couch Potato: simple, testable, opinionated. – Upstream - Agile
May 17, 2009 by alex After my talk about Ruby CouchDB frameworks at Scotland on Rails where I dismissed a few of of the libraries available (including my own Couhch Potato) as not fitting the CouchDB way of doing things, I have been hacking away the past few weeks working on a complete overhaul of Couch Potato. As a first result I have just released version 0.2 of the framework.
NOSQL has become a very heated topic for large web-scale deployment where scalability and semi-structured data driven the DB requirement towards NOSQL.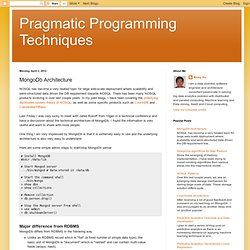 MongoDb Architecture
MongoDB = Get Stuff Done Update: Changed blog example to use a normal belongs-to relationship. Update: Added examples of $slice and $elemMatch to show why they don't work
You Only Wish MongoDB Wasn't Relational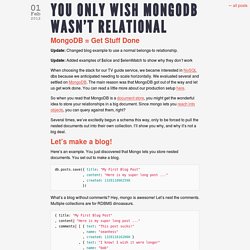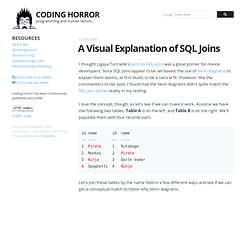 October 11, 2007 I love the concept, though, so let's see if we can make it work. Assume we have the following two tables. Table A is on the left, and Table B is on the right.
In addition to the charts that follow, you might want to consider the Frequently Asked Questions section for a selection of common questions about MongoDB.