Veille Techno & Business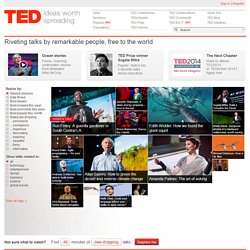 Gabby Giffords and Mark Kelly Be passionate. Be courageous.
The Long Tail - Wired Blogs - Mozilla Firefox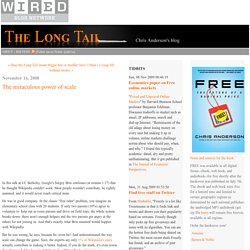 Sun, 08 Nov 2009 00:46:19 "Priced and Unpriced Online Markets" by Harvard Business School professor Benjamin Edelman. Discusses tradeoffs in market such as email, IP addresses, search and dial-up Internet. "Reminiscent of the old adage about losing money on every unit but making it up in volume, online markets challenge norms about who should pay, when, and why." I found this typically academic: dated, dry and pretty unilluminating.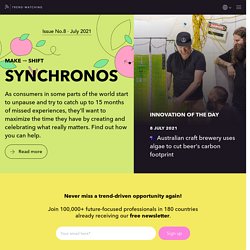 April 2014 Why consumers will embrace connected objects with a clear mission: to actively care for them. Read Now 250,000 subscribers and 1,200+ clients turn to trendwatching.com for global consumer trends, insights and related innovations. We rely on teams and representatives in London, São Paulo, Singapore, New York, Sydney and Lagos, and run a network of 2,600+ spotters in 100+ countries. Never miss a Free Trend Briefing again!
Roger SUE * *Sociologue, auteur de la richesse des hommes : vers l'économie quaternaire, Odile Jacob, 1997 Le nouvel âge de l'économie, selon Roger Sue, s'appelle secteur quaternaire. Dans ce secteur, où l'homme s'empare de la production (et non plus l'inverse), les individus trouveront, à côté de l'emploi salarié, des gratifications et des critères d'investissement personnel profondément différents de ceux du marché et du secteur public. Les acteurs de cette nouvelle économie sociale auront un objectif clair, d'utilité économique et sociale, et un statut crédible vis à vis de l'extérieur : le volontariat.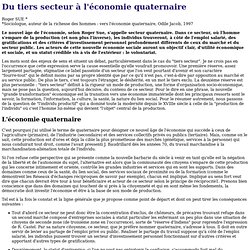 new pearl
Comme certains l'on remarqué la startup dont j'ai l'immense plaisir de m'occuper a changé de nom, card.biz est devenu organigr.am Un nouveau nom, un nouveau logo pour mieux coller à son identité actuelle et surtout à sa mission : faciliter les relations entre les gens. organigr.am est un outil de création d'annuaires en ligne et d'organigrammes, même si c'est un peu facile à dire, on parle ici de mettre à disposition de ses collaborateurs, collègues, salariés, membres d'association, le réseau social réel, celui de la vrai vie, IRL comme on dit chez nous. L'objectif est tellement simple et évident qu'il en est parfois étonnamment difficile à expliquer, nous proposons un service qui permet de facilement savoir qui est qui, qui fait quoi et comment joindre la bonne personne. Alors, si souvent les gens ont l'impression de déjà avoir ce type d'outil en place, depuis un an nous réalisons au quotidien à quel point ce n'est pas vrai.