Veille Techno & Business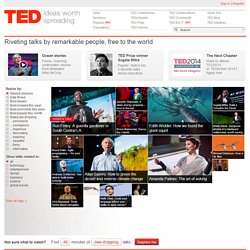 Melinda Gates and Bill Gates Why giving away our wealth has been the most satisfying thing we've done In 1993, Bill and Melinda Gates—then engaged—took a walk on a beach in Zanzibar, and made a bold decision on how they would make sure that their wealth from Microsoft went back into society.
The Long Tail - Wired Blogs - Mozilla Firefox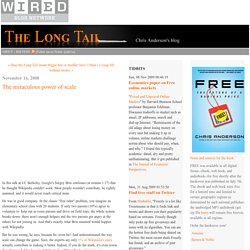 Sun, 08 Nov 2009 00:46:19 "Priced and Unpriced Online Markets" by Harvard Business School professor Benjamin Edelman. Discusses tradeoffs in market such as email, IP addresses, search and dial-up Internet. "Reminiscent of the old adage about losing money on every unit but making it up in volume, online markets challenge norms about who should pay, when, and why." I found this typically academic: dated, dry and pretty unilluminating.
Roger SUE * *Sociologue, auteur de la richesse des hommes : vers l'économie quaternaire, Odile Jacob, 1997 Le nouvel âge de l'économie, selon Roger Sue, s'appelle secteur quaternaire. Dans ce secteur, où l'homme s'empare de la production (et non plus l'inverse), les individus trouveront, à côté de l'emploi salarié, des gratifications et des critères d'investissement personnel profondément différents de ceux du marché et du secteur public. Les acteurs de cette nouvelle économie sociale auront un objectif clair, d'utilité économique et sociale, et un statut crédible vis à vis de l'extérieur : le volontariat.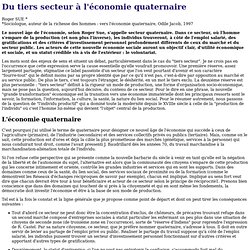 new pearl
Je pense que vous l'avez déjà lu, ici ou ailleurs, l'impression 3D va changer le Monde. En voici un nouvel exemple des chercheurs américains de l'USC (Californie) sont en train de mettre en oeuvre un nouveau prototype d'imprimante qui va utiliser le béton comme matière première. L'objectif est simple, permettre de construire des maisons en un temps record. Comme le montre la vidéo, plus bas, cela n'enlève pas tout le travail pour les hommes, elle a besoin d'aide et de nouveau process mais sa précision et sa rapidité devrait être bien supérieure aux techniques actuelles. Autre avancée technologique, la création des structures via l'impression 3D devrait permettre d'élaborer des nouvelles formes mais aussi des nouvelles manières de construire et d'envisager l'architecture du futur (proche).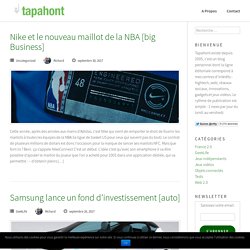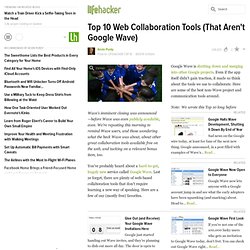 SExpand Google Wave is shutting down and merging into other Google projects. Even if the app itself didn't gain traction, it made us think about the tools we use to collaborate. Here are some of the best non-Wave project and communication tools around. Note: We wrote this Top 10 long before Wave's imminent closing was announced—before Wave was even publicly available, even. We're reposting this morning to remind Wave users, and those wondering what the heck Wave was about, about other great collaboration tools available free on the web, and tacking on a relevant bonus item, too.