Veille Techno & Business
TED: Ideas worth spreading. The Long Tail - Wired Blogs - Mozilla Firefox. Sun, 08 Nov 2009 00:46:19 "Priced and Unpriced Online Markets" by Harvard Business School professor Benjamin Edelman.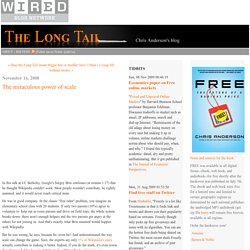 Discusses tradeoffs in market such as email, IP addresses, search and dial-up Internet. "Reminiscent of the old adage about losing money on every unit but making it up in volume, online markets challenge norms about who should pay, when, and why. " I found this typically academic: dated, dry and pretty unilluminating. Welcome to Lift :) | Lift conference, what can the future do for. Springwise | New business ideas from around the world. Social 5. Com: Consumer trends and insights from around the. New pearl. Roger SUE * *Sociologue, auteur de la richesse des hommes : vers l'économie quaternaire, Odile Jacob, 1997 Le nouvel âge de l'économie, selon Roger Sue, s'appelle secteur quaternaire.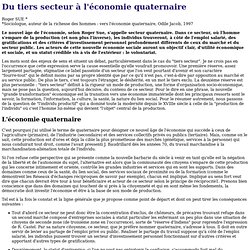 Dans ce secteur, où l'homme s'empare de la production (et non plus l'inverse), les individus trouveront, à côté de l'emploi salarié, des gratifications et des critères d'investissement personnel profondément différents de ceux du marché et du secteur public. Les acteurs de cette nouvelle économie sociale auront un objectif clair, d'utilité économique et sociale, et un statut crédible vis à vis de l'extérieur : le volontariat. Tapahont.info. GoogleWave. Top 10 Web Collaboration Tools (That Aren't Google Wave) -
---