Suburban Philosophy
"Why do we describe a distraught person as being 'beside himself'? Because the ancients believed that soul and body could part, and that under great emotional stress the soul would actually leave the body. When this happened a person was 'beside himself.'" ~ Dictionary of Word Origins "For what is a man profited, if he shall gain the whole world, and lose his own soul?" ~ Jesus (Matthew 16:26)
PARALLAX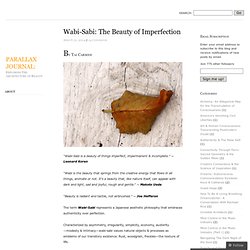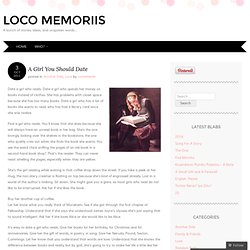 Date a girl who reads. Date a girl who spends her money on books instead of clothes. She has problems with closet space because she has too many books. Date a girl who has a list of books she wants to read, who has had a library card since she was twelve.
A Girl You Should Date « nona merah
Ludwig von Mises Institute
Almost every story I write comes from multiple seeds that seem unrelated, but collide in my head. Like temporal lobe epilepsy, quantum physics, a certain waiter, and a particular habit of Charles Fort's did to create "Valentines". In this case, there were two particular things. The not-deeply-personal thing: At PiCon, in August 2011, I was on a panel about quests, and I mused that really, we don't often see what happens after the quest.
Shira Lipkin
Charles Jensen « PoetsArtists
Call for Curators If you are interested in curating a future issue of PA, please send a proposal along with your background experience in either art or poetry and a suggestion for a theme for your issue to the attention of Didi Menendez (didimenendez at gmail.com). 2014 Calendar Year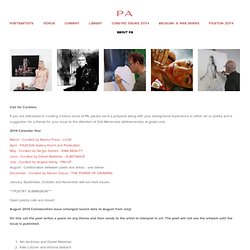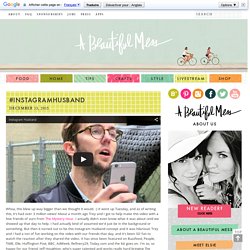 A Beautiful Mess
Here in southern Missouri, where we live, spring is tormenting us. One day it's nice and warm; you could totally wear sandals and no jacket at all (which excites me as I LOVE sandals). The next day it's cold, and I find myself pulling my coat back out of the closet. Also, one of my brulees got a little too toasty. Guess which one? I tend to do that to my first one almost every time.
Poetry Foundation
The Dream
The Dream I dreamed that you had ceased to love me— not that you had come from other beds back to mine, or gone from mine to others, just that something in your heart had stopped. I willed myself awake to find you still beside me. It was just a dream, I thought, yet when I turned to kiss you, in your eyes I saw that you had ceased to love me. I willed myself awake a second time to find myself alone, as I have been these many months, but did not know if it was terror or relief I felt, and whether
Nate Slawson, diode v2n3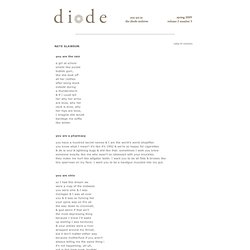 you are the rain a girl at school smells like purple bubble gum, like she took off all her clothes after being stuck outside during a thunderstorm & if I could tell her why her arms are boss, why her neck is boss, why her hips are boss, I imagine she would bandage me softly like winter. you are a pharmacy you have a hundred secret names & I am the world's worst shoplifter. you know what I mean? it's like it's 1992 & we're so happy for cigarettes & de la soul & lightning bugs & shit like that. sometimes I wish you knew someone exactly like me who wasn't so obsessed with your knuckles.
cat haiku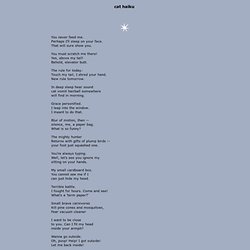 You never feed me. Perhaps I'll sleep on your face. That will sure show you. You must scratch me there! Yes, above my tail! Behold, elevator butt.
"How strange is the lot of us mortals! Each of us is here for a brief sojourn; for what purpose he knows not, though he sometimes thinks he senses it. But without deeper reflection one knows from daily life that one exists for other people -- first of all for those upon whose smiles and well-being our own happiness is wholly dependent, and then for the many, unknown to us, to whose destinies we are bound by the ties of sympathy. A hundred times every day I remind myself that my inner and outer life are based on the labors of other men, living and dead, and that I must exert myself in order to give in the same measure as I have received and am still receiving...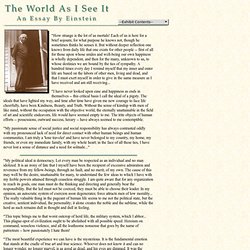 An Essay by Einstein -- The World As I See It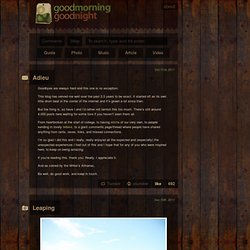 Adieu Dec 31st, 2011 Goodbyes are always hard and this one is no exception.
Goodmorning & Goodnight | A refreshing dose of interesting
How To Tell If Somebody Loves You
Somebody loves you if they pick an eyelash off of your face or wet a napkin and apply it to your dirty skin. You didn't ask for these things, but this person went ahead and did it anyway. They don't want to see you looking like a fool with eyelashes and crumbs on your face.