Best practices
I thought it would be worth publishing a list of guidelines that I see as SSIS development best practices.
SSIS Junkie : SSIS: Suggested Best Practices and naming conventi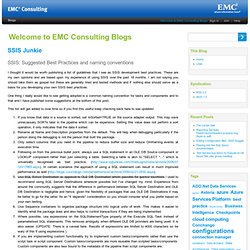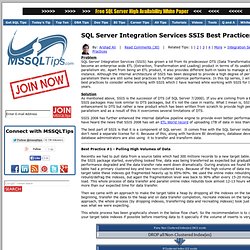 ProblemSQL Server Integration Services (SSIS) has grown a lot from its predecessor DTS (Data Transformation Services) to become an enterprise wide ETL (Extraction, Transformation and Loading) product in terms of its usability, performance, parallelism etc. Apart from being an ETL product, it also provides different built-in tasks to manage a SQL Server instance.
SQL Server Integration Services (SSIS) - Best Practices
GET REDIRECTED?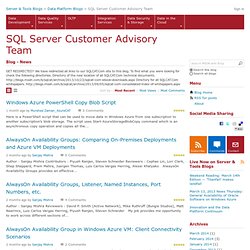 Top 10 SQL Server Integration Services Best Practices - Top 10 L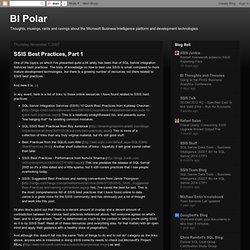 SSIS Best Practices, Part 1
One of the topics on which I've presented quite a bit lately has been that of SQL Server Integration Services best practices. The body of knowledge on how to best use SSIS is small compared to more mature development technologies, but there is a growing number of resources out there related to SSIS best practices. And here it is. ;-)