Vision & lighting
The selby - photos in your place. featuring photographs, paintings and videos by todd selby of interesting people and their creative spaces. Photo by zeynepcankanergunay. The Coveteur. Le Modalogue | Blog de mode transversal, luxe, tendances, art. Apartamento - an everyday life interiors magazine. Egoiste Magazine | Frillr. Solo Exhibition by the New York Artist Liam Everett at Paul Kasmin Gallery Project Space. NEW YORK, NY.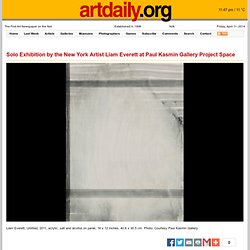 -Paul Kasmin Gallery Project space, in collaboration with Romer Young Gallery, San Francisco, present a solo exhibition by the New York artist Liam Everett. Everett's installation Cura consists of a recent group of paintings, which the artist refers to as the "eclipse paintings." GoSee - Creative News Services. Le Creative Sweatshop | Home. Dazed & Confused Magazine | Fashion, Art, Fashion, Music, Film, Ideas. The selby features photos + films by todd selby of creative people and their spaces. HUH. Magazine. Keri Smith. Confetti System : Home. AnOther | AnOther Magazine & AnOther Man | Share, Explore, Engage. Style.com: The Online Home of Fashion: News, Runway Shows, Trends, Fashion Models, Designers, Shopping, Beauty & More.
TRENDLAND: FASHION & TREND BLOG + ART + DESIGN + PHOTOGRAPHY. Materialiste Paris, Le Magazine Élégant. THEINSPIRATION.COM l THIS IS WH▲T INSPIRES US. NOWNESS. Identical twins Valeria Napoleone and Stefania Pramma pair up for a vibrantly off-kilter portrait series by cult Swiss photographer Walter Pfeiffer.
Styled by Fantastic Man's Jodie Barnes, the fashionable siblings wore complimentary Alaïa, Margiela and Céline accessorized with Chanel, Fabergé and designs from their own line of jewelry, "SvP". The willowy Italian sisters are a fixture on the international art circuit, where they can be found lighting up a room in colorful, matching Issey Miyake and Prada outfits. London-based Napoleone is a respected collector and patron of female artists—the works of Jill Spector, Nicola Pisano and Rebecca Morris fill her living room—while Pramma is an independent luxury accessories designer and consultant in New York.
Growing up close to Milan, their mother would take them to the family's jeweler to have individual pieces made to mark special occasions. Blank-mag. Tate: British and international modern and contemporary art.
---