Vision & lighting
Photo by zeynepcankanergunay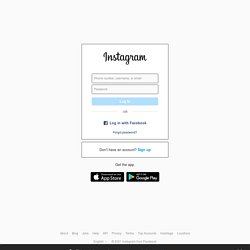 zeynepcankanergunay #fulloflight #vision #balance #truth #bliss Likes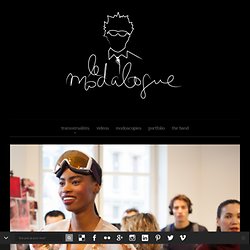 Modoscopie | Vincent Rouvière, le Podium Jeunes Stylistes Ci-dessus: Vincent Rouvière, quelques minutes avant le début du défilé de l'édition 2014 du Podium Jeunes Stylistes "D'aussi aussi loin que je m'en souvienne, j'ai toujours été passionné de mode" vous dira Vincent Rouvière, entrepreneur, consultant, fondateur et président du… Encore plus!
Egoiste Magazine | Frillr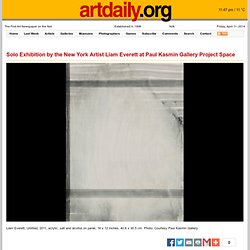 NEW YORK, NY.-Paul Kasmin Gallery Project space, in collaboration with Romer Young Gallery, San Francisco, present a solo exhibition by the New York artist Liam Everett. Everett's installation Cura consists of a recent group of paintings, which the artist refers to as the "eclipse paintings."
Solo Exhibition by the New York Artist Liam Everett at Paul Kasmin Gallery Project Space
GoSee - Creative News Services
Le Creative Sweatshop | Home
Video: Turning The Tables On Everyday Sexism 3 hours ago · culture · 0 Comments · 1046 Views Most women in the UK describe sexism as a regular daily event, whether it's men shouting at them to "get their t*ts out" or builders asking to speak to a man instead in a hardware shop. Flipping everything on its head, Leah Green... Desillusion Magazine Introduce TOME 1 5 hours ago · Art & Design · 0 Comments · 368 Views Since 2002, quarterly surf, skate, and snow magazine Desillusion have released 65 print magazines and 30 documentaries. Now, they are proudly introducing a 260 page coffee table book which is entirely ad free. The "tome" will also be accompanied by a series of short films showcased... Grumpy Cat Visited Vogue 6 hours ago · culture · 1 Comment · 1256 Views To celebrate her second birthday, Grumpy Cat - potentially one of the most famous cats in the world - was invited to the Vogue office in New York to hang out with the staff.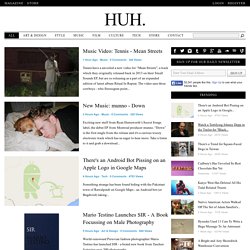 NOWNESS
Identical twins Valeria Napoleone and Stefania Pramma pair up for a vibrantly off-kilter portrait series by cult Swiss photographer Walter Pfeiffer. Styled by Fantastic Man's Jodie Barnes, the fashionable siblings wore complimentary Alaïa, Margiela and Céline accessorized with Chanel, Fabergé and designs from their own line of jewelry, "SvP". The willowy Italian sisters are a fixture on the international art circuit, where they can be found lighting up a room in colorful, matching Issey Miyake and Prada outfits. London-based Napoleone is a respected collector and patron of female artists—the works of Jill Spector, Nicola Pisano and Rebecca Morris fill her living room—while Pramma is an independent luxury accessories designer and consultant in New York. Growing up close to Milan, their mother would take them to the family's jeweler to have individual pieces made to mark special occasions.
blank-mag