Photography
15 Stunning Images Using Blur to Portray Movement. A Post By: Darren Rowse Photo by Mr Bones - No exposure settings supplied Today, as a followup to our post earlier in the week A Beginners Guide to Capturing Motion in Your Photography I want to post a series of posts from Flickr that all illustrate a variation on the same theme – movement.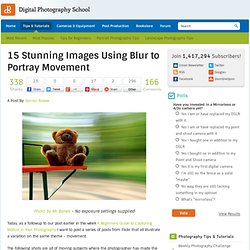 The following shots are all of moving subjects where the photographer has made the choice to set their camera to capture the movement as blur rather than freezing it. This is in all cases by choosing (or letting the camera choose) a 'slow' shutter speed (although by slow you'll see that the speeds (noted under each image) vary from anything from 1/30 second to up to 40 minutes). Photo by Ben McLeod – Shutter Speed – 8 seconds. » HDR Tutorial with examples by Dan Norcott. The software I use for all my HDR work is Photomatix Pro by HDRsoft.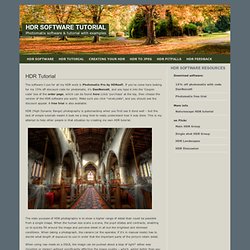 If you've come here looking for my 15% off discount code for photomatix, it's DanNorcott, and you type it into the 'Coupon code' box of the order page, which can be found here (click 'purchase' at the top, then choose the version of the HDR software you want). Make sure you click "recalculate", and you should see the discount appear. A free trial is also available. HDR (High Dynamic Range) photography is gobsmacking when you first see it done well – but the lack of simple tutorials meant it took me a long time to really understand how it was done. Tutorials. Welcome to the first of hopefully many tutorials on thinsite. i often get the same questions from different people so in the spirit of sharing i'm going to offer full disclosure on how some of the images on thinsite are created from beginning to end. bitchin'!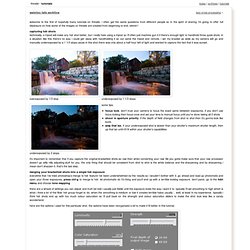 Capturing hdr shots technically, a tripod will make any hdr shot better, but i really hate using a tripod so i'll often just machine gun it if there's enough light to handhold three quick shots. in a situation like this there's no way i could get away with handholding it so out came the tripod and remote. i set my bracket as wide as my camera will go and manually underexposed by a 1 1/3 stops cause in this shot there was only about a half hour left of light and wanted to capture the fact that it was sunset. Most Popular Photography Hacks of 2009 - Photography - Lifehacke. I gotta say I've never been a big fan of the light-ring effect.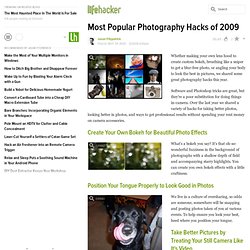 Generally the light is flattering for the subject but I just can't get past the reflection of the ring in their iris. It's creepy. A fellow I work with who's been a long time amateur photographer told me his best tip: get right in there. He said too many people depend on zoom to bring the subject to them.
HDR
[ Tutorial ] How to easily fake an HDR effect in photoshop sur F. Nikon D50. Nikon D50 © 2007 KenRockwell.com Nikon D50 with 18 - 55 mm. enlarge I'd get it here.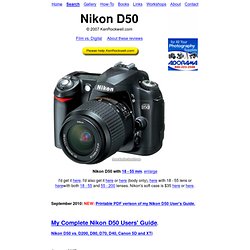 I'd also get it here or here (body only), here with 18 - 55 lens or herewith both 18 - 55 and 55 - 200 lenses. Nikon's soft case is $35 here or here. September 2010: NEW: Printable PDF verison of my Nikon D50 User's Guide. HDR tutorial: how to create HDR photos with free Qtpfsgui and GI. Today, most businesses want a website.
Some already have one. Others want one. They don't want to hire IT staff and probably can't afford any. And in most cases, an in-house IT staff, especially for your typical small business, just isn't necessary. Welcome to Flickr! HDR. 50 Beautiful HDR Images from 50 World Cities : Speckyboy Design. HDR can make the ugliest, run down, industrialized cities seem appealing and beautiful.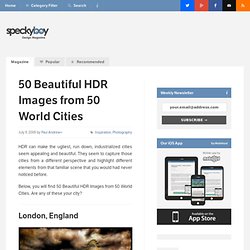 They seem to capture those cities from a different perspective and highlight different elements from that familiar scene that you would had never noticed before. Below, you will find 50 Beautiful HDR Images from 50 World Cities. Are any of these your city? London, England. HDTR: High Dynamic Time Range Images. Contents what is HDTR?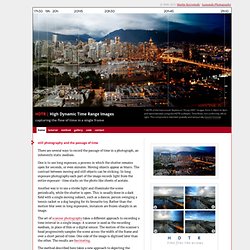 Methods gallery Browse my extremely slowly growing collection of HDTR images. 20 Beautiful HDR Pictures | Abduzeedo | Graphic Design Inspirati. Guide to HDR photography. Curves :: Photoshop Tutorial Learn the Power of Curves! How to Create Professional HDR Images. Sweet sassy-mollassy, I've been Dugg!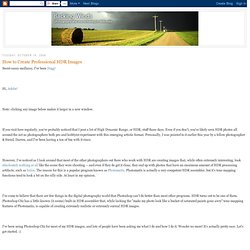 Hi, Adobe! Note: clicking any image below makes it larger in a new window.
---