#OWS
OccupyOurHomes. Occupy Together | Home. Map.squaresdatabase.org. Interview: Kalle Lasn, publisher, Adbusters magazine. Kalle Lasn, publisher of Adbusters magazine (Photo: Jim Labounty/Adbusters) Canadian Business: On the U.S. presidential election: Kalle Lasn: Most young people, 99% of the occupiers I would say, are pretty disillusioned with Obama.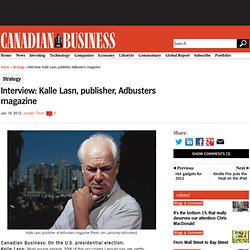 We feel that he has become a kind of a gutless wonder who didn't do what he had promised. He has disappointed us bitterly. Occupy Wall Street | September 17th | #OCCUPYWALLSTREET. The fire in the soul of Occupy burns from Oakland to Quebec, Barcelona to Chicago, Wall Street to Moscow and Frankfurt… now the Zuccotti model is morphing and Occupy is undergoing a period of sustained global tactical innovation.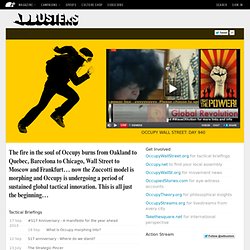 This is all just the beginning… Tactical Briefings Updates on Occupy protests.
---