Project management
www.oliverlehmann.com/project-management-sources/Nasa-Hundred-Rules-for-Project-Managers.pdf
Welcome to Visitask, your one-stop online resource center for top-notch tips, insights and best practices on project management, project tasks and situations. Check back with us often since we are constantly adding more resources for the successful management and execution of your projects. Featured PM Tips of the Month
Project management training and resources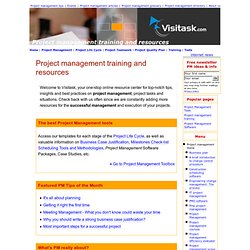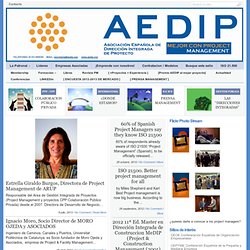 Estrella Giraldo Burgos, Directora de Project Management de ARUP Responsable del Area de Gestión Integrada de Proyectos (Project Management y proyectos CPP Colaboración Público Privada) desde el 2007. Directora de Desarrollo de Negocio en NC Sweett (Grupo Applus) desde el año 2000. Arquitecta por la Universidad Politecnica de Madrid y Programa de Desarrollo Directivo ESADE…
AEDIP Asociación Española de Dirección Integrada de Proyecto | Construction Project Management
Project Management - Project Resources Articles | PDU Training | White Papers | Software
© LiderDeProyecto.com - Todos los derechos reservados. Capability Maturity Model® y CMM® son marcas registradas en la Oficina de Patentes de los EUA por el Software Engineering Institute (SEI) de la Universidad Carnegie Mellon®. CMM® IntegrationSM, IDEALSM y SCAMPISM son marcas de servicio de la Universidad Carnegie Mellon. PMI®, PMBOK® Guide, OPM3®, CAPM® y PMP® son marcas registradas (en EUA y otos países) del Project Management Institute, Inc. MDA®, BPMN®, SysML®, MOF®, OMG® y UML® son marcas registradas en los EUA y en otros países por el Object Management Group.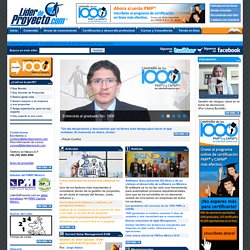 LiderDeProyecto.com / Tu entrada al mundo de la Administración de Proyectos
PMI México - main
PMI - Capítulo Buenos Aires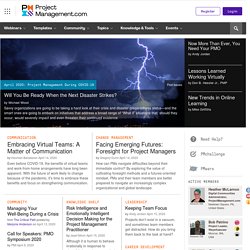 by Mark Mullaly, PMP The advocates for the implementation of portfolio management are dissatisfied with how decisions are currently being made. They wish to bring about a change to this decision process. They are not, therefore, likely to have much influence in how decisions are currently being made. What to do about this conundrum? by Kenneth Darter, PMP
Click Icons to Visit Sponsor Web Sites Vol. XIV Issue III - March 2012 Project Management eJournal Interview with Roberto Mori
PM World Today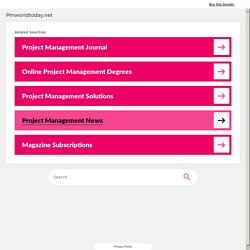 Kano's Method
---Expert Project Management---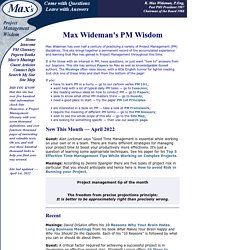 New information added monthly April 2014 - In Guests, Constantine Kortesis answers the question: Should smart project managers take into considerations Myers-Briggs (Personality) Type Indicators when managing large and diverse teams? Also in Guests, Francis Hooke highlights certain hidden, or typically unaccounted-for, costs of project management and their implications – including those that are social, emotional and human.
StartuProject Blog sobre Gestion de Proyectos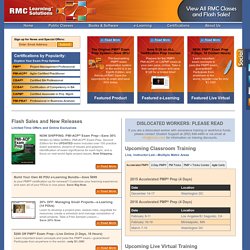 NOW SHIPPING: The Complete PMI-ACP® Exam Prep System! Includes our best-selling prep guide, a set of flashcards and exam simulation software. Order Today and Save 30%! Build Your Own 60 PDU e-Learning Bundle—and Save PMP® certification up for renewal?
Project Management Training Courses, Online Classes, Books and PMP Certification at RMC Project Management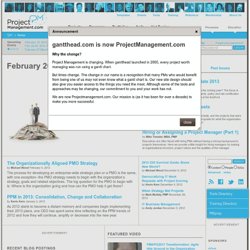 by Michael Wood One of the primary roles of the PMO is to provide a framework for ensuring the proper governance over projects. This goes beyond just ensuring that proper project protocols and practices are adhered to.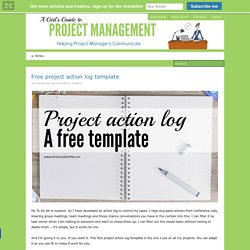 Andrew Filev This is a guest post by Andrew Filev is the founder and CEO of Wrike. Various studies show that we spend about 45% of our time every day on habitual actions.
TALAIA se posiciona en el mercado de los productos PPM (Project Portfolio Management, ó Gestión de Portfolios de Proyectos). TALAIA es el nombre comercial de los servicios profesionales de SM2 alrededor del producto open source OpenPPM, disponible en http://openppm.sourceforge.net . La primera versión de OpenPPM se desarrolló en el contexto de un proyecto de inversión financiado por el Ministerio de Industria, Turismo y Comercio de España.
:: TALAIA ::
There is a popular myth that the estimating problem in software development starts with comparing software development to bridge design and development. This lays the groundwork that software development is not the same as any other engineering discipline and estimating can't be done for software projects That some how the project paradigm is excempt from the Five Immutable Principles of every other project domain. These immutable principles are: Do we know what DONE looks like in units of measure meaningful to the decision makers?
Herding Cats
Earn a certification that employers demand PMI credentials distinguish you in the job market and can help you move ahead. Several certifications including the PMP® validate a range of education and experience levels in project management. Find out more or get started now to apply. PMP® credential holders earn higher salaries than non-credentialed project managers as shown in the Project Management Salary Survey–Eighth Edition. Become a Project Management Professional (PMP)®.