Project management
www.oliverlehmann.com/project-management-sources/Nasa-Hundred-Rules-for-Project-Managers.pdf
Welcome to Visitask, your one-stop online resource center for top-notch tips, insights and best practices on project management, project tasks and situations. Check back with us often since we are constantly adding more resources for the successful management and execution of your projects. Featured PM Tips of the Month
Project management training and resources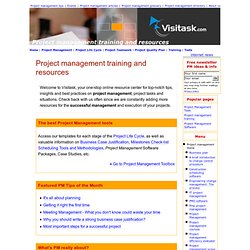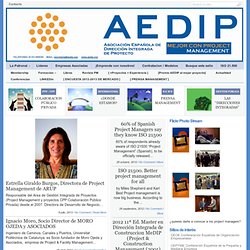 Estrella Giraldo Burgos, Directora de Project Management de ARUP Responsable del Area de Gestión Integrada de Proyectos (Project Management y proyectos CPP Colaboración Público Privada) desde el 2007. Directora de Desarrollo de Negocio en NC Sweett (Grupo Applus) desde el año 2000. Arquitecta por la Universidad Politecnica de Madrid y Programa de Desarrollo Directivo ESADE…
AEDIP Asociación Española de Dirección Integrada de Proyecto | Construction Project Management
Project Management - Project Resources Articles | PDU Training | White Papers | Software
© LiderDeProyecto.com - Todos los derechos reservados. Capability Maturity Model® y CMM® son marcas registradas en la Oficina de Patentes de los EUA por el Software Engineering Institute (SEI) de la Universidad Carnegie Mellon®. CMM® IntegrationSM, IDEALSM y SCAMPISM son marcas de servicio de la Universidad Carnegie Mellon. PMI®, PMBOK® Guide, OPM3®, CAPM® y PMP® son marcas registradas (en EUA y otos países) del Project Management Institute, Inc. MDA®, BPMN®, SysML®, MOF®, OMG® y UML® son marcas registradas en los EUA y en otros países por el Object Management Group.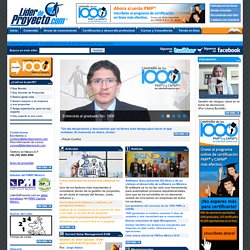 LiderDeProyecto.com / Tu entrada al mundo de la Administración de Proyectos
PMI México - main
PMI - Capítulo Buenos Aires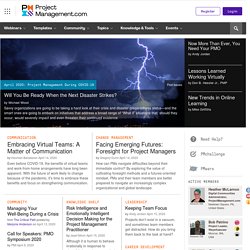 by Dave Garrett Today is an amazing day for us here at ProjectManagement.com. Everything you love about the site is about to get better. As a part of the PMI family, we will have the resources to step up our game and become more responsive to your needs than ever before. Our reach will grow exponentially, so more of your peers will be here to answer questions and to share ideas with. Some of these changes will take time and others you'll see right away...read on for more about this exciting announcement.
Click Icons to Visit Sponsor Web Sites Vol. XIV Issue III - March 2012 Project Management eJournal Interview with Roberto Mori
PM World Today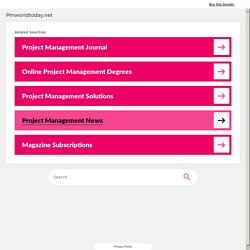 Kano's Method
---Expert Project Management---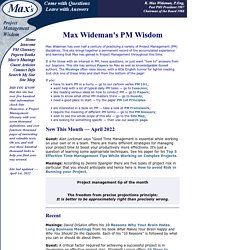 New information added monthly January 2014 - We start the year with a review of an important book for CEOs, the C-suite and aspiring project managers. It is titled: The Focused Organization - How Concentrating on a Few Key Initiatives Can Dramatically Improve Strategy Execution by Antonio Nieto-Rodriguez, with foreword by Greg Balestrero, past CEO of PMI.
StartuProject Blog sobre Gestion de Proyectos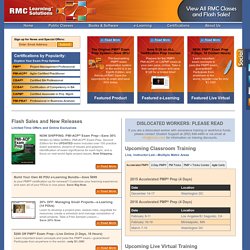 NOW SHIPPING: The Complete PMI-ACP® Exam Prep System! Includes our best-selling prep guide, a set of flashcards and exam simulation software. Order Today and Save 30%! Build Your Own 60 PDU e-Learning Bundle—and Save PMP® certification up for renewal?
Project Management Training Courses, Online Classes, Books and PMP Certification at RMC Project Management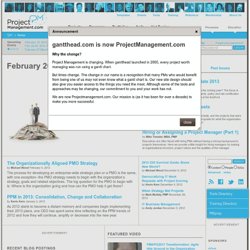 by Michael Wood One of the primary roles of the PMO is to provide a framework for ensuring the proper governance over projects. This goes beyond just ensuring that proper project protocols and practices are adhered to.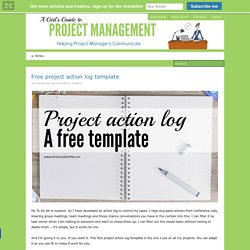 Make it Fly! by Brigitte Cobb is subtitled "The step-by-step guide to make ANY idea, project or goal take off." It's a project management book with a difference – it's not about project management and it's not aimed at project managers.
TALAIA se posiciona en el mercado de los productos PPM (Project Portfolio Management, ó Gestión de Portfolios de Proyectos). TALAIA es el nombre comercial de los servicios profesionales de SM2 alrededor del producto open source OpenPPM, disponible en http://openppm.sourceforge.net . La primera versión de OpenPPM se desarrolló en el contexto de un proyecto de inversión financiado por el Ministerio de Industria, Turismo y Comercio de España.
:: TALAIA ::
It is popular to make a list of maxims for developing products, managing projects, or managing business processes. Some are based on experience, some based on surveys, some based on principles and practices of a profession. Here's mine based on counter examples of the sole contributor paradigm. The sole (or small group) contributor paradigm means maxims gathered from personal experience from a person's engagement on the job. One example for the sole contributor, used without permission and with full attribution is Woody Zuill's list.
Herding Cats
Earn a certification and outpace the competition PMI credentials distinguish you in the job market and can help you move ahead. Several certifications including the PMP® validate a range of education and experience levels in project management. Find out more or get started now to apply. Skilled at agile practices? Be recognized as a PMI Agile Certified Practitioner (PMI-ACP)®.