Erbazg
Mevlana Celaleddin Rumi, the great Anatolian ph...
Who is Mevlana? Mevlana Celaddiin-i Rumi is a 13th century Muslim saint and Anatolian mystic known throughout the world for his exquisite poems and words of wisdom, which have been translated into many languages. Rumi, as he is known in the west, is the best selling poet in USA. The United Nations declared 2007 The Year of Rumi and celebrations were held world wide. Mevlana was a Muslim, but not an orthodox type. His doctrine advocates unlimited tolerance, positive reasoning, goodness, charity and awareness through love.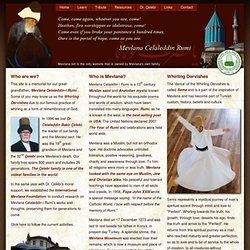 Psychology is the study of the human mind and mental processes in relation to human behaviors - human nature. Due to its subject matter, psychology is not considered a 'hard' science, even though psychologists do experiment and publish their findings in respected journals. Some of the experiments psychologists have conducted over the years reveal things about the way we humans think and behave that we might not want to embrace, but which can at least help keep us humble. That's something. 1.