jQuery
FooTable est un plugin jQuery permettant de bénéficier d'un tableau dynamique adapté aux écrans larges et mobiles. La tendance est clairement au web compatible mobile, le responsive webdesign est une méthode permettant de répondre à cette problématique. Sauf que si vous avez déjà testé de mettre en place des medias queries, vous avez sans doute remarqué à quel point il était difficile de rendre un tableau de données compatible sur terminaux mobiles! Footable est une solution à ces problèmes d'adaptation des tableaux de données au mobile.
FooTable - Des tableaux HTML compatibles responsive webdesign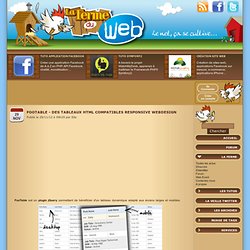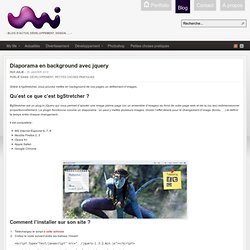 Grâce à bgStretcher, vous pouvez mettre en background de vos pages un défilement d'images. Qu'est ce que c'est bgStretcher ? BgStretcher est un plug-in jQuery qui vous permet d'ajouter une image pleine page (ou un ensemble d'images) au fond de votre page web et de la (ou les) redimensionner proportionnellement. Le plugin fonctionne comme un diaporama : on peut y mettre plusieurs images, choisir l'effet désiré pour le changement d'image (fondu, …) et définir le temps entre chaque changement. Il est compatible :
Diaporama en background avec jquery
En ce moment je croise de sacrées belles choses sur le web, que ce soit niveau visuel ou alors niveau technique.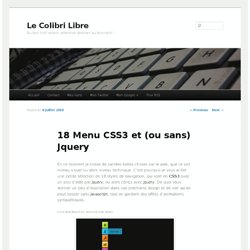 jQuery UI Accordion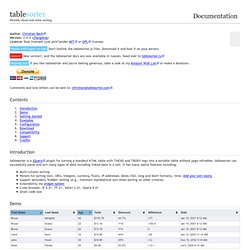 Author: Christian Bach Version: 2.0.5 ( changelog ) Licence: Dual licensed (just pick!)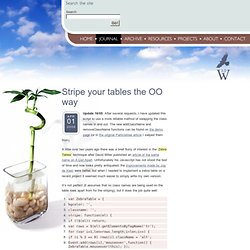 Stripe your tables the OO way · The Watchmaker Project
Jump to navigation Apr 02 2006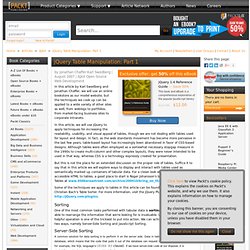 jQuery Table Manipulation: Part 1
Share this page via Facebook, Twitter or LinkedIn. Your message has been sent. How would you like to send this article:
Sélecteurs JQuery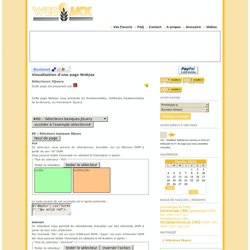 Cette page est propulsée par Cette page Webjax vous présente les fonctionnalités, méthodes fondamentales de la librairie, du framework JQuery. 00 :: Sélecteurs basiques JQuery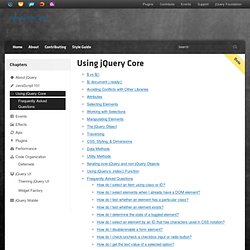 Goes through the basics of jQuery, all the way up to building plugins.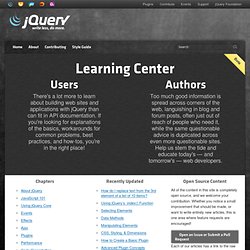 English Tutorials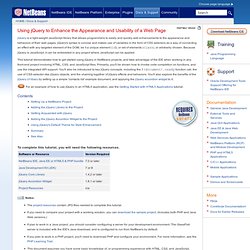 jQuery is a light-weight JavaScript library that allows programmers to easily and quickly add enhancements to the appearance and behaviors of their web pages. jQuery's syntax is concise and makes use of variables in the form of CSS selectors as a way of connecting an effect with any targeted element of the DOM, be it a unique element ( id ), or set of elements ( class ), or arbitrarily chosen. Because jQuery is JavaScript, it can be embedded in any project where JavaScript can be applied. This tutorial demonstrates how to get started using jQuery in NetBeans projects, and take advantage of the IDE when working in any front-end project involving HTML, CSS, and JavaScript files.
Netbeans - Using jQuery to Enhance the Appearance and Usability of a Web Page
jQuery » Select box manipulation
jQuery - Select box manipulation
A datepicker can easily be added as a popup to a text field or inline in a division or span with appropriate default settings.
jQuery datePicker home
A flexible unobtrusive calendar component for jQuery
jQuery mobile framework takes the "write less, do more" mantra to the next level: Instead of writing unique apps for each mobile device or OS. Although jQuery Mobile is still relatively new but with jQuery Mobile, developers can write applications as website, RSS reader for a lot of mobile devices, including smart phones and tablets.
8 Useful jQuery Mobile Tutorials
You've probably noticed that a lot of websites lately have a featured area with content that slides or changes in some way. This is a great technique to show several pieces of content in a limited amount of space and a good way to engage the user.