Gestion de projet
Applications in general. Applications in general EGroupware applications EGroupware contains a plenty of function rich and highly integrated applications and delivers all essential business tools in one package.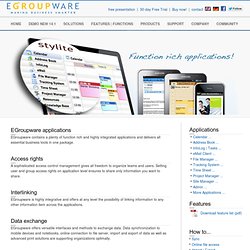 Access rights. GanttProject Home. ProjeLead Standard - Logiciel gratuit de gestion de projet. Collabtive - Open Source Collaboration. Service en ligne gratuit pour votre entreprise. Overview. Les outils de gestion de projet Open-Source : cap sur le collaboratif. Les solutions libres de gestion de projet gagnent petit à petit en maturité, soutenues par le dynamisme des communautés de développeurs.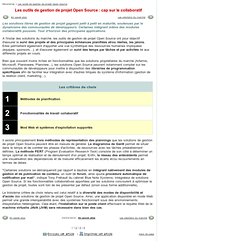 Certaines intègrent même des modules collaboratifs poussés. Tour d'horizon des principales applications. A l'instar des solutions du marché, les outils de gestion de projet Open Source ont pour objectif d'assurer le suivi des projets et des principales échéances planifiées et/ou réelles, les jalons. Elles permettent également d'apporter une vue synthétique des ressources humaines impliquées (équipes, sponsors...), et d'assurer également un suivi des temps par tâches et par activités lié aux différents projets en cours.
---